Shiloh Jolie-Pitt's Best Angelina-Inspired Beauty Moments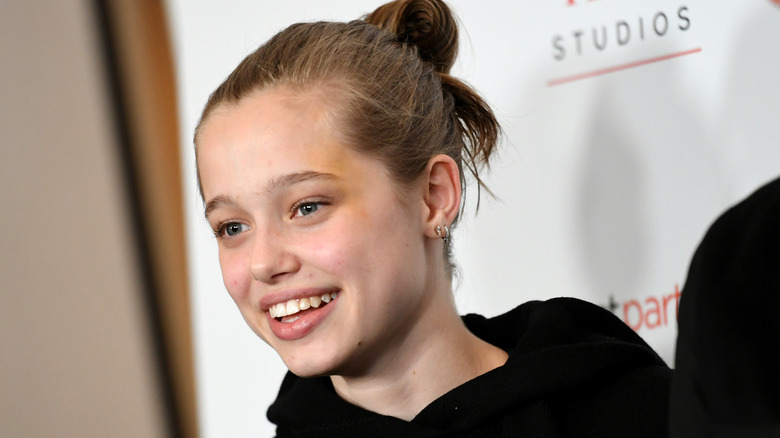 Jc Olivera/Getty Images
No matter where you stand on the "nepo baby" debate, seeing all the iconic mother-daughter duos in Hollywood is certainly entertaining. Whether it's watching multi-generational talents such as Goldie Hawn and Kate Hudson dominate the big screen or seeing how Lisa Bonet copied and pasted her face — and coolness — onto Zoe Kravitz, we simply can't get enough.
Just like the parents and children we know in our personal lives, it's fun to see what celebrity children have inherited from their famous parents. While talent is seemingly passed through DNA for some, others have their parents' penchant for beauty and style. Looking as equally stunning as her mother, Shiloh Jolie-Pitt is the spitting image of Angelina Jolie.
After being born in May of 2006, Shiloh made her public debut shortly after on the June cover of People that same year. Now all grown up, Shiloh has developed her own sense of style, with the occasional nods to Jolie's iconic looks throughout the years.
This Dior look has us seeing double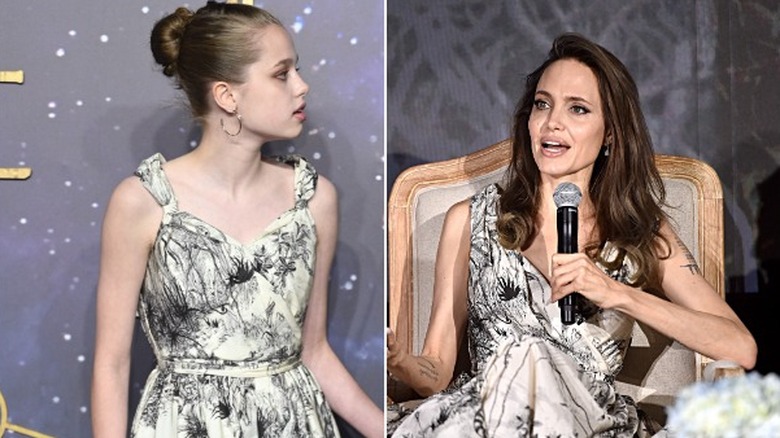 Karwai Tang/Getty & Alberto E. Rodriguez/Getty Images
At the UK premiere of "Eternals" in 2021, Shiloh Jolie-Pitt gave a fresh spin to a Dior dress previously worn by Angelina Jolie at a 2019 press conference for "Maleficent: Mistress of Evil." A black and white tropical printed dress, the once floor-sweeping gown was altered for Shiloh, falling right above the knees. The straps were also tightened with the neckline adjusted. The simple alteration turned the elegant gown into a youthful, age-appropriate look for Shiloh, who was 15 at the time.
The move for sustainable and eco-friendly fashion is important to Angelina Jolie. She told E! News that she enjoys when her kids create their own spin on items from her closet. "I'm like, 'Oh my god, wear it and wear it better than me! Take it, it's your turn,'" Jolie said in an interview. Known for having a glamorous, femme fatale fashion signature, her daughter's take on fashion has more of a relaxed, athletic bend that fits into her role as a dancer.
When out and about, Shiloh's style resembles a wardrobe suitable for any other teenage girl. She's often spotted in hoodies and sweatshirts, jeans or shorts, and a lived-in pair of sneakers.
This edgy look has us buzzing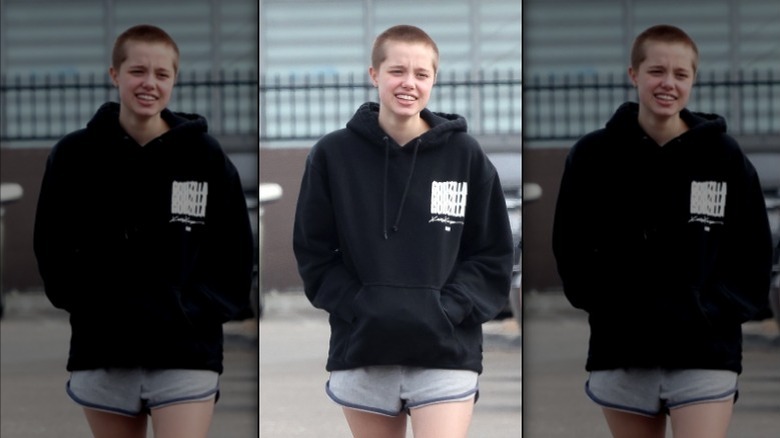 Backgrid
Shiloh Jolie-Pitt's style has typically leaned toward androgynous with her clothing choices, differing from Angelina Jolie's classic, tailored style of neutrals and sophisticated silhouettes. However, Shiloh took a page out of her mother's book by chopping off her locks late last year. The buzz cut mirrors Jolie's shorn head from the 1998 film "Gia."
Although Jolie debuted the look at the movie's premiere along with a slight smoky eye and glossy lips, Shiloh's own take on the look was sans makeup. However, she was pictured with the buzz cut while running errands with her older sister, Zahara Jolie-Pitt, while her mother first showed off the edgy style on the red carpet.
Still, Shiloh often appears on red carpets with little-to-no makeup. Similar to her mother's youthful and fresh-faced approach, Shiloh lets her features shine through instead. Like Jolie, she goes for a pair of earrings instead of a necklace, jumping on the recent trend that shows celebrities sans necklaces on the red carpet.
This is Shiloh's best red carpet look so far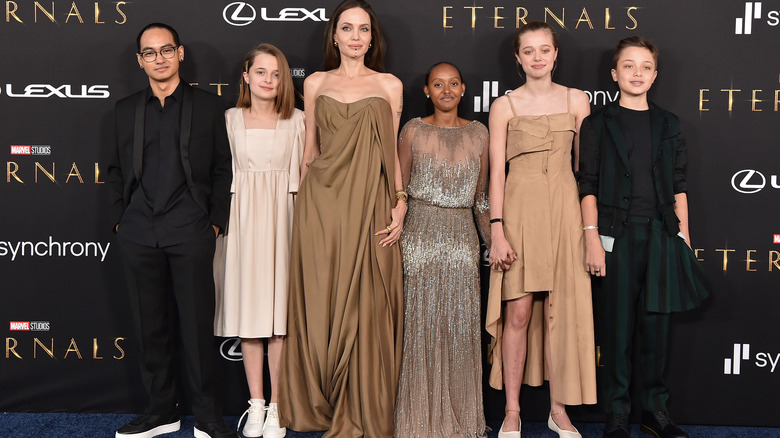 Axelle/bauer-griffin/Getty Images
When photographed running errands, Shiloh Jolie-Pitt is typically seen with a style that leans more toward a tomboy aesthetic on the fashion spectrum. In the past, that sense of style made its way to the red carpet. She often wore hoodies and button-ups, with the occasional suit made more casual with the addition of a sneaker.
In more recent years, she's leaned into wearing dresses. At the Los Angeles premiere of "Eternals," Shiloh wore her mother's Gabriela Hearst tan Quillaume dress. While Jolie wore the dress in its original form, once again, Shiloh had a different take on the piece. The neckline was folded down to create a layered look, and the bottom of the dress was altered. This time, only one side of the dress was hemmed, creating a high-low effect that revealed the once-concealed buttons. She finished the outfit with chic white flats, giving the look a young, girly flair.
Shiloh doesn't appear on red carpets often, but it'd be interesting to see the ways in which she rocks her new buzz cut. With the designer of the Quillaume dress partnering with Jolie for a capsule collection under her new fashion line Atelier Jolie, we hope her mini-me continues to put the Shiloh-spin on her wardrobe.