The A-Lister Tori Spelling Wishes She Would've Hooked Up With During Her 90210 Days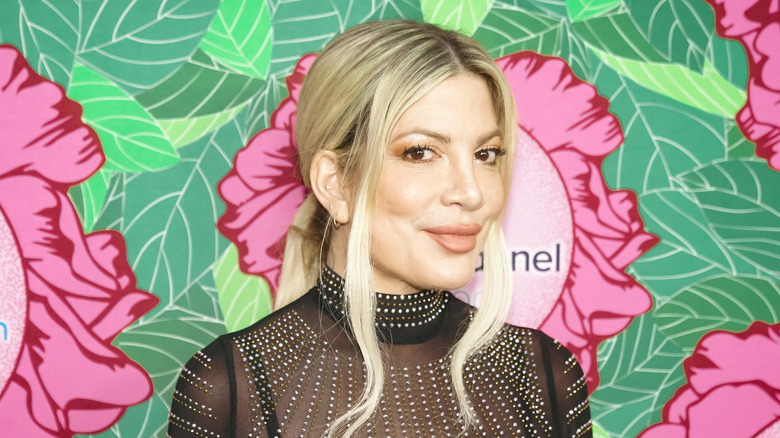 Andrew J Cunningham/Getty Images
Tori Spelling's love life has always been a point of interest in Hollywood. Before she married her soon-to-be ex-husband Dean McDermott, she dated her "Beverly Hills, 90210" co-star, Brian Austin Green, for just a year in 1990. She finally settled down in 2002 with her former husband, actor Charlie Shanian. The two tied the knot in 2004. However, after he learned of her affair with McDermott, Shanian divorced the blonde beauty, giving her the freedom to move forward with McDermott. Sadly, after 17 years of marriage, Spelling is back on the market, and there is one guy the beauty wishes she would have given a chance to back in her "90210" glory days.
In the early 90s, one of entertainment's most notable hosts landed a brief gig on "90210" when he was just in high school — Ryan Seacrest. This helped kick off his career, though Spelling did not pay him much attention at the time. Seeing how the superstar's career blossomed, she has regrets about the one that got away.
Tori Spelling says she should have pursued Ryan Seacrest when he appeared on 90210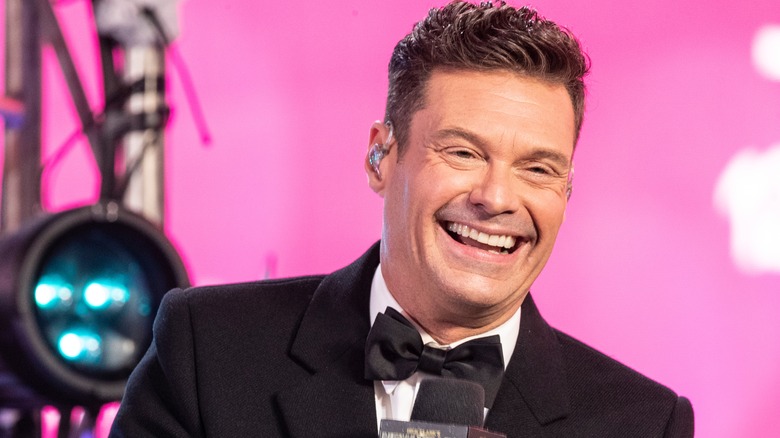 lev radin/Shutterstock
"American Idol" host Ryan Seacrest relocated to Los Angeles at a young age to pursue his acting dreams. As a huge fan of "Beverly Hills, 90210," it was a dream come true for him when he landed a small role as a game show host on the series. During this time, he shared a scene with the star of the show, Tori Spelling. Looking back on the filming, Spelling wished she had paid more attention to Seacrest and had the foresight to see what he would later become.
During a March 2021 episode of E!'s "Overserved With Lisa Vanderpump," Spelling was asked which celebrity she wished she would have hooked up with. She immediately said Seacrest would be the lucky guy (via Us Weekly).
"I didn't know, I was on '90210,' and I was like, 'Oh, whatever.' I would've been dating up!" she revealed to Vanderpump and fellow guest Jeff Lewis.
Spelling has dated up several times, with famous men courting her before both of her marriages. Her dating history includes actor Vincent Young, Motley Crue singer Vince Neil, and Julian Lennon, son of John Lennon. Unfortunately, none of these romances panned out for the "90210" frontwoman.
Hooking up with Ryan Seacrest could've made Tori Spelling a socialite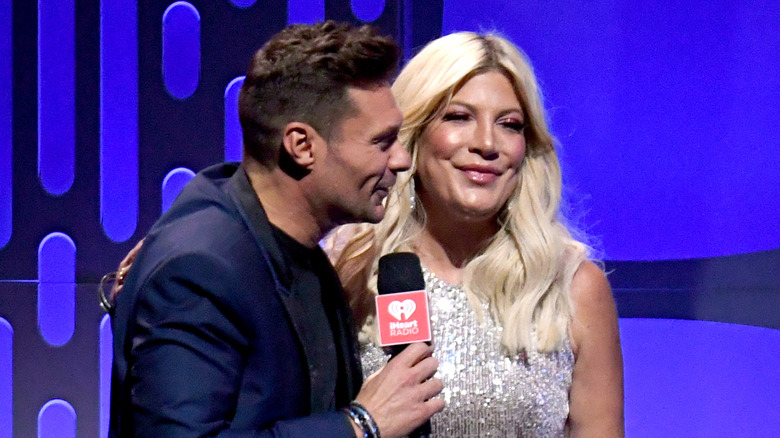 Ethan Miller/Getty Images
After Ryan Seacrest appeared on "Beverley Hills, 90210," he went on to become one of the most sought-after hosts in Hollywood. In 2002, he landed his praised "American Idol" gig, which opened doors for him to host "Extra," Nightline," and "On Air with Ryan Seacrest." Since Parade reported his net worth as being $450 million in 2023, it's no secret why Tori Spelling recognizes that he was a catch all along. She admitted that getting with him would have guaranteed her financial and social status.
"I could be a Kardashian right now," Spelling told Lisa Vanderpump during her appearance on "Overserved."
Spelling made the comment jokingly, but her life may have actually taken a different turn had she gone after Seacrest. Money woes have plagued the star for years. In 2020, her bank accounts were seized due to debts she owed to American Express. In January 2023, it was reported that she still owed $1.3 million in taxes. Despite her father, Aaron Spelling being a producer, the entertainer has admitted she is not great with money. Seacrest doesn't seem to have those issues but has found love with his girlfriend, model Aubrey Paige, so it looks like Spelling missed her chance.