Diamond Expert: Hallmark Star Emily Osment's Engagement Ring Shines With Royal Touch - Exclusive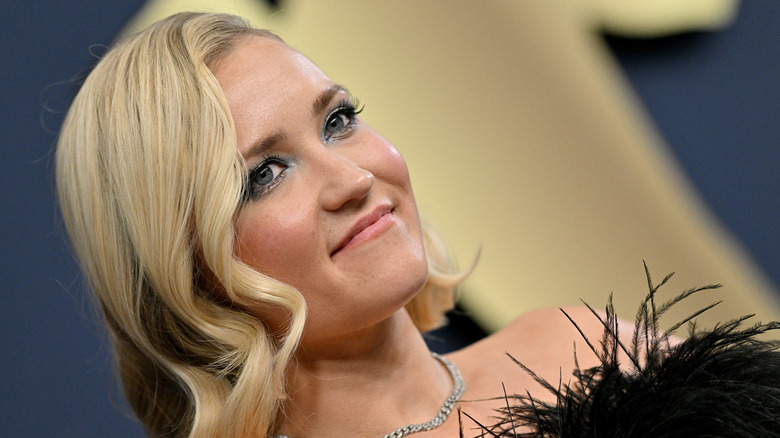 Axelle/bauer-griffin/Getty Images
Engagement rings have a special place in a couple's heart, and it looks like Hallmark star Emily Osment is feeling the same way about her new Toi et Moi piece of jewelry.
The "Young Sheldon" actress recently showed off her precious asymmetrical engagement ring on Instagram, featuring a radiant-cut diamond nestled next to a Montana sapphire. The post displayed two photos — one of Osment's hand with the ring held up to the camera and her fiancé, Jack Anthony, in the background; the other of two pins that featured pics of the bride and groom-to-be as kids. The caption read, in part, "This magical, beautiful, kaleidoscope of a person asked me to marry him this weekend." The couple seemed to be on a hiking trip in Yosemite National Park when the proposal happened.
The gorgeous yellow-gold engagement ring features two stones and has a royal touch, according to diamond expert and CEO of The Diamond Pro, Mike Fried, who spoke exclusively with The List. "Asymmetrical rings are rising in popularity, as many couples desire a unique ring. Still, they remain a rare breed of engagement rings," he Fried. While explaining that designing this particular kind of jewelry requires more time and money, Fried said that choosing two distinct gemstones or shapes allows a couple to "express their personality and history together." Now, the picture of pins with images of Osment and Anthony as children seems even more poetic.
Sapphires are a favorite among royals and celebs
The fact that Kate Middleton had a striking blue sapphire engagement ring in itself should tell us that sapphires are a royal favorite, but that hasn't stopped celebrities like Mary-Kate Olsen, Victoria Beckham, Penelope Cruz, Elizabeth Hurley, and now Emily Osment from going for the precious gem. In fact, both sapphires and Toi et Moi engagement rings are on trend in 2023, proving Osment's fiance has good taste. Her ring features a Montana sapphire that expert Mike Fried called "distinct" because of its "rich" and "bluish-green tone."
The diamond expert further shared that these deep green gemstones are only mined in Montana, giving them their name. Whether from the uniqueness of the stones in her ring or the happiness of the occasion, we don't know, but Osment shared her joy in her Instagram post announcing her engagement. "I did not know life could be this sweet or I could ever be this deliriously happy. I am so proud of the life we have built together and the people we have become over the last few years. This love is so big and so uniquely ours, and I know it can do anything. I am so honored to stand next to you every day. I love you, Jack," she wrote. 
Fried added that sapphires offer "color and character," making them the perfect gemstones to propose with. "They're extremely durable (almost as tough as diamonds), making them great for everyday wear. Sapphires have been beloved by royalty for centuries," he shared.