Meet David Foster's 6 Kids, Including The Ones Who Are Older Than His Wife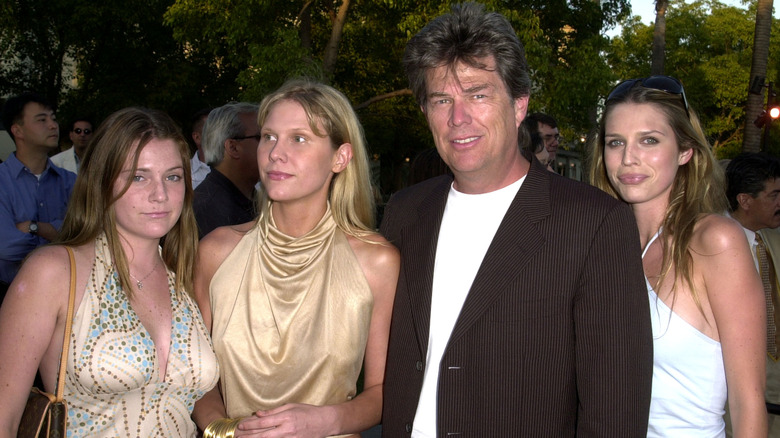 Steve Granitz/Getty Images
David Foster is a father to six children (from five marriages), and a significant age gap exists between his five adult daughters and his young son. It may not be how Foster initially envisioned his life, but he embraced fatherhood again in his 70s and appreciates the joy it brings him. Four of his five daughters are also older than his current wife, Katherine McPhee.
The "And When She Danced" musician seems like a different dad now from when his daughters were younger, although he always provided for them. Their relationships evolved with time. "I used to think, 'Well my daughters aren't pregnant at 14, and they don't do drugs, I did my job.' It's obviously more complicated than that," David Foster told People in a 2020 interview. He also acknowledged his shortcomings and approached the topic of fatherhood with honesty and reflection.
So, let's meet David Foster's six children and explore his unique relationship with them ...
David Foster has multiple children with different women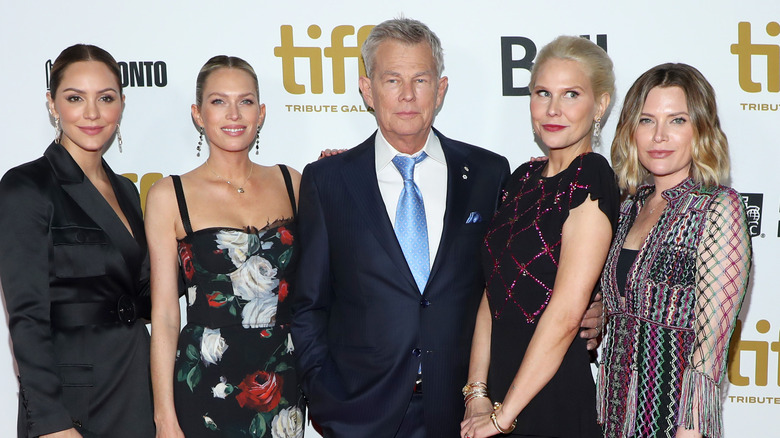 Jemal Countess/Getty Images
David Foster's children range in age from a toddler to a daughter in her fifties. The musician's journey into fatherhood began in 1970 when his daughter, Allison Jones, arrived. He welcomed a second child three years later, in 1973, with his first wife, B.J. Cook. The then-couple named their daughter Amy Skylark Foster.
Foster married a second time with Rebecca Dyer. In 1981 they shared the first of three daughters, Sara Foster, and her sisters, Erin Foster, in 1982 and Jordan Foster, in 1986. Three decades passed before Foster became a dad again, this time with his fifth wife, Katherine McPhee. She gave birth to their first child in 2021, a son, Rennie Foster. In a January 2023 interview with People, Foster spoke about his children, saying, "I had all daughters until my son, and I love all my daughters immeasurably, but having a son is a little bit different."
Foster's wife praised him for his ability as a father. McPhee took to Instagram in 2022 to celebrate their family, writing, "I love our little family. I love our big family. You have NEVER complained over how your life is slightly different now. Well ... you only complain that you can't stay up late watching TV in bed but how can I blame you — that's your favorite thing. You've only made bringing Rennie into the world an absolute joy for me ..."
David Foster gave his first daughter, Allison, up for adoption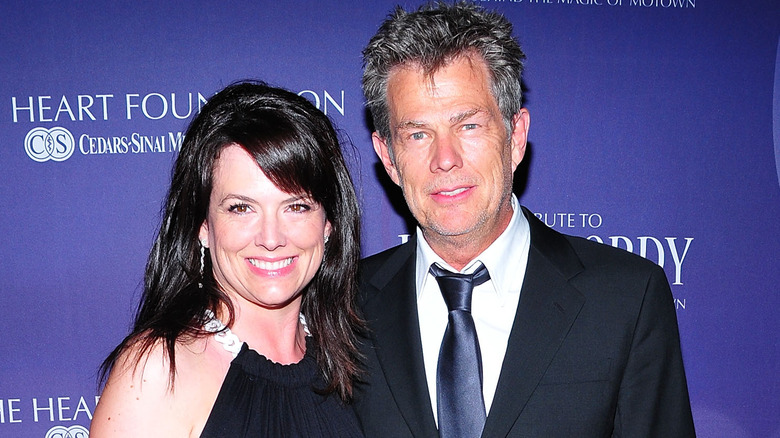 Michael Tullberg/Getty Images
David Foster discussed fatherhood in great detail in later interviews, and it's evident he enjoys being a father to his son, despite his age. But when he had his first child in 1970, he was only 20. While we do not know the details surrounding Allison Jones's birth, it is believed the "For Just A Moment" musician gave her up for adoption.
The father and daughter reconnected when she reached adulthood, and Allison is now involved in her father's life and his business. She works for the David Foster Foundation, which lists its mission as "dedicated to providing financial support to Canadian families with children in need of life-saving organ transplants."
Allison appears as one of the staff listed on the foundation's website, giving a glimpse into what she does for the company and her successful career history. Her job title: "Secretary to the Board, Director, Business and Stakeholder Relations." Allison seems more than qualified for the job, as she boasts an extensive background in business and has worked with some of the world's top companies. She also holds an MBA from McMaster University. Allison lives in Canada and is a married mother of two.
Amy Foster has battled breast cancer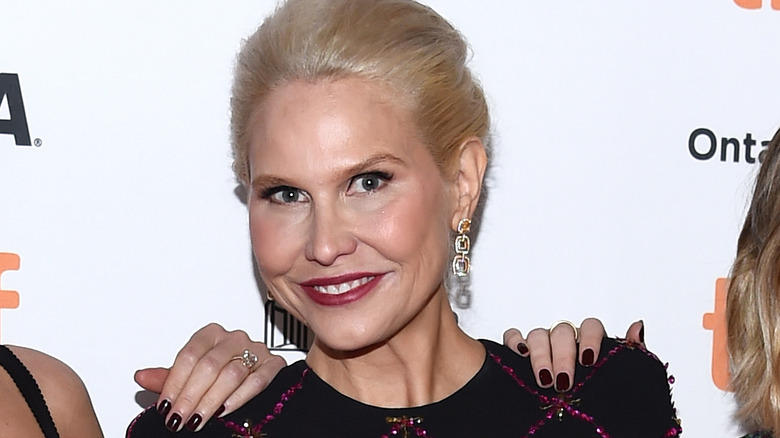 Amanda Edwards/Getty Images
Amy Foster is David Foster's only child with his first wife, singer-songwriter B.J. Cook. With two parents in the music industry, it perhaps comes as no surprise that Amy followed in their footsteps and pursued a music career. But in 2020, she made headlines for another reason: her decision to bravely discuss how she underwent a mastectomy following a breast cancer diagnosis.
In an interview with People magazine, Amy said she received her diagnosis in 2019. At the time of the interview, she revealed that she remained "on a pill form of chemo," which affected her immune system. As a mother to three children, her health concerns profoundly impacted the family. "I have young kids, and I think you end up being strong for them," she said. "In the course of being strong for them, you automatically become strong. The mastectomy was not great, but it never was a question for me. I was just like, 'Take them.'"
Amy also used her interview to speak about her relationship with her father. "He understands that as a parent, it's a lot more than providing. He puts time in, he puts energy, he puts effort," she admitted, suggesting that their relationship had strengthened later in life. 
Sara Foster has accused her father of being more present as a step-parent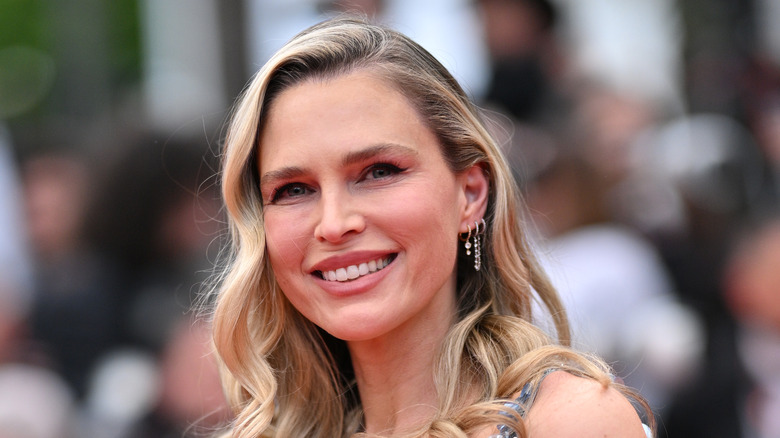 Lionel Hahn/Getty Images
Sara Foster is David Foster's third child and arguably his most famous, as she has pursued a career in the entertainment industry. Some of her projects include the television series "90210," in which she played Jen Clark, and the 2011 film "Demoted." In interviews, she has given glimpses into what it was like having a famous father, and her comments are not always positive.
"Our father ... wasn't raising us. He was raising Brandon and Brody [Jenner]," Sara said in an interview with the podcast "Sibling Revelry." That was not the only time she's mentioned her step-siblings.
"My dad's a really good guy and he has obviously had a lot of step-kids coming in and out of his life. He always maintains a really good relationship with them regardless of what happens in the marriage," Erin Foster said in an interview with Larry King Now. In the same interview, her sister, Sara, admitted they remained close to the "Jenner boys," referring to Brandon and Brody Jenner. David Foster married Linda Thompson in 1991 and they divorced in 2005. She was his third wife, and she shares Brandon and Brody with her ex, Caitlyn Jenner (formerly Bruce Jenner).
Sara and Erin Foster have collaborated on projects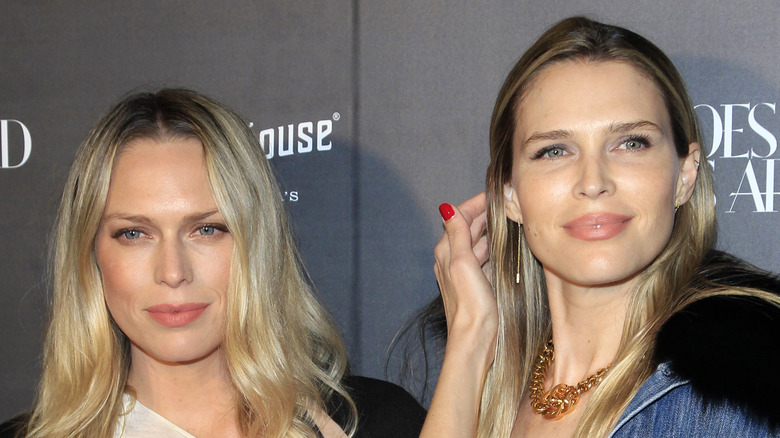 Kathy Hutchins/Shutterstock
Sara and Erin Foster share a close bond and have made several joint interview appearances. They also collaborated on the "Barely Famous" series, which aired between 2015 and 2016. Their willingness to share their lives with the world has heightened their popularity and fame factor. Take their social media accounts as an example; Sara boasts 700,000 followers on Instagram, while Erin claims 613,000 followers.
But their television work has not been their only collaborative effort. The sisters also run a clothing line, Favorite Daughter (their sister, Jordan Foster, serves as the style director). In a 2022 interview with The Hollywood Reporter, Erin and Sara discussed their decision to start a fashion brand. "Neither one of us can wrap our head around spending $800 on a top. We just don't do that. We weren't raised that way," Sara said. "We've always considered ourselves outsiders. We always feel like we're on the other side of the velvet rope."
Jordan Foster is also embracing life in the public eye
Michael Kovac/Getty Images
Jordan Foster, David Foster's fifth child, is becoming well-known for her style. She collaborates with her sisters on their clothing brand, Favorite Daughter, and she is a New York City and Los Angeles stylist, according to her Instagram bio. Jordan's social media is a great place to become inspired and find fashion advice, and she regularly posts how-to-style videos.
Jordan addressed her start in the fashion industry, telling The Tidalist when everything fell into place at age 27. "The next thing I know, a friend of a friend had just left Vogue and was starting a fashion brand, and they needed an intern. I learned so much from them," she revealed. "They're absolutely my mentors, and we're still very close, and I feel very lucky about that. I was working with them when they started La Ligne. So I had a lot of exposure ..." Unlike many other celebrity children who have benefitted from their famous parents' connections, Jordan started at the bottom and built herself up after years of hard work and experience. She earned her place, and that's something she can be proud of. 
Jordan is incredibly close to her sisters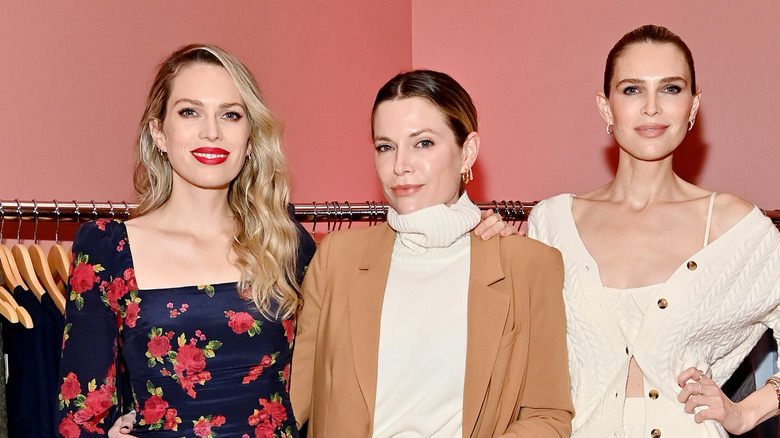 Stefanie Keenan/Getty Images
Jordan Foster is the youngest of David Foster and Rebecca Dyer's three children. While her older siblings, Erin and Sara Foster, are arguably more famous, the three women share some interests, namely their work in the fashion industry and a powerful bond. A common belief suggests that you should never mix family and business, but these sisters prove that sometimes such a combination can succeed. Jordan told The Tidalist how, despite them being open and, at times, "combative" with each other, it helps them create a "better product" for Favorite Daughter.
In the same interview, she also discussed her love for her sisters and how they've been a constant source of love and support. "They're the most supportive sisters you could ever have, truly," she said. "There is zero competition amongst the three of us, which I think is really rare, especially with three ..."
You will also notice their close bond in the photos they post on social media, including taking trips together or posing for photoshoots.
David Foster has admitted to not raising his daughters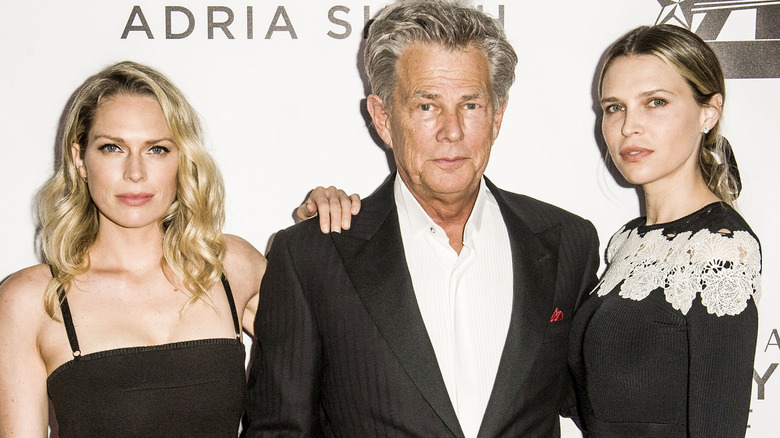 Timothy Norris/Getty Images
We mentioned Sara Foster's comments on her father raising her step-siblings, Brandon and Brody Jenner, but her father, David Foster, has echoed the statements about not raising his daughters.
"I missed a lot because I didn't raise them," David told People in a 2020 interview. "The geography was really tough. That was my own doing and a regret that I have, but it was what it was and there was no changing it. So I did the best I could, which was quite imperfect at times. Plus I worked so much. I mean, I've made a pound of music in my life."
Despite not being there for his daughters as much as he would have liked, they still considered him available. And whatever issues occurred in the past have been resolved. The bond between father and daughters strengthened with time as they found a way to connect as adults. Sara, Erin, and Jordan gave an interview to People, and their comments about their father suggest a new understanding. "He was working to provide for us," Sara told the publication. "As an adult, you realize it's impossible to be a perfect parent, and you don't realize that until you have your own kids."
David Foster's relationships with his daughters are improving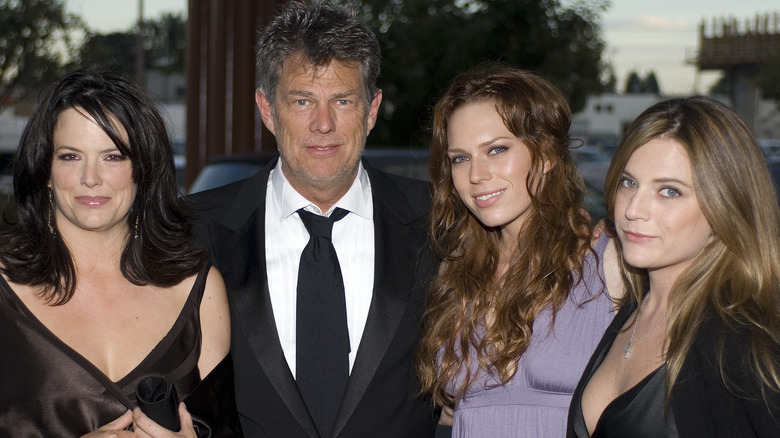 Christopher Morris - Corbis/Getty Images
We can summarize from David Foster's interview comments about parenting his daughters and the comments they've made about him that he was not always the most present or hands-on father. However, Amy Foster discussed how her own bond with the musician had changed, and it appears they now share a mutual understanding of what it takes to be a parent (she is a mother herself to three children). "[Our relationship] has grown a lot, and I think my dad and I are a lot alike," she told People in 2020. "The relationship that I have with my dad is so great now. He's not so stuck in his ways that he thinks that he's intractable, that he doesn't need to change. He's evolving every day, and I love that."
Amy acknowledged the differences in her father's life in recent years, admitting that the dynamics between fathers, in general, and their children have shifted significantly from when she was born in 1973. "He really did believe that his job was just to provide," she told People.
He added to his family with a new child in his 70s
David Foster fans probably assumed he'd have fathered his last child in the late 80s, but he surprised most people with the announcement that his fifth wife, Katherine McPhee, was pregnant. When their son arrived in 2021, Foster was already in his 70s, and raising a child much later in life rates as a completely unique experience.
"I've loved every single day," he told People in a 2022 interview. "It's the standard thing of like, 'Oh, well, you were so young when you had your children, and you were working day and night, you never saw them.' And there is some truth to that, sadly, for my (older) kids. I was just working a lot." Late fatherhood has also been a blessing in many ways because he can shift his focus from his career to his family despite a busy schedule. "Even though I'm working a lot now, I'll cancel anything just to hang with him," he confessed. "It's just different."
Foster, in a 2023 interview with People, described himself as having more "patience." And he sounded pragmatic about not being able to spend as much time in his son's life given his age, noting that he can still impart his wisdom in the time they have together.
David Foster's wife, Katharine McPhee, is younger than four of his daughters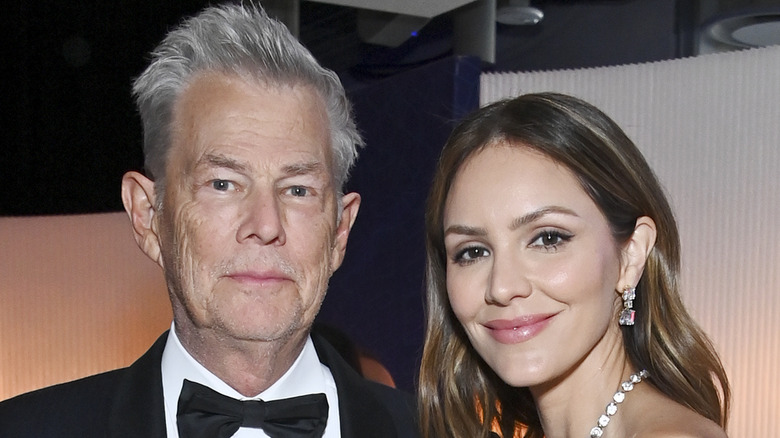 Araya Doheny/Getty Images
Actress-singer Katharine McPhee married David Foster in 2019. The coupling surely surprised some fans considering the significant age difference — 34 years — between the "The Best of Me" musician and McPhee. She was born on March 25, 1984, making the "Smash" actress younger than four of Foster's daughters: Allison, Amy, Erin, and Sara. Only his fifth daughter, Jordan, and the son he shares with McPhee are younger.
McPhee and Foster have often defended their age difference. In an interview on "Dr. Berlin's Informed Pregnancy Podcast," McPhee said: "I totally get the judgment initially, but things are never as they appear, things are never exactly as they appear and I'm in love with our love story and that's all that matters."
But do his daughters care that McPhee is younger than they are? Their comments would suggest they don't. "Our biggest issue with [Katharine] is how hot she is," Erin jokingly told People in a 2020 interview alongside sisters Sara and Jordan. They also acknowledged how their father was married four times before to women of similar ages (to him), and those relationships did not work. Plus, they view the age gap in a "positive way." Erin explained why: "Our dad comes from a generation where women are more passive. He is also passive about his feelings. Kat has really pushed him to open up ..."
Only time will tell if David Foster will become a father to 7 kids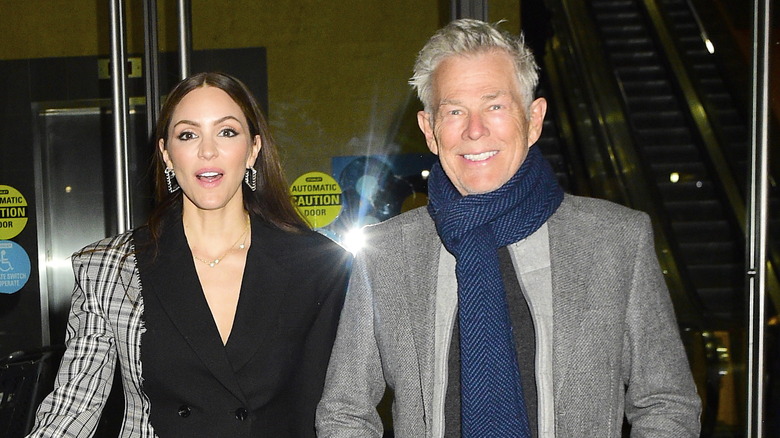 Raymond Hall/Getty Images
David Foster now shares a special bond with each of his children, despite the disparity in age between his fifth daughter, Jordan (born in 1986), and his son, Rennie (born in 2021). Now, fans might wonder if he could become a father for a seventh time with his wife, Katherine McPhee?!
No one except the couple can rule out this possibility entirely, and the "Scorpion" actress recently admitted she would like to be a mother again. In an appearance on "The Jennifer Hudson Show" (via People) in 2023, she said: "I would love to have another baby, but we'll see. We're not in any crazy rush, but I hope so. I love being a mom, I really love it."
As for David Foster's feelings about growing the family, he has not specifically addressed it but he did address becoming a father later in life. "It's just great being a dad," he told People. "It's too cliché to say 'Now I have more time,' but I do: I have more time."