Leni Klum Has Grown Up To Be Gorgeous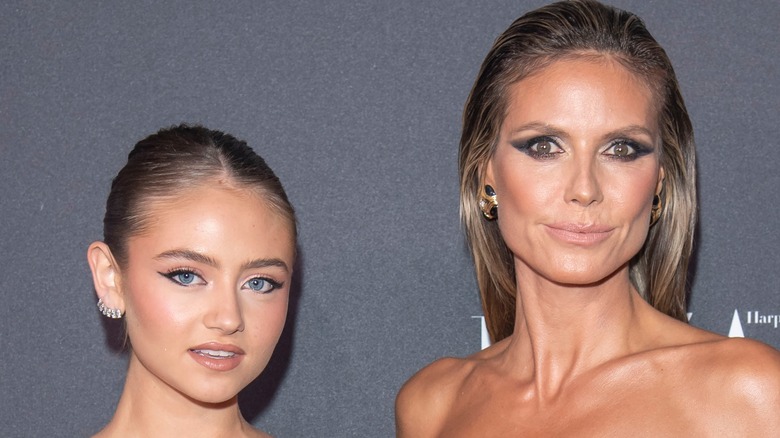 Ron Adar/Shutterstock
Leni Klum, the daughter of Heidi Klum and Seal — although her biological father is Italian businessman Flavio Briatore — was born into the limelight, meaning people would take an interest in her because of her parents. While she shares some obvious similarities with her famous mama (including her appearance), she is fascinating in her own right. Rather than try to distance herself from her parents and their fame, Leni understands the opportunities it affords her. That said, she puts in the work.
She also stresses the importance of being comfortable in her own skin. "You can tell if you're not comfortable and then the best of you isn't brought out," she told People in a 2022 interview. "I just think you should be open and honest with what makes you comfortable, be yourself, do what you love. And if you do all those three things then you're golden." As she enters adulthood and becomes more comfortable in the spotlight, even more attention has shifted to Leni Klum. Let's discuss who she is and everything you should know about her ...
Leni Klum is realistic about the 'nepo baby' label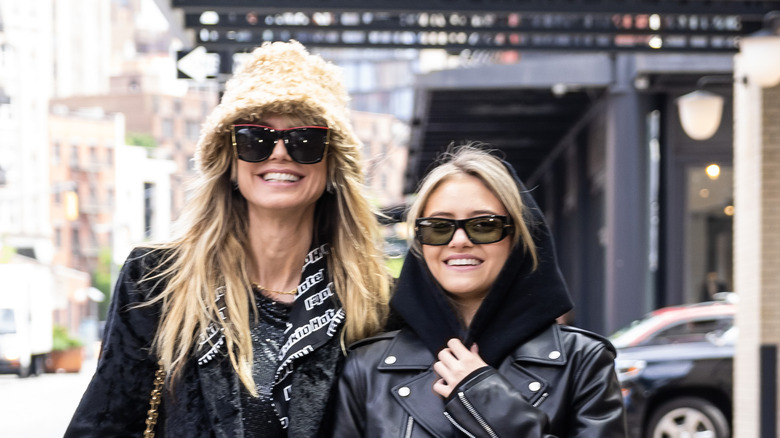 Gotham/Getty Images
Leni Klum understands she was born into privilege, and instead of denying this, she discusses the topic with honesty. In recent years, there's been a lot of chatter about the term "nepo baby," used to describe children with famous parents who have benefitted in some way due to their success and connections. How does Leni feel about the term, and does she want to distance herself from it?
"It's just a fact. My parents are famous," she told People in 2022. "I did get help starting off, and I know that people would dream to start off with what I had. I'm so grateful that I've been able to take what was gifted to me by my mom." Her comments sound refreshing, but her parentage does not mean she doesn't strive to achieve her career goals, which include balancing a growing modeling career while embracing all that college life offers.
She previously addressed what it means to be a "nepo baby." In an interview with Flaunt magazine, she admitted she accepts the label. "I'm like, 'Yeah, that's what I am,'" she told the publication, "and that's what a lot of other people are."
She has a close relationship with her dad Seal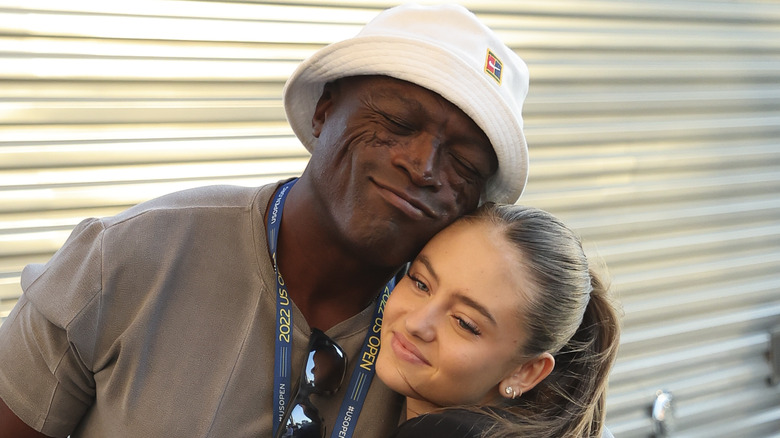 Jean Catuffe/Getty Images
Seal and Heidi Klum married in 2005 and stayed together until 2014. When they first started dating, Klum was already pregnant with her daughter, Leni (by biological father Flavio Briatore). Leni grew up with Seal, and he has been a constant presence. They share a close bond, which the "Love's Divine" musician gave a glimpse into when they walked the red carpet for "The Harder They Fall" in 2021. "[Heidi] was two weeks pregnant with this beautiful lady. We have always had that bond," he told Entertainment Tonight of the relationship he shares with Leni, who he formally adopted in 2009 (she was born in 2004).
Seal praised Leni's achievements in an interview with E! News in 2023. "I'm so proud of everything that Leni has done," he said. "But I'm more proud of everything that she is. She walks through life with this type of humility that allows her to move so gracefully through it all, and she has an innate understanding of people in general and people's feelings ..."
Less is known about the relationship between Leni and her biological father. Still, Briatore spoke about the decision to allow her to be adopted in an interview with Il Corriere della Sera in 2016 (via Daily Mail). "Leni is my natural daughter, but the three of us happily agreed that it made more sense if Seal adopted her, because a child needs to grow up in a family," he said.
She's not afraid to be real
As the child of famous parents, Leni Klum may face challenges that those of us who have not grown up in the limelight cannot fathom. For example, celebrity children might feel the need to live up to specific pressures and standards, especially if people recognize their parents as hugely talented or exceptionally beautiful, like Seal and Heidi Klum.
Leni's appeal boils down to her realness. She is unafraid to be herself, including posting pictures that show her makeup-free and with breakouts. Instead of trying to create the perfect image, she reveals to the world that even models experience bad days or perceived imperfections. This sends a powerful message, and her fans have celebrated her for it, expressing their support on social media.
But why did she decide to post photos of her skin looking less than perfect? She offered a simple answer to that question. "There were days where I just wanted to stay home and didn't want to leave the house until my acne cleared up," she told People in 2022. "Then I realized I can't live like that. I can't let pimples on my face prevent me from leaving the house. So I decided to post a photo of my acne because it's normal."
Leni Klum is interested in interior design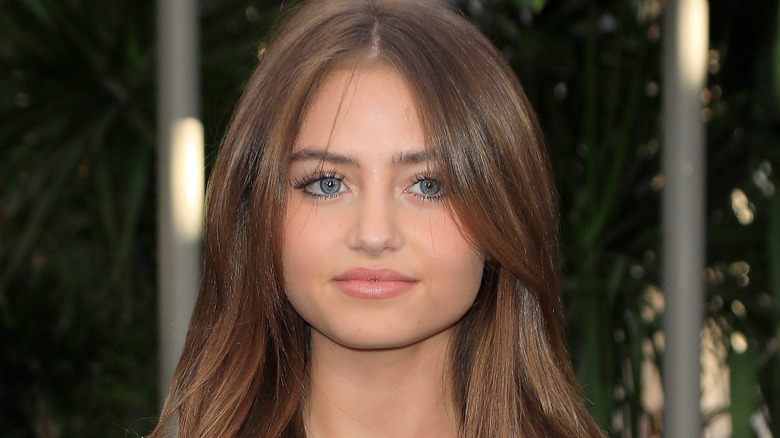 Joe Seer/Shutterstock
Leni Klum is a young woman with many talents and interests. Her main focus currently appears to be modeling, and she has landed some prestigious campaigns, including Dior and GHD. Another interest: interior design. She studies it in New York, and it turns out her mama, Heidi Klum, may have inspired her studies (although perhaps not intentionally).
In a 2022 interview with People magazine, Leni addressed why she chose interior design. "My mom's house actually sparked my interest; I always talk about redoing it," she explained before sharing details about their contrasting style approaches. "I'm more a minimalist — a few pieces here and there that stand out — but we have completely different tastes. She's a maximalist, with fashion too," Leni said. And fans of the reality television show, "Fixer Upper" and its spin-offs" (with Chip and Joanna Gaines), will be thrilled to know it counts Leni Klum among its celebrity fans. "In the future, I'd love to be on 'Fixer Upper, ' she told People. "I'm obsessed with that show."
She's followed in her mom's footsteps with a modeling career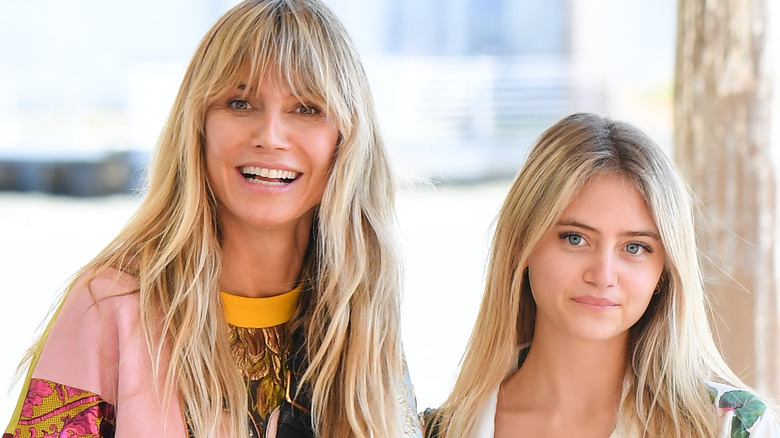 Photopix/Getty Images
German model Heidi Klum, long one of the world's top models, boasts an impressive career and undeniably rates as one of the most recognizable faces to emerge from the modeling industry. Perhaps it should come as no surprise that her genetically blessed daughter, who has been exposed to the industry since childhood, would want to follow in her footsteps.
Leni Klum knew she wanted to pursue this career from a young age, and the industry sought her out early on as well. "I was stopped in a Brandy Melville when I was 12, and they asked me to model for their clothes," Leni told People in 2022. "I was freaking out because Brandy Melville was my favorite at the time." But Heidi had other plans, as she considered her daughter too young to model. Leni pushed back on the decision, but now, as a young adult, she knows her mother made the right call.
"It would've been so different if I'd started younger," Leni told Flaunt magazine. "I would've regretted posting certain photos of myself. I would've been like, 'This was so embarrassing.'"
She landed a Vogue Germany cover at 16
When models get their big break, it might be for a campaign, or they walk the runway of a prestigious brand, but not many can say their first-ever photoshoot ran on the cover of the fashion magazine Vogue. Leni Klum can! She launched as a model thanks to Vogue Germany, which photographed her for the January/February 2021 cover alongside her mother, Heidi Klum, at age 16.
"Vogue was insane," Leni told Flaunt magazine while reflecting on the experience. "Especially because it was my first job ever." We mentioned before that Heidi felt reluctant about letting her daughter start modeling until she was older, and she considered 16 a perfect age. Speaking to the publication (via USA Today), Heidi revealed why she thought it was the right time to loosen the reins and let her daughter pursue the career she aspired to since her preteen years.
"If you are allowed to drive a car, you can also have an official Instagram account and show your face," Heidi said of being 16. "And to be allowed to start with a Vogue cover is an insane privilege." In December 2020, Leni posted the cover on social media and shared her thoughts in the caption. "So excited for my first cover!!" she wrote. "I had so much fun on set with @voguegermany couldn't dream of a better start!! Thank you for being by my side @heidiklum."
Heidi Klum and Leni have done a lingerie photoshoot together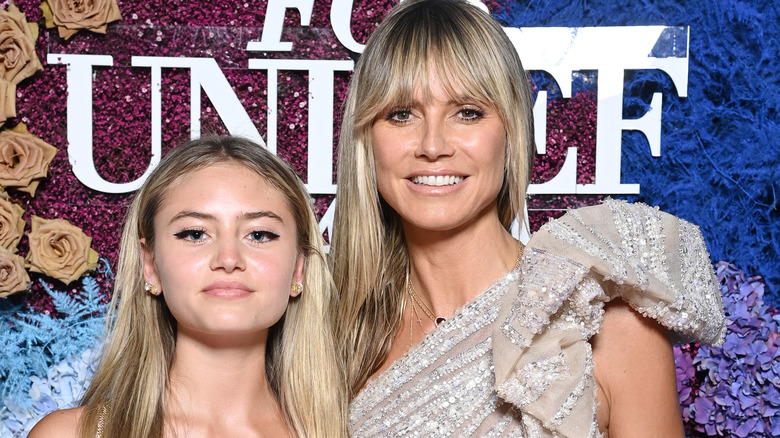 Daniele Venturelli/Getty Images
Heidi Klum may have harbored reservations about her daughter joining the industry at a young age, but she supports her career now. She and Leni Klum have also enjoyed the unique opportunity to work together, including in Intimissimi's lingerie campaign. Heidi and Leni are professionals, so posing in their underwear was not an issue. Still, the experience became even more memorable because they loved teaming up.
"My mom and I are just completely comfortable around each other, and we were dancing around the whole day," Leni told People about collaborating on the campaign. "That was what we had to do, and we do that anyway, so it just fit right. It was just such a fun day." That was not the only time she expressed that posing in front of the camera with her mother feels less like work and more like fun, as, in a Flaunt magazine interview, she characterized sharing photoshoots with Heidi as "working with my best friend."
And there is nothing awkward about lingerie shoots because Leni is comfortable with her body, partly thanks to her mother. "You kind of model a little after what your mom does," she told People. "I think also that's why I'm very free with my body. I tan topless because I saw my mom do that."
Leni Klum speaks German but she's not as fluent as you might think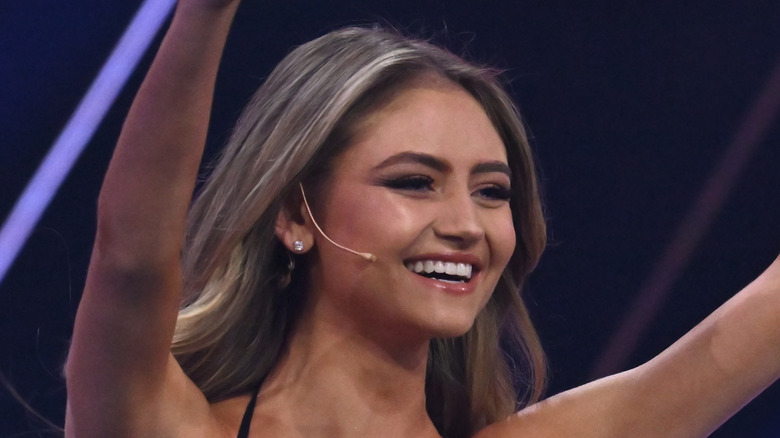 Seven.one Entertainment Group Gmbh/Getty Images
Leni Klum was born in New York, but her mother hails from Germany. Her adoptive father, Seal, is English, and her biological father, Flavio Briatore, is Italian. As a result, Leni has likely been exposed to different cultures and languages, but her mother tongue is English. She can hold a conversation in German, but not as fluently as some fans may expect. Either that, or she's just incredibly humble about her bilingual abilities.
"There's definitely a reconnection when it comes to the language," she told Flaunt magazine. "My grandma only speaks German, so I grew up speaking German." She has also worked with many German brands and publications, including her first photoshoot, for Vogue Germany (alongside her mother). "I'm surprised people can understand me," she told Flaunt in jest. "I switch words around, and everyone says I have an accent as well."
Hailey Bieber is Leni Klum's style icon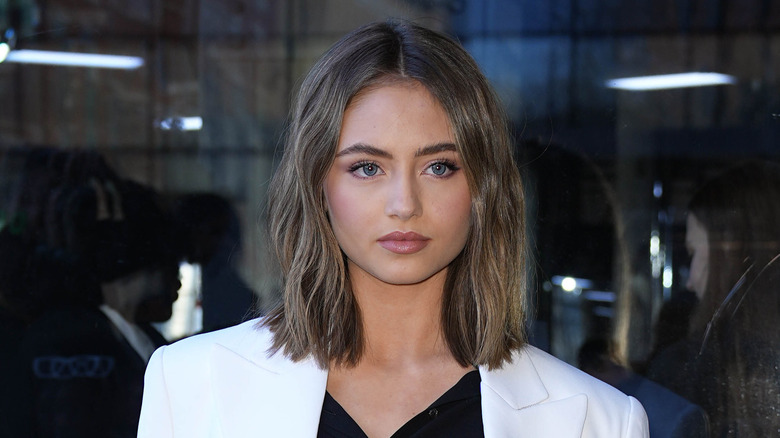 Jni/star Max/Getty Images
A glimpse at Leni Klum's social media shows that she's a stylish young woman. She likely inspires fans with her fashion sense. Meanwhile, she draws inspiration from Hailey Bieber.
Bieber is a successful model in her own right (and married to one of the world's most famous musicians, Justin Bieber), and Leni counts herself among Bieber's biggest fans. "Hailey Bieber definitely influences my style the most," she told Grazia magazine in an interview for her Superga Fall/Winter 2022 campaign. "She always looks so effortlessly put together, and I love that." 
Leni offers excellent advice for others trying to find a look that promotes confidence and represents who they are. "Dress the way you want to dress has always been something I keep in mind," she said. "Create your own style and wear what makes you happy and feel confident." But one of the most important things for Leni is remaining comfortable. In an interview with Elle Australia in 2022, when asked to describe her Fall style, she replied: "Comfy, timeless, and easy."
She was inspired by Heidi Klum's career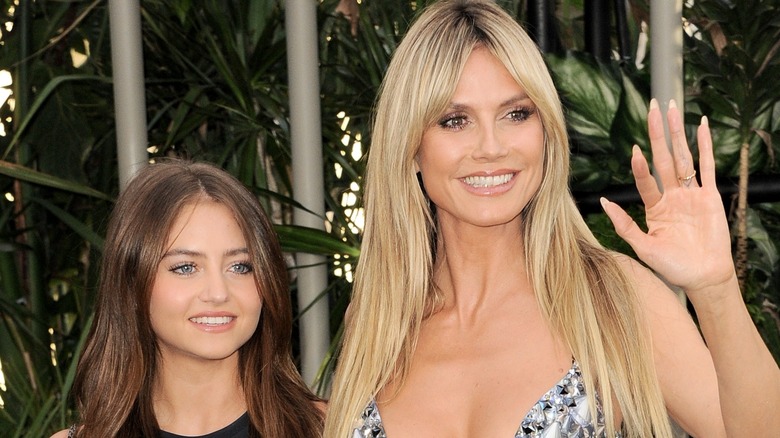 Tinseltown/Shutterstock
Leni Klum was able to choose her career path for herself, and while she may have been tempted to go in a completely different direction from her mom, she didn't. Of course, following in Heidi Klum's footsteps is not easy thanks to her status in the modeling industry. Still, Leni has already set herself apart from her mama and found a way to emerge from her shadow. 
"I do what I love, she does what she loves," Leni told Flaunt. "We have different interests, but modeling happens to be one of the things we have in common." She also revealed she has been on the set of photo shoots from a young age and found the experience "interesting." She continued, "I watched her work and thought, 'This is so fun, it's so exciting. This is what I want to do.'" 
How does Heidi Klum feel about Leni pursuing the same career? "I'm very proud of my daughter and her modeling," she told People in a 2023 interview. "And she's studying at the same time, she's juggling already."
She has a matching tattoo with her stepdad
Bellocqimages/bauer-griffin/Getty Images
Leni Klum likes body art, although she does not necessarily flaunt this. But the one tattoo she got inked means a lot, as it honors an important relationship in her life: the bond with stepdad Tom Kaulitz, guitarist for Tokio Hotel.
Heidi Klum and Tom Kaulitz started dating in 2018 and married in 2019. Kaulitz sought to be an active part of Heidi's life and her children's, and he even included Leni and her siblings in his proposal. "He asked all of us children for permission. We brought them breakfast in bed at Christmas, he took the ring, and then we all got really nervous when Mama hesitated for a moment," Leni told Vogue Germany (via Vogue Singapore). So, in addition to Seal adopting Leni, she also has another strong male figure in her life. But now, back to their tattoos. It's a friendship piece created with three small dots on the inside of their fingers, and they also included Tom's brother, Bill Kaulitz, when deciding on their new ink. While the exact meaning behind their design is not immediately clear, it could be that there's a dot to represent each of them.
In the same interview, Leni revealed she wanted a mouth tattoo, a decision her mother vetoed at the time. It's possible that she's since gotten it inked, as she's an adult and no longer needs her mother's approval.
Leni Klum has acne and she's been honest about it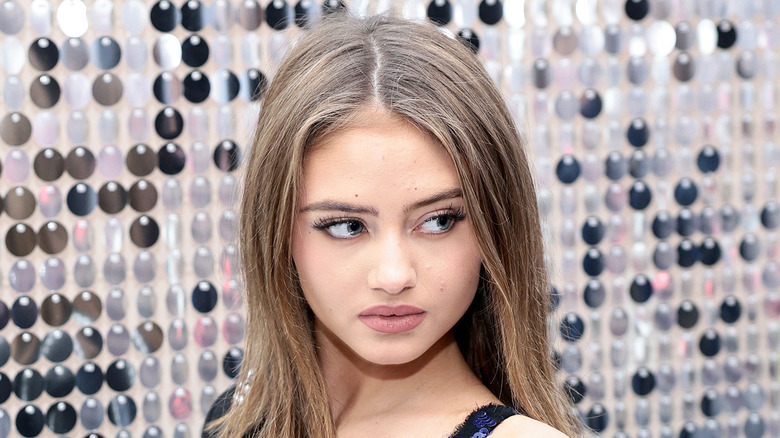 Dimitrios Kambouris/Getty Images
Leni Klum's decision to become a model means her face appears everywhere. She always has her photo taken, and her social media features campaigns and beautiful photoshoots. But despite the glamorous life that these pictures suggest, and her gorgeous, flawless complexion, Leni Klum has been honest about not being perfect. And doesn't try to cover up the parts of her which are completely normal, like her struggles with acne.
While some stars would rather keep their issues with problematic skin to themselves, and it's entirely their right to do so, Leni speaks about acne without shame. For someone so young, she makes important points and sends a message of inclusion and acceptance. "I feel like there is a thought behind having acne that you're not beautiful with it or it makes you look not as good as you could look," she told People in 2022. "There's this stigma. I honestly used to feel like that too, a while ago. Then I realized, 'Oh my God, this is normal.' Everyone goes through it ... It's not bad if you have it ..."