What The Sister Wives Relationships Are Like With Each Other Today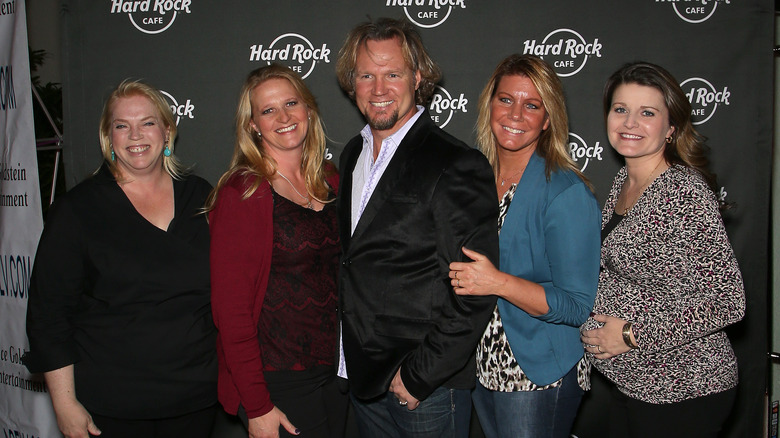 Gabe Ginsberg/Getty Images
When "Sister Wives" began, the entire country was enamored with watching the Brown family's unconventional lifestyle. Kody Brown famously introduced himself and his family by saying, "I have three awesome wives — Meri, Janelle, and Christine — and I have 12 wonderful children. My family's on the verge of a huge change because love should be multiplied, not divided." Throughout the past 17 seasons of the show, we've watched the Brown family's love be multiplied as Kody added a new wife and welcomed new children, and as his children married and procreated. Christine Brown, who was pregnant at the start of the show, has since welcomed multiple grandchildren, as has Janelle Brown. In total, Kody has 18 children and six grandchildren.  
Unfortunately, we've also watched the Brown family's love divide. Wives have argued with each other and Kody about where they should live and how money should be split among the families. The sister wives have aired their grievances about how much time Kody spends with them and their kids. We've seen Kody argue with his adult children, and we've seen both children and wives either take time away from or leave the family. Over a decade after first being introduced to the famous polygamist family, the Browns are more divided than ever before, and each of them has a unique dynamic with the rest of their family members. Here's what the "Sister Wives" relationships are like with each other today.
Meri and Christine have not remained close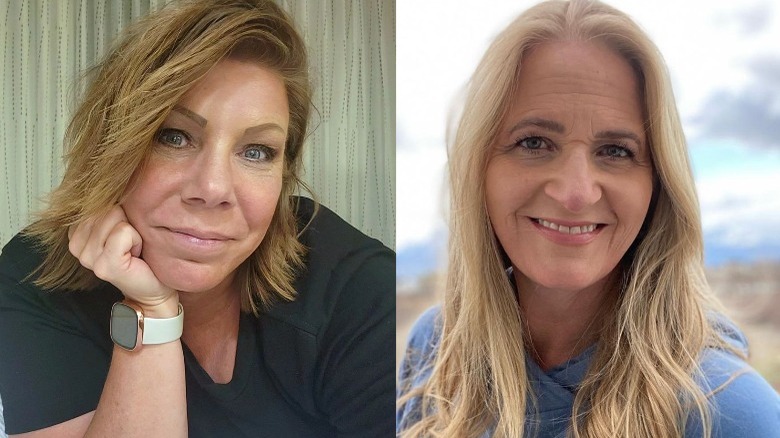 Instagram
When Christine Brown shared she was leaving Kody Brown, the relationships between her and her former sister wives shifted dramatically. Although Christine hadn't had a close relationship with Meri Brown for quite some time, their dynamic became much different when Christine officially left the family. "When I told Meri, Robyn, and Janelle, Janelle actually cried. That was so hard. It was not only am I deciding to leave Kody, I was leaving them as well," Christine told People of her former sister wives' reactions to the news of her decision to separate from their husband. "I didn't even talk to Robyn or Meri after that," she added.
At the end of Season 17, the four sister wives and Kody sat down individually with Sukanya Krishnan to share their perspectives on various issues plaguing their family, and Meri opened up about her thoughts on Christine and Kody's break-up. "I felt very betrayed by her and that she was leaving me too, because she has always said, 'I didn't just want the man, I want the sister wives,'" Meri told Krishnan. She also mourned her old relationship with Christine, noting that they've gotten along well in the past. Christine provided further clarity on their relationship. "I ended the friendship," Christine said to Krishnan. "It wasn't safe for me anymore, and I ended it. I just told her straight up, 'No, we're not going to be friends because I don't trust you. And I'm not going to do that to myself anymore."
Meri is close with Janelle's kids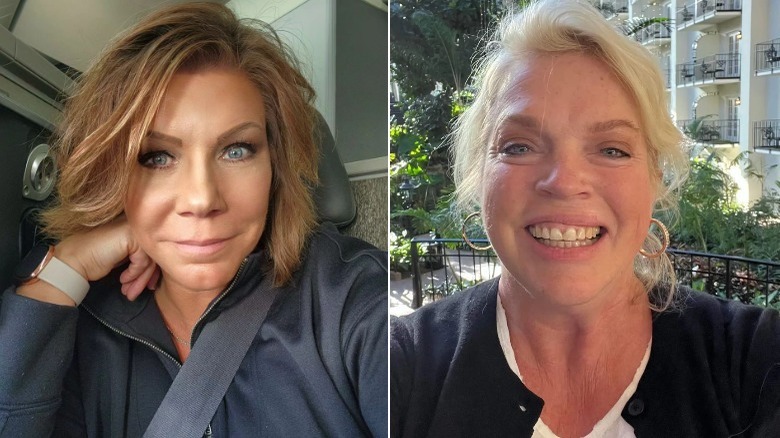 Instagram
The "Sister Wives" might not be close to each other anymore, but they have all maintained their commitment to be there for each other's kids. The wives have all noted throughout the years that a major draw to the polygamous lifestyle is a built-in community of other women to help care for their children, and the bonds between the wives and children have proven to be very strong, transcending divorce and biological relations. While Meri Brown and Janelle Brown don't have much of a relationship anymore, Meri still spends time with Janelle's kids. In February 2023, Meri posted a photo of herself with Janelle's sons Hunter Brown and Logan Brown to Instagram. "When in Vegas, it just makes sense to find a couple of good looking guys to spend a few hours with ... So good catching up with these two, and proud of the good men they've become!" Meri lovingly wrote.
Meri is very close with several of her sister wives' children, but Janelle doesn't seem to be as close with Meri's child, Leon Brown. Leon came out as transgender in 2022, and since then, they haven't been as close to their family. "Leon has been since childhood, kind of the odd one out in the family ... They've just been separating themselves from the situation and been sticking to people that are more safe for them," Leon's half-sister Gwendlyn Brown said of the dynamic on her YouTube channel. "It's not that they're not fitting in, it's that they have chosen to go to people who they can trust."
Meri and Robyn have a rocky relationship now, too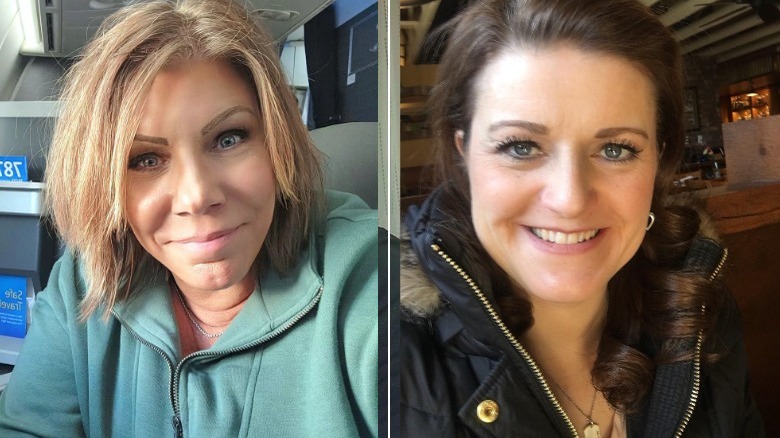 Instagram
Longtime fans of "Sister Wives" will remember that Meri Brown brought Kody Brown's fourth wife, Robyn Brown, into the family, and devoted fans know how many sacrifices Meri has made for Robyn's family. Meri has been very close to Robyn's children since they joined the family, and in 2014, when Kody wanted to adopt Robyn's children, Meri and Kody legally divorced so Kody could legally marry Robyn in order to complete the adoption process. And at the end of Season 17, Robyn said to Meri, "I'm just grateful that you're sticking it out," amid learning of the end of Kody and Christine Brown's marriage. "Hang on with me, okay? We have to rebuild. We have to rebuild," she added. 
Meri was in agreement that she needed to stay with the family at the time of her conversation with Robyn, as well as during a separate conversation where she said to Robyn, "You know exactly where I am ... I'm still trying." But since then, the two wives' relationship has reportedly worsened. According to a source for OK! Magazine, "Meri the whole time was jealous of Robyn and every choice she's made was to get Kody's attention, 100 percent." Christine and Janelle Brown have long voiced their opinion that Robyn is Kody's favorite wife, and per the source, Meri might share that opinion. The insider added that Meri "regrets bringing Robyn into the family."
Christine and Robyn aren't close either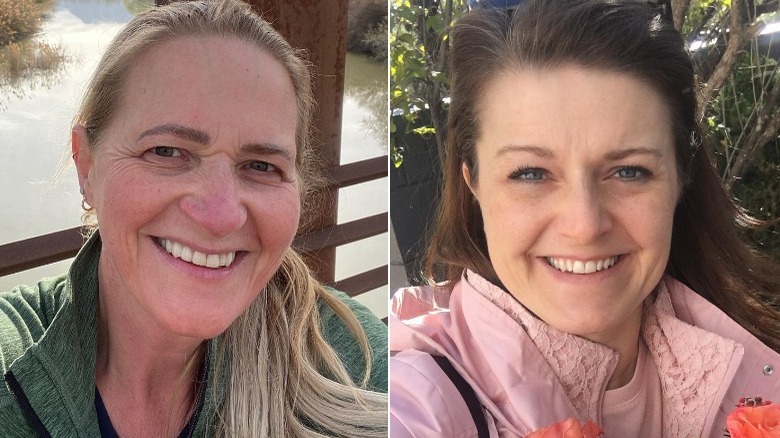 Instagram
Meri Brown isn't Robyn Brown's only former sister wife she isn't getting along with today. She doesn't have a close relationship with Christine Brown, either. The two have never been particularly close, something Kody Brown has blamed Christine for, but their relationship really suffered when Christine left Kody. "I hadn't been that close to Robyn, I hadn't been that close to Meri, for years. As soon as I told everybody, [Janelle] was the only person who talked to me afterwards," Christine told People of her relationship with her former sister wives.
Robyn took the news of Christine and Kody's divorce very hard, finding it to be a disavowal of their Mormon beliefs. "I really wanted to live plural marriage and give that big picture of the whole family to my kids. I want that for my kids, but I want it for me too. I had other choices ... this is what I wanted. I just have to watch as they destroy what I've wanted. I just can't let it go," Robyn said on the show. Although the two women aren't close, Robyn does have a strong bond with Christine's kids, particularly Mykelti Padron. Padron gave birth to a set of twins in late 2022, and her husband shared on Instagram that Robyn had sent a gift to Padron to celebrate.
Christine and Janelle are still best friends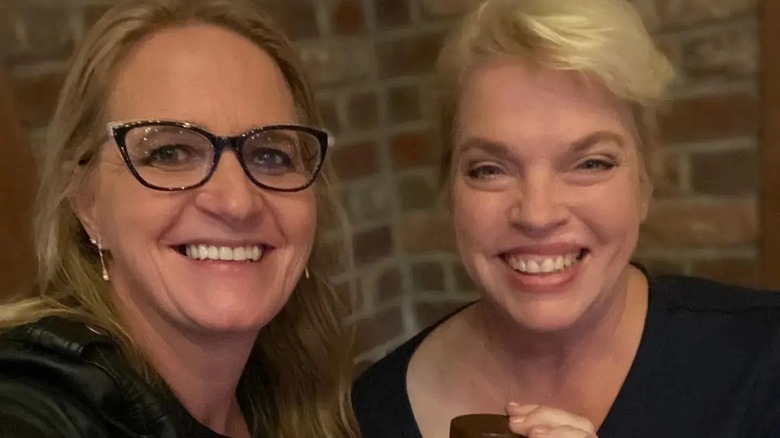 Instagram
One of the most stable relationships among the adults of the Brown family is between Christine Brown and Janelle Brown. The former sister wives have long had a close relationship, and despite them no longer sharing a husband, they're still great friends. "Janelle and I are really good friends. She's been supportive from the get-go," Christine told People of her relationship with Janelle amid the dissolution of her marriage to Kody Brown. "Janelle and I have stayed close through the whole thing. She's wonderful," she added.
After leaving Kody, Christine moved to Utah to be closer to her children. Janelle still calls Arizona home, but she and Christine still see each other frequently. Both ladies often post photos with each other on their Instagram accounts, and they've bonded over their dedication to health and selling products made by Plexus, a health supplements company. The duo has teamed up to host a trip for the brand that other sellers could earn, and they've celebrated their own work with the brand at a gala. "Went to a [Plexus] black tie gala last night with some of my favorite people. I LOVE doing a home based business with my family!" Christine captioned a photo of herself, Janelle, and Madison Brush, Janelle's daughter. Christine and Janelle have always been close to each other's children, and they appear to still be close with them today.
Janelle and Robyn aren't on great terms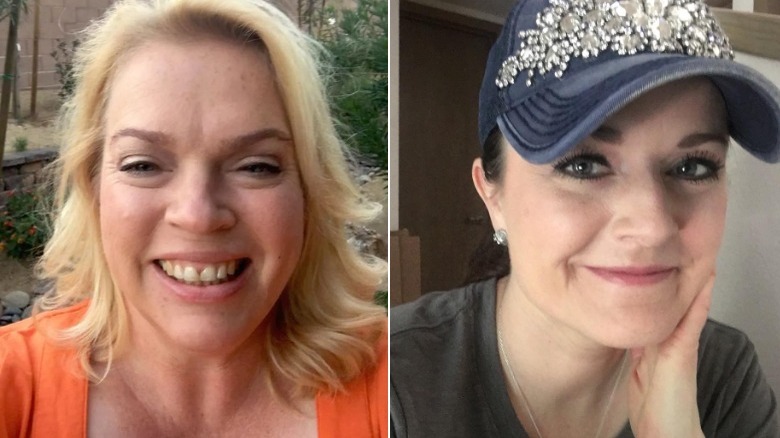 Instagram
Robyn Brown doesn't seem to have a good relationship with any of her former sister wives. As noted, she isn't close with Christine Brown or Meri Brown anymore, and Janelle Brown has made it clear she has issues with Robyn, too. During the Season 17 sit-down interviews with Sukanya Krishnan, Janelle shared some of the specific problems she has with Robyn. "I get so tired of counselor Robyn," Janelle said. "It just feels like she's placating him," she added. Janelle also shared that some of the issues she has with Robyn stem from the issues she has with Kody Brown and his relationship with her sons. "The first ultimatum was that they would apologize to him and they would apologize to Robyn," she noted, stating that her sons felt rejected by their father.
According to outside sources, Janelle and Robyn's relationship hasn't improved since the interview. Per The Sun, Janelle and Christine were overheard talking about their family situation while at a bar in June 2023. "They were definitely talking smack about Kody and the other wives. They were having a deep and animated conversation that lasted over three hours ... Everyone brought up 'Meri' and 'Robyn' as well and it wasn't in a positive light," another bar patron told the outlet.
Kody and Meri aren't married anymore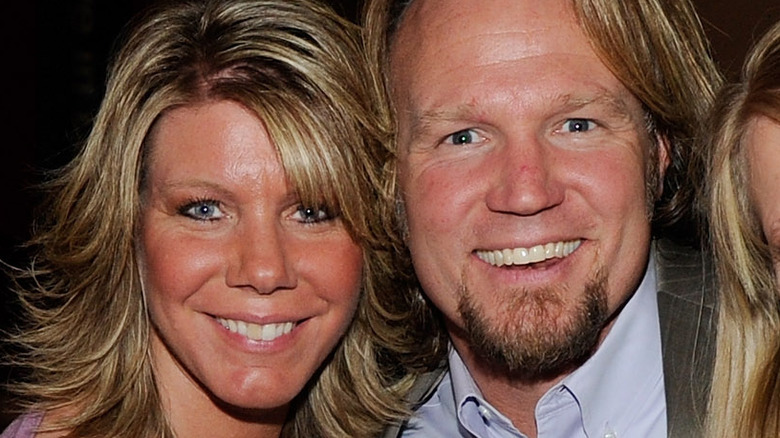 Ethan Miller/Getty Images
Meri Brown was the first woman Kody Brown married, and after decades together, the two parted ways. Viewers could see this coming — Kody and Meri had experienced more than their fair share of marital drama, including their legal divorce and Meri's catfishing incident. "I've seen Kody give up on me and him," Meri said of their relationship in Season 17 of "Sister Wives." Kody, however, sees the demise of their relationship differently. "I didn't give up on Meri," he said. "It just turned out the relationship was, essentially, unstable. I just didn't feel like it was tenable. It's not a functional relationship. And we can get along, but we can't be together."
Despite Kody's obvious desire to end his relationship with Meri, she held on until the bitter end. It wasn't until January of 2023 that she formally announced she and Kody were no longer together. "After more than a decade of working on our relationship in our own unique ways, we have made the decision to permanently terminate our marriage relationship," Meri wrote in an Instagram post. Per Meri's Instagram account, she is not spending much time with Kody post-split, but she is spending lots of time with her friends.
Kody and Christine are co-parenting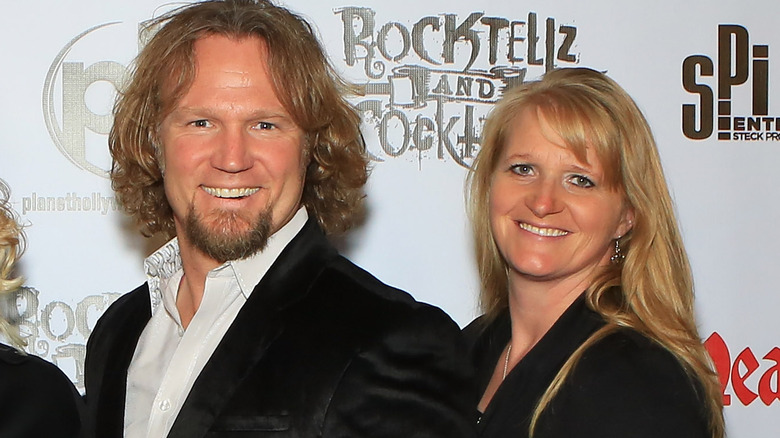 Gabe Ginsberg/Getty Images
Within about a year and a half, Kody Brown went from having four wives to having one. The first of his wives to leave was Christine Brown. Christine and Kody's marital issues were a major plot line for several seasons before they officially called it quits, so the announcement was not surprising. In a statement she posted to Instagram, Christine did note she and Kody would still be part of each other's lives as they share children, one of whom is still a minor. After Christine broke the news, Kody responded by saying, "Christine's decision to leave comes with a great deal of sadness. We enjoyed many years together and I have a large amount of respect and admiration for her. Although we are moving forward on different paths, we will always remain committed parents."
Not long after ending her marriage to Kody and moving back to Utah, Christine met someone new, and in the spring of 2023, she got engaged. "We're engaged! David popped the question VERY romantically, and I said YES! I'm so excited and just live in bliss every day!" she shared on Instagram. Her friend and former sister wife Janelle commented on her excitement for the couple on the post. Kody, meanwhile, is reportedly upset by the news. "I don't know if he's serious or joking, but Kody thinks this is all a stint for TLC to get David on a contract, so he and Christine are relevant," a source told The Sun about Kody's reaction to Christine's engagement.
Kody and Janelle are separated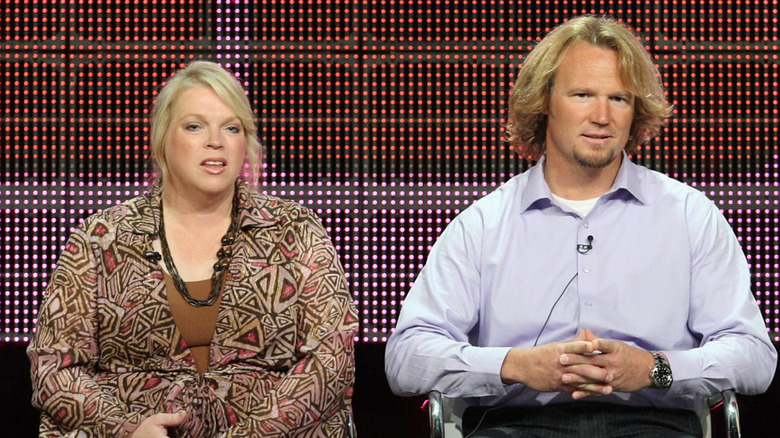 Frederick M. Brown/Getty Images
Season 17 of "Sister Wives" showed the immediate fallout of Christine Brown leaving Kody Brown, but it also hinted at a potential split between Kody and Janelle Brown. At the end of the season during a sit-down interview with Sukanya Krishnan, Janelle confirmed that she and Kody were no longer together. "Kody and I have separated and I'm happy, really happy. I don't know, things just really became sort of indifferent, like I just didn't care anymore," Janelle said. She continued by noting that she feels disrespected by Kody, particularly because of his actions toward their children — and the feeling is mutual.
Krishnan spoke with Kody about their separation, too. And while he confirmed their split, he said he'd be open to working on their relationship. Such work is conditional to Kody, as pointed out. "I won't go to a place where I'm not respected because love doesn't matter to me. Respect matters to me," he said. "I want to fix it, but that's a whole new negotiation," he added. Kody and Janelle share six children together, the youngest of whom graduated in May 2023. "There was definitely a difference with this graduation versus others in the past — but all is well," Janelle said of the event. Both Janelle and Kody were there to celebrate their daughter's day.
Kody and Robyn are still together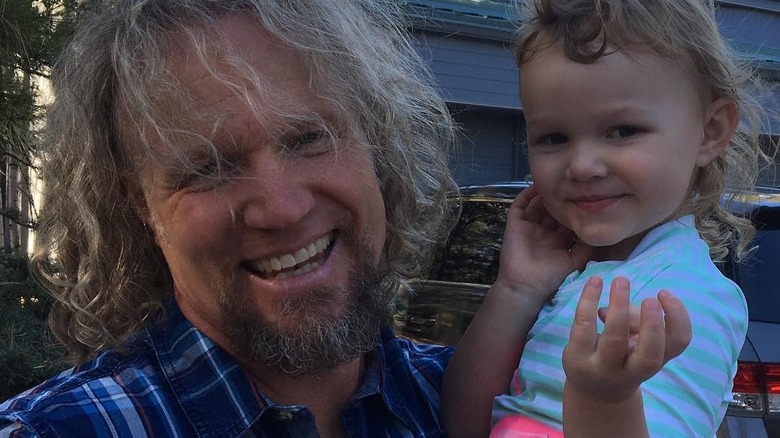 Instagram
The first season of "Sister Wives" introduced us to Kody Brown and his three wives — plus he announced that he was going to marry a new woman, Robyn. Nearly 10 years later, Robyn is the only wife Kody has left. For years, Kody's ex-wives Meri Brown, Janelle Brown, and Christine Brown said they believed Robyn was the favorite wife, and Kody addressed those claims at the end of Season 17. "That's the most unfair question because you don't have any idea what work she has done, what she has done as a person, the sacrifices she's made, the games that she hasn't played," he said. "It's not about a favorite. It's about finding favor," Kody passionately explained.
Favorite or not, Kody and Robyn's marriage hasn't been without problems. Amid Kody's divorce from Christine, Robyn felt ripples in her own relationship. "I've never struggled with Kody in my marriage as bad as I am right now," Robyn said in a Season 17 confessional. "I'm at a loss ... Kody is now questioning me left and right about things that I thought he knew about me. Like, he's struggling to trust everybody around him." Kody and Robyn must be working through their issues, though, as they are still married, as of this writing.