Days Of Our Lives's Paul Telfer Claims This Character Is The Real Love Of Xander's Life
Bruce Glikas/Getty Images
"Days of Our Lives" viewers have watched the character of Xander Cook (Paul Telfer) go through several different romantic relationships since he first showed up in Salem in 2015. Xander has had romantic encounters with Nicole Walker (Arianne Zucker), Chanel DuPree (Raven Bowens), Serena Mason (Melissa Archer), Theresa Donovan (Jen Lilley), and Gwen Rizczech (Emily O'Brien). However, Telfer says that the love of Xander's life has to be Sarah Horton (Linsey Godfrey).
"It would have to be Sarah. As much as he was head over heels for Gwen and they were a good match when they were together, ultimately it was what she did to Sarah that made Gwen and Xander untenable moving forward," the actor told Soap Opera Digest. "But who knows if those crazy kids will ever work it out."
Fans know that Sarah has been a great influence in Xander's life as she's helped him become a better person during their time together. She even allowed him to help raise the daughter that she thought was her own as the couple fell in love. Over the years, they attempted to get married several times but continued to face obstacles along the way. Although the pair did eventually get married, their relationship crumbled, but fans are holding out hope that they'll eventually reunite.
Telfer says Xander is a loyal partner to those he loves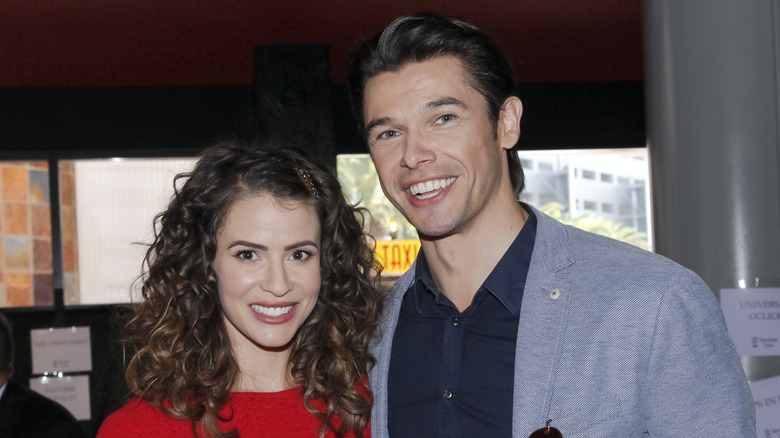 Tibrina Hobson/Getty Images
Although Xander has had a complicated love life on "Days of Our Lives," Sarah seems to be the woman that Xander has cared for the most. Sarah and Xander ended things in 2023, but fans get the sneaking suspicion that they aren't quite done yet, especially since Sarah is secretly pregnant with Xander's baby. As for the future of the couple, that has yet to be seen. Xander is currently romancing Chloe Lane (Nadia Bjorlin), but that could change at the drop of a hat. However, Paul Telfer says that one of Xander's greatest strengths is his loyalty to those he loves.
"He's incredibly loyal. As far as I know, he's never cheated in any of his relationships. If he's in love with somebody, he's in love with them and would never betray them in that way," the actor told Soap Opera Digest, adding that Xander is also very loyal to his family, even when he doesn't agree with what the Kiriakis clan may be up to. Telfer also confessed that while Victor Kiriakis (John Aniston) has been a huge role model in Xander's life, the women such as Sarah, Gwen, Chloe, and even Maggie Horton (Suzanne Rogers) have taught him a lot as well.
It remains to be seen if Xander and Sarah will be able to work things out, but fans are rooting for the pair to reunite in the future.