Jennifer Lawrence Credits Liam Hemsworth For Teaching Her How To Stand Up For Herself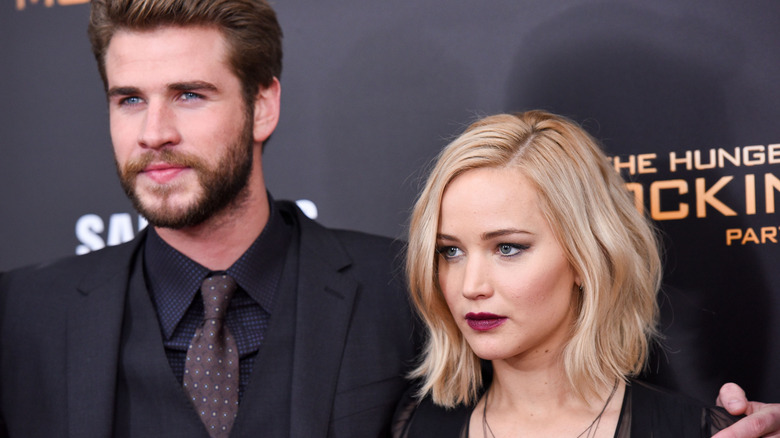 Grant Lamos Iv/Getty Images
Although Jennifer Lawrence gives off the appearance of having endless confidence, especially after playing the fearless Katniss Everdeen in "The Hunger Games" franchise, the Oscar winner wasn't that brave IRL until her co-star, Liam Hemsworth, nudged her in the right direction. The two actors struck up a close friendship on set, with Hemsworth encouraging Lawrence to be more outspoken.
Clearly, it worked. At a certain point in the mid-2010s, Lawrence was everywhere. But then, from 2016 to 2019, she went through a series of underperforming and badly-received movies and began to evaluate her career choices. Speaking to Vanity Fair, the actor explained why she chose to take a break from acting: "I was not pumping out the quality that I should have." Lawrence elaborated, "I just think everybody had gotten sick of me. I'd gotten sick of me. It had just gotten to a point where I couldn't do anything right." 
It was a shocking confession coming from someone who seemed to have the world at her feet, and who was as critically acclaimed as Lawrence. Of course, it's worth remembering Lawrence only made $3,000 a week for her iconic role in "Winter's Bone." But with her former co-star's words ringing in her ears, the former franchise lead knew what she had to do to regain control of the narrative.
Hemsworth helped Lawrence stand up for herself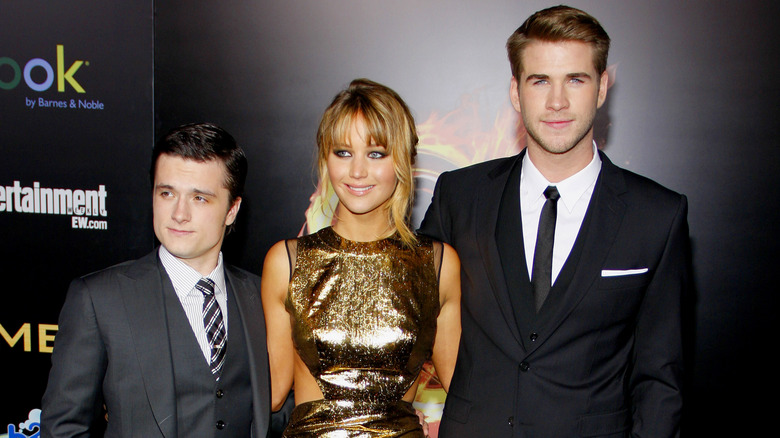 Tinseltown/Shutterstock
Like many of us, Jennifer Lawrence's people-pleasing tendencies held her back. In a 2014 People interview, she admitted, "I am a wimp about standing up for myself." The acclaimed performer added that her "Hunger Games" co-star, Liam Hemsworth, "taught me how to stand up for myself. I would always be like, 'Please like me! Please like me!'" On the negative effects of people-pleasing, Lawrence opined, "It's my biggest weakness — with negotiating, or even with people. Liam is always fair, he is always kind, he is always strong. He's teaching me to toughen up a little bit, and it's important."
The duo struck up a great friendship while working on the hit franchise together for years. Funnily enough, Hemsworth was one of many actors who didn't want to kiss their co-stars, and to make things interesting Lawrence ate pungent food like garlic and tuna before they kissed. She told Nylon that Hemsworth was her best friend and gushed, "He's the most wonderful, lovable, family-oriented, sweet, hilarious, amazing guy."
Many even believe that Hemsworth cheated on his ex-wife, Miley Cyrus, with Lawrence. In the music video for "Flowers," she reportedly references Lawrence by wearing a golden dress similar to one the actor wore to "The Hunger Games" premiere. However, in a "Watch What Happens Live" interview, the actor denied these rumors and clarified that she had only kissed Hemsworth once off-screen, well after his breakup with Cyrus.
She spoke out against harassment in Hollywood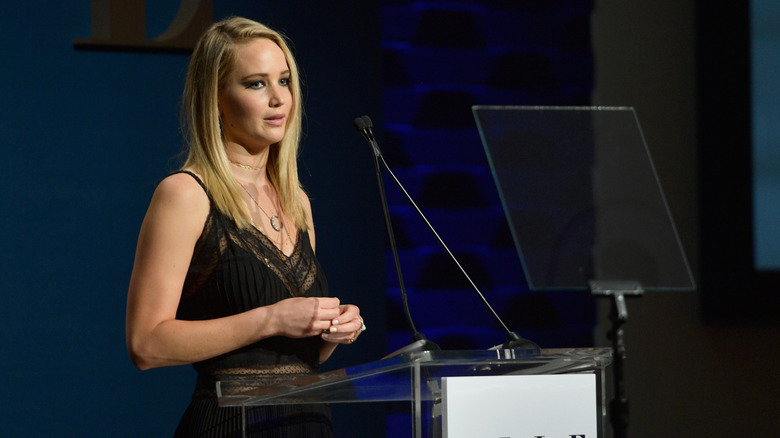 Matt Winkelmeyer/Getty Images
Jennifer Lawrence joined some of the biggest actors in the industry for a Hollywood Reporter roundtable to discuss the prevalent harassment in Hollywood and ways to make a positive change in the industry. She described an experience where a director crossed the line with her, but when she stood up for herself, he portrayed her as a wrongdoer. She said, "I was called difficult and a nightmare. I think a lot of people aren't coming forward because they're afraid they're not going to work again." 
Lawrence continued, "You need to be able to say, 'This is wrong' and have somebody do something about it instead of saying, 'Oh, it's wrong? Well, you're fired.'" She bravely spoke up about a traumatizing sexual harassment incident during an Elle Women In Hollywood event, too. As a teen, Lawrence attended a casting event for a film where a bunch of nearly-naked women had their bodies openly judged by a producer.
And although she considered speaking up initially, the wannabe actor felt powerless as a newcomer, noting, "I let myself be treated a certain way because I felt like I had to for my career. I was young and walking that fine line of sticking up for myself without being called difficult, which they did call me, but I believe the word they used was 'nightmare.'" However, Lawrence ignored the body-shaming comments and instead trained to be healthy to serve as a better role model for young girls.