Chip And Joanna Gaines Think Putting Their Kids On TV Was A Dumb Idea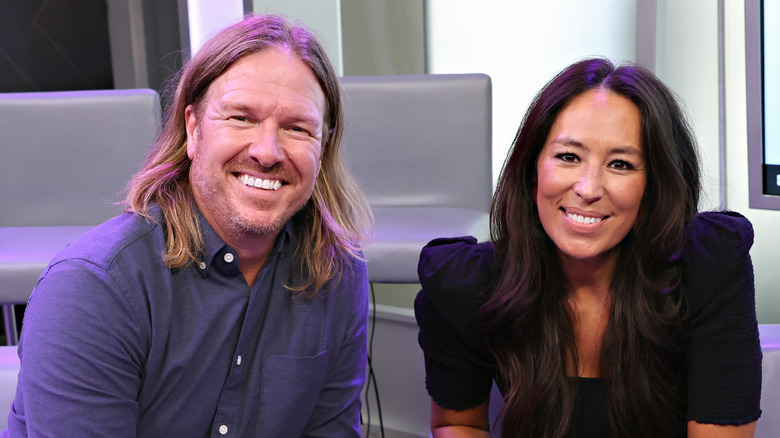 Cindy Ord/Getty Images
It can be difficult for celebrities to keep their children out of the spotlight. The press goes to great lengths to snap pictures, uncover family drama, and basically try to figure out everything there is to know about Hollywood's biggest names and their offspring alike. Understandably, hiding your kids from prying eyes (when there are literally millions of them) is quite the undertaking. This may be why certain celebs don't seem to mind if their little ones occasionally appear on the pages of the tabloids or on social media.
After all, on shows where family plays a huge role in the brand, not having your children on television is practically impossible. Take, for example, Chip and Joanna Gaines, the HGTV superstars known for "Fixer Upper" and their Magnolia empire. Family is a big part of who they are, considering they have five kiddos. Fans often saw the Gaines children on "Fixer Upper," usually when Joanna would stop by to check on Chip or vice versa and bring a few of them along. But now, both parents regret putting their kids on TV.
Recognition isn't always a good thing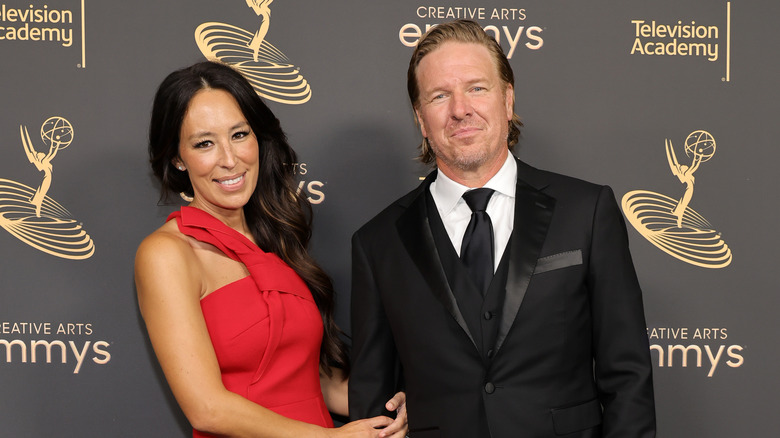 Amy Sussman/Getty Images
Back in 2013, when "Fixer Upper" launched on HGTV, Chip and Joanna Gaines regularly brought their kids to the set with them. As Joanna told Yahoo! Life, in 2022, "Those first few years, our kids, they really came to work with us, so it was natural for them to be a part of it." Primarily Drake, Ella, Duke, and Emmie. However, the couple revealed that there may have been a little prompting from the production crew as well.
It was when their kids started to get recognized in public that Chip and Joanna became uncomfortable. When "Fixer Upper" began, they didn't realize how much of a success it would be, with the Gaines assuming their fame would be local at best. Chip later confessed, in an interview with the Kennebec Cabin Company: "Now they're getting recognized out in the wild, mama bear came out and papa bear. I'm like, 'I don't know that I want my kids to be visible in that way unless they want to be visible.'" 
Thinking back to those early days, he acknowledged, "We were kind of naive, and dumb, really." As "Fixer Upper" continued to be renewed and gained a huge following in the process, Chip and Joanna began resisting having their children on camera as much as possible. In fact, as Joanna informed Yahoo! Life, "None of them are interested in being on TV, so now they don't show up." 
Making their own way in the world
Chip and Joanna Gaines didn't just push back against having their clan on camera to protect their privacy; they wanted their kids to be able to forge their own legacy too. With the oldest ones preparing for college, the Magnolia moguls expressed the importance of their brood making their own way in the world rather than simply being known as the kids from that TV show. The Gaines' children are growing up fast and their eldest son, Drake, set off for college in 2023, departing the family home in Waco, Texas. 
Joanna penned a post for Magnolia Journal, writing, "In the grand scheme of heartbreaking things, this one comes with a lot of gratitude and excitement. But still, my first child is moving away." Consistent with their desire to keep their family life more private, the couple hasn't revealed where their eldest will be studying, similar to how it's never been divulged if their kids are homeschooled. The pair do update their Instagram accounts occasionally, including photographs of their kids that allude to some of their hobbies. 
For example, Joanna has noted that both Ella and Emmie like to bake, and each has considered getting involved in the food business. But for the most part, they only highlight their children on social media with their explicit permission, further illustrating how the Gaines have moved past their naïve early days on reality TV and have firmly focused on protecting their family's privacy.