Princess Diana's Iconic Revenge Dress Almost Looked Completely Different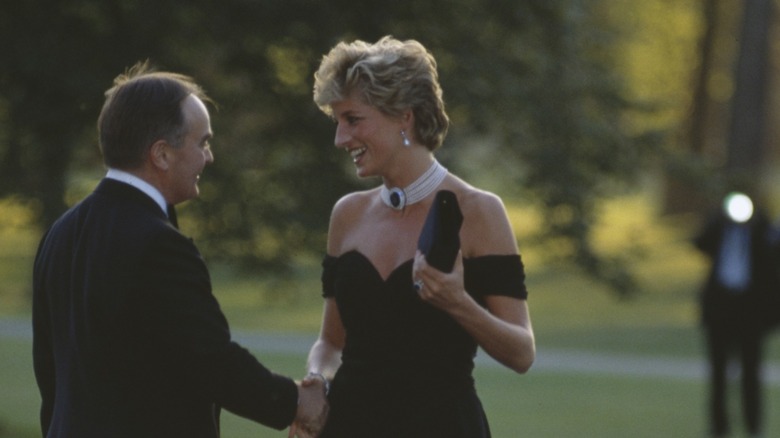 Princess Diana Archive/Getty
One of the most legendary moments in pop culture (and fashion) history happened in 1994: Princess Diana and her revenge dress. But the truth about Princess Diana's iconic revenge dress is that it almost looked very different from the slinky number we know and love. When the People's Princess first bought her silky black dress from Christina Stambolian, the designer revealed that Diana did not want to wear it because she considered it "too daring" (via Reader's Digest). 
In fact, author Claudia Joseph, who penned "Diana: A Life in Dresses," told Us Weekly that Diana almost chose the Stambolian dress in a different color. Initially, Diana thought the dress would look better in white. Stambolian convinced her that black looked wonderful on her and that Diana should go with that color instead. The beloved royal followed her suggestion, but the dress stayed unworn until a glamorous Vanity Fair event at the Serpentine Gallery. 
Moreover, as Joseph recalled, "The press obviously dubbed it 'the revenge dress,' as in 'Look what you're missing.' But I'm not sure how much revenge was actually in her mind when she wore it."
Diana opted against wearing Valentino to the event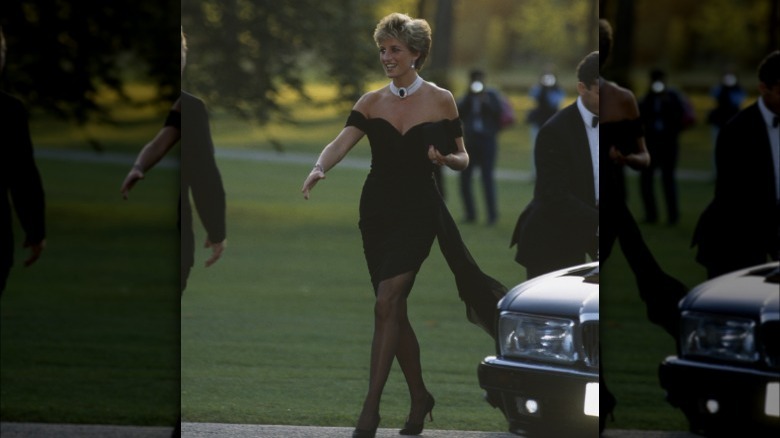 Princess Diana Archive/Getty
Per Us Weekly, the night of the VF gala at the Serpentine Gallery coincided with the release of the documentary where King Charles III (then still Prince Charles, at the time) admitted to cheating on Princess Diana. The press found out from the Valentino fashion house that she was going to wear one of their dresses to the event. Unhappy about the big reveal being spoiled ahead of time, Diana decided to change things up and wear the black Stambolian instead. 
She dressed to impress in the queen of all little black dresses. Although author Claudia Joseph felt unsure if Diana wore that dress specifically for its revenge-seeking potential, Brittany Talarico — the Deputy Style Director at People — maintains that the People's Princess chose it to send a message. She said, "[Diana] didn't have to say anything with words. It was a fashion response — that dress became her clear message to Charles and the world," (via People).
The fashion icon auctioned off her revenge dress in 1997, with the proceeds going to charity. In 2017, it was put on display at the "Diana: A Fashion Legacy" exhibit in Ireland's Museum of Style Icons.
The dress was one of many memorable fashion moments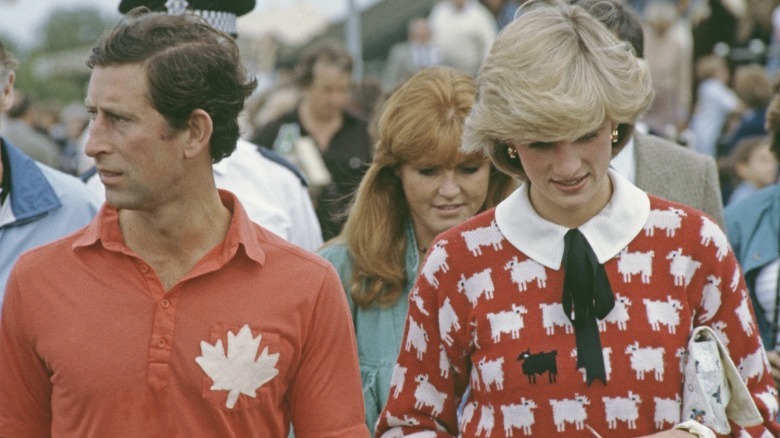 Princess Diana Archive/Getty
The revenge dress is not the only iconic clothing item that has been auctioned off or sold, of course. In January 2023, one of Diana's gowns was auctioned off for $604,800 at Sotheby's. The dress was a Victor Edelstein design done in exquisite purple velvet. Another Edelstein dress from Diana's collection, this time a midnight-blue velvet number, sold for $347,000 to Historic Royal Palaces in November 2019. 
The blue Edelstein is what Diana wore when she danced with John Travolta at the White House at the beginning of her and Charles' US tour, in November 1985. Both Edelstein dresses had also been a part of Diana's own clothing auction in 1997. The princess's dresses are not the only items of hers that were sold either. After Diana's sheep sweater from Warm & Wonderful was damaged, the designers sent her a new one. 
In late 2022, they discovered the original sweater that had belonged to Diana with the repairs done. Sotheby's auction house is slated to have Princess Diana's iconic sheep sweater up for sale from August 31, 2023, through September 14, 2023, during their Fashion Icons sale. Suffice it to say, the piece is likely to go for hundreds of thousands of Dollars.