Patti Murin Landed Her Hallmark Gig Thanks To Twitter - Here's How It Happened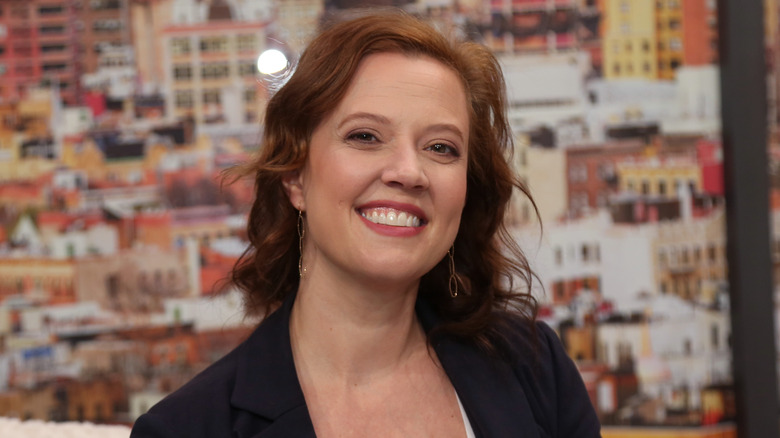 Manny Carabel/Getty Images
Social media is full of opportunities and can sometimes open doors you wouldn't think possible. Patti Murin, a Broadway performer known for starring as Anna in the musical adaptation of "Frozen," learned this when she tweeted about the Hallmark Channel. In 2016, Murin tweeted, "I think I just added "Hallmark Christmas movie" to my list of career goals." In a tweet from 2018, she wrote, "Hey @hallmarkchannel, imagine how many tens of people would watch a movie with me actually IN it? At least a dozen tens, methinks!" Murin's tweets led her to be contacted by Hallmark, and she was promptly cast in the underrated Hallmark Christmas movie, "Holiday for Heroes."
She told E! News, "They were like, 'All right, well, there's one shooting in Connecticut next month.' And I was like, 'Oh, okay, great." In November 2019, "Holiday for Heroes" premiered, and Murin portrayed a minor character named Pam. Murin expressed to E! how much she enjoyed working for Hallmark and noted that the network gets a bad rap.
Murin said, "I really do feel like there was a stigma that was sort of attached to it. Now everyone's like, 'Oh, wait a sec, wait a second,' because you're doing what you love, and you're doing it in a really great, quality environment." "Holiday for Heroes" marked the beginning of Murin's flourishing career with the network.
Patti Murin had a lead role in Hallmark's 'In Merry Measure'
After "Holiday for Heroes," Patti Murin went on to star in Hallmark's "Love on Iceland," "To Catch a Spy," and 2022's "In Merry Measure." In the latter, Murin plays a dwindling pop star whose feud with an old high school enemy turns into a romance. Set in a small town, this Hallmark film has plenty of singing from Murin and her costars. In an interview with Hollywood Life, Murin said that this is what made "In Merry Measure" so special to her.
She noted, "It was really exciting to get to do that because it's kind of a whole other element and also just the idea of someone who had success and is sort of struggling to find it again. That's a feeling that never goes away in this industry, no matter how successful you look from the outside to other people." However, there's another reason why "In Merry Measure" was so monumental to Murin.
On Instagram, she revealed, "Fun fact: I found out I was pregnant one week into the shoot!" Murin wrote on Twitter that she revealed her pregnancy early on to the film's director, Paula Elle, and her costar, Jennifer Roberston. In April 2023, Murin gave birth to her second daughter with her husband, Colin Donnell.
Patti Murin's husband is a fellow Hallmark actor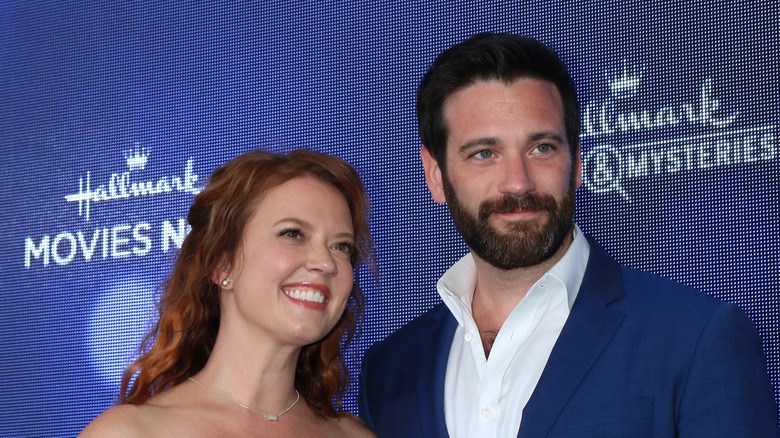 Kathy Hutchins/Shutterstock
In an interview with Playbill, Patti Murin and Colin Donnell revealed that they met through a mutual friend. Like Murin, Donnell is a stage actor. In 2013, the couple starred in a production of Shakespeare's "Love Labour's Lost." They told Playbill that sparks flew while they worked on the play. They later married in 2015.
Off stage, Donnell is perhaps best known for starring on the CW's "Arrow" and "Chicago Med." That said, Murin and Donnell have costarred in "Chicago Med" and Hallmark's "Love on Iceland" and "To Catch a Spy." Speaking to People about filming "To Catch a Spy" with Murin, Donnell said, "I think we both kind of have our own ways of working that complement each other very, very well when we're working opposite each other and working together."
He added, "But it allows us a lot of freedom and the space to kind of just do our own thing. I think it's really helpful for us in that it helps us maintain a little bit of a work-life separation and balance." In late 2022, the pair released a cover album called "Something Stupid." In June 2023, Just Jared revealed that Murin will star in a Hallmark film called "Mystic Christmas."