Why Nicole Curtis Took A Step Back From HGTV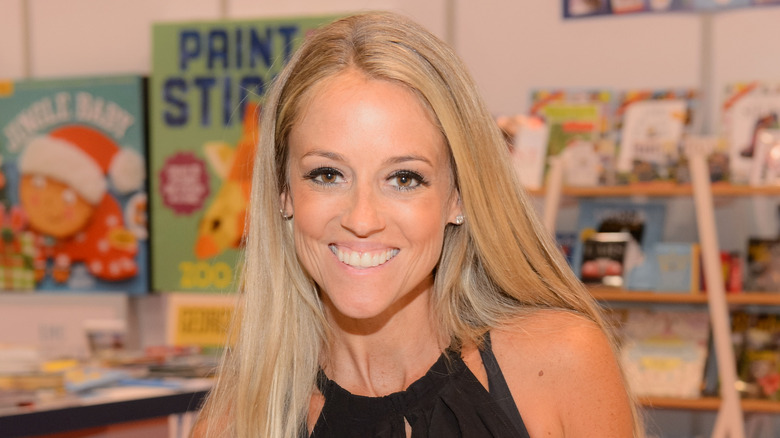 Daniel Boczarski/Getty Images
Nicole Curtis began gracing our screens in 2010 when "Rehab Addict" premiered on HGTV. Viewers quickly learned that the masterful home renovator was also a mom, a passionate conservator of old houses, and an expert at giving salvageable items a new life. After finding success with her breakout series, the repurpose-loving renovator also appeared in "Rehab Addict Detroit" and "Rehab Addict Lake House Rescue." Nevertheless, her brainchild "Rehab Addict" 1.0 remained her primary baby until the fall of 2018, when Curtis faded out of the spotlight, just like the weathered exteriors of her historic homes.
It wasn't due to lack of success, "I was completely burned out," she confessed to People, "There was so much time in those ten years where I didn't get to enjoy it at all. I was stressed out." To top it all off, she was doing most of the hard labor herself, "Everything you see on the show, I personally bought, picked up, put into place, ironed the curtains, everything." And you can't forget that the passionate and persistent Curtis was also a single mom for all of the series.
Nicole Curtis is a mom first
Nicole Curtis had her son, Ethan, when she was just 20 years old, continuing to raise him solo. At the same time, she single-handedly renovated her way to television success. That same success allowed her to take a step back from working in 2018. She has admitted to struggling those first few years, trying to manage her startup rehab business, maintain viewership on HGTV, and keep some semblance of normalcy for her child. However, she credits both of her sons, the second being Harper – a pregnancy she kept secret during the show – with giving her the push she needed to put herself back out there.
After spending a few years devoting herself to her family, Nicole Curtis was ready to amaze everyone with her home transformations once again. "Rehab Addict Rescue" was released on HGTV in January 2021, in which Curtis swoops in to assist families who bit off a bit more than they could chew with an old home renovation. Before the premiere, Curtis admitted she was a bit nervous about returning to filming. Nevertheless, the season was a great success, and fans were happy to see her return from her hiatus.
Is Nicole Curtis done for good?
Everything was back to normal for a few months, and HGTV began ramping up for a second season of "Rehab Addict Rescue," to be launched in January 2023. But months before the premiere, things faltered. First, Curtis set social media ablaze in August 2022 when she posted in Instagram stories that she had "ditched" her regular programming, according to Heavy. HGTV didn't comment on the promised second season of "Rehab Addict Rescue" but forged ahead with her new show, "Rehab Addict Lake House Rescue," though it was shortened.
Then, in late 2022, Curtis again took to Instagram, giving a reason for her absence on HGTV. Her caption read, "I made a call and said I'm done." She also wrote that this may not be a final goodbye but is definitely a closing of a chapter.
Since then, it's been a wild ride as to whether or not Nicole Curtis will be returning to HGTV for good. She has posted candid shots on Instagram of her standing inside a partially remodeled home and noted in the caption that Rehab Addict is "streaming everywhere & FILMING NEW SHOWS." She also has reached out to fans, asking if they'd be willing to watch in-depth renos spanning an entire season rather than a new house every episode, as is HGTV's signature MO with many of its shows. Ultimately, it remains to be seen what the rehabber has up her sleeve for the coming years.