Two Of The Best At-Home Facials For Treating Active Acne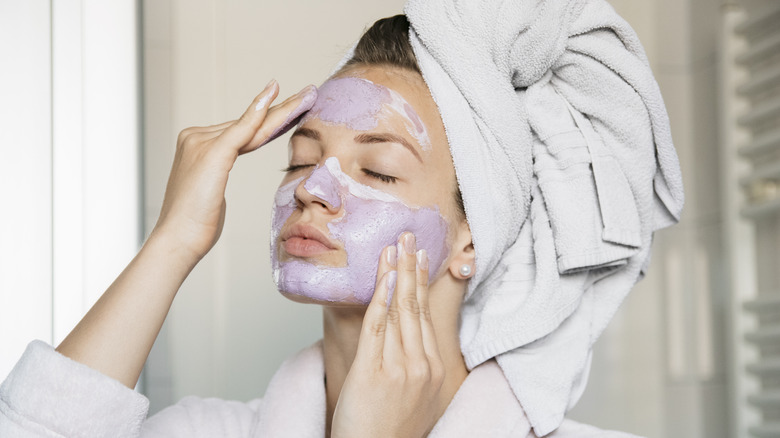 Ivan Pantic/Getty Images
We may receive a commission on purchases made from links.
Facials are a powerful ally against acne. They improve the condition of your skin and provide a much-needed opportunity to relax and indulge in some well-deserved "me time." However, to get said benefits, you need a couple of ground rules. The first is to clean your tools before and after each facial. It's also important to remember to adhere to timing guidelines and carefully follow the instructions on any product you're using.
The goal is to leave your facial session refreshed and rejuvenated, not stressed or worried about unintentional skin damage. Another important rule is to cleanse your skin the right way for your skin type before beginning. Double cleansing is particularly beneficial for those with oily or combination skin prone to acne. However, dry and sensitive acne skin types fare better with one wash, which prevents excessive dryness and irritation.
Remember to pay close attention to how your skin reacts at every stage of the facial. Your skin is unique and will thrive if you listen and respond to it. You'll need a clear, clutter-free space to carry out your facial treatment comfortably. Don't forget that facials make your skin sensitive, so you must apply sunscreen religiously after your treatments. It doesn't matter if you go out — you can reapply face sunscreen without ruining your makeup. With your ducks in a row, you're ready to begin your DIY facial.
A DIY exfoliation facial can prevent acne breakouts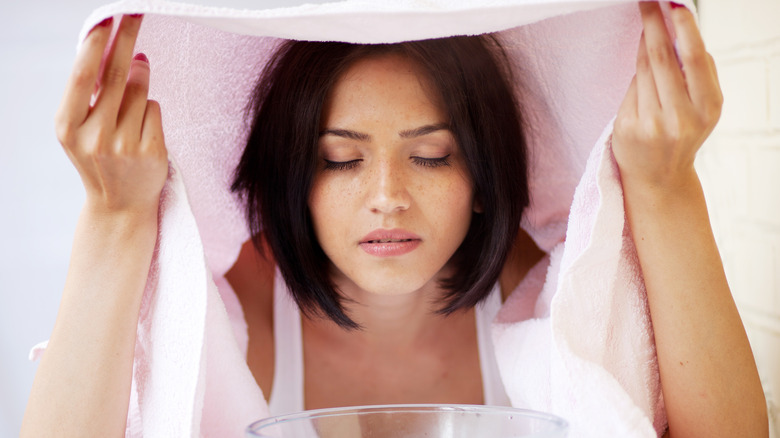 Feomarty Olga/Shutterstock
The key to getting the best results when dealing with acne is choosing the right exfoliant and using professional tips. Physical scrubs may seem tempting but aren't a good fit for active acne. Instead, use AHAs and BHAs that exfoliate and offer additional benefits for your skin. Let's break it down based on your skin type. If you have oily and acne-prone skin, salicylic acid is your BHA bestie. Dry acne-prone skin matches perfectly with lactic acid, and sensitive acne-prone skin works best with mandelic acid products. 
Now, let's dive into the step-by-step process for your exfoliation facial. After your cleanse, you're due for a little steam session. Cover your head with a towel and use a facial steamer for five to ten minutes. This will help soften your skin, making it easier for the exfoliant to work.
Right after is the best time to use an ultrasonic facial spatula to address any blackheads or whiteheads. Gently but firmly scrape it across your skin in an upward motion to extract the dirt. Rinse your face with warm water and gently dry it with a fresh towel before applying the exfoliant. Follow up with a rose water toner, a soothing serum, and a collagen or aloe-infused moisturizer. Remember that exfoliation is hard on the skin, so avoid any other facial procedures for a while.
A double mask + LED light facial can reduce acne inflammation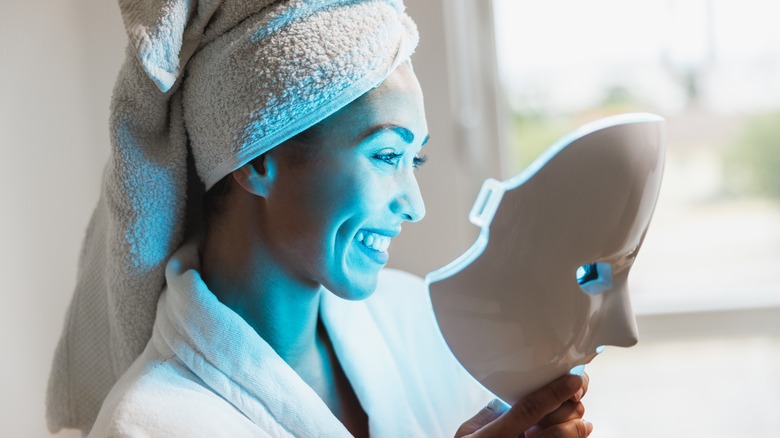 MilanMarkovic78/Shutterstock
The double mask and LED light combination is a powerhouse for addressing acne concerns and improving your skin's health. To get started, cleanse then steam your face for 10 to 20 minutes to prepare for the upcoming treatment. Next is a bentonite clay mask, which is fantastic at drawing out impurities and excess oil that can lead to acne. You can create a simple yet effective mask by mixing Aztec clay with equal parts water and apple cider vinegar.
Now it's time to bring out the big guns — the sheet mask and LED light treatment. Go for a sheet mask specifically formulated to target acne and calm inflammation. We love Facetory's Soothe Me Mask with tea tree and chamomile. Place the sheet mask on your face and get ready to supercharge your treatment. LED face masks are incredible devices that utilize the power of light to combat various skin problems. A 2005 study published in the Journal of Dermatological Treatment has shown that blue LED light treatments can significantly reduce acne inflammation.
So, start with blue and follow up with the red collagen-stimulating LED light for 10 minutes each. Once the LED mask treatment is complete, massage any remaining liquid into your skin. This is an excellent opportunity to follow our guide on how to give yourself a lymphatic drainage facial massage the right way. Remember to moisturize your skin with a hydrating anti-acne moisturizer to finish up.