Your Go-To Guide For Taking Care Of A Freshly Pierced Ear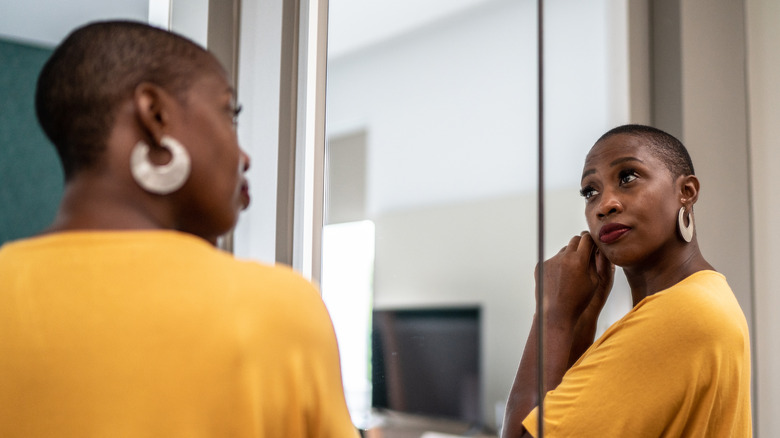 Fg Trade/Getty Images
When it comes to statement accessories, there's nothing like a good pair of earrings. With just one pair, you can add a subtle sparkle or make a total statement with any outfit. While you weren't always able to walk into your local Claire's and leave with a pair of pierced ears, piercings have a long and complicated history — body modification such as facial piercings are an ancient practice that can be traced back to early Egyptian civilizations. In fact, some of the oldest mummies ever discovered were found to have pierced ears. Various peoples all over the world have incorporated body and facial modification into their religious and cultural practices, signifying everything from a coming-of-age stud to a high-ranking status symbol tongue piercing. In the United States, piercings were once seen as a societal taboo meant to represent a person's desire to "rage against the machine." In the 80s, the punk movement encouraged hardcore music lovers and angsty young people to express themselves with tattoos and piercings, earning them an unjustified bad rep amongst those in society who just didn't get it.
Luckily, the stigmas surrounding piercings are fading, and it is becoming much more common for people to pierce an ear, eyebrow, or belly button simply because they think it will look super cute. Whether you got your first piercing at two months, twelve years, or two weeks ago, learning how to take care of a freshly pierced ear takes a bit of time and preparation.
Keep an eye out for these signs of infection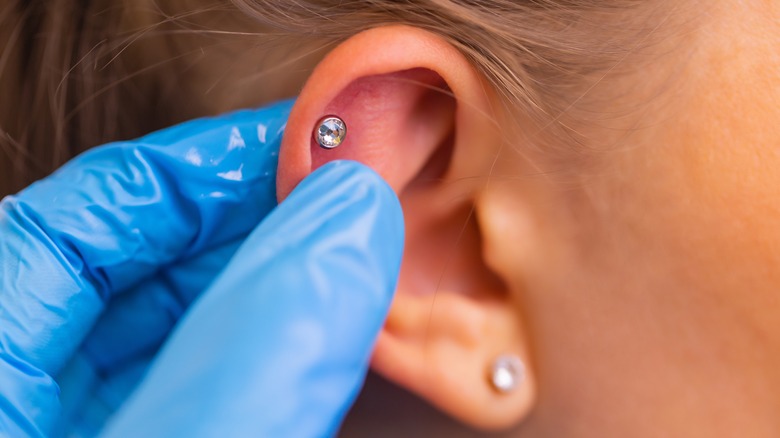 Vershinin89/Shutterstock
When it comes to daily maintenance, the best thing you can do to promote a healthy, healed piercing is regularly cleaning around your earring. Make sure you wash your ear twice daily with gentle antibacterial soap and clean hands. You can then follow it up with an ointment or cream if your piercer suggests one. Dermatologist and professor Mona Gohara shared her favorite products to use with Self – Vaseline, Aquaphor, and other over-the-counter petroleum creams all made the list. The specialist does warn that antibiotic creams can cause further irritation unless prescribed by a doctor for fighting a piercing infection.
During the first few months of your healing process, you can irritate your piercing simply by lying directly on your ear while sleeping, frequently changing your jewelry, or even swimming while the piercing is still fresh. If you notice that your piercing becomes swollen, red, and tender to the touch, it's probably infected. You may also notice that the area around your piercing is itchy, hot, or secreting a pus-like substance. Not to fear: Infections are a common side effect of new piercings, and they will usually go away with the proper care. If you notice your piercing is infected, continue your cleaning routine and try not to touch it too often. If you begin to experience more serious signs of infection, like a fever, chills, or an embedded earring that cannot move, seek medical assistance.
Some ear piercings take longer to heal than others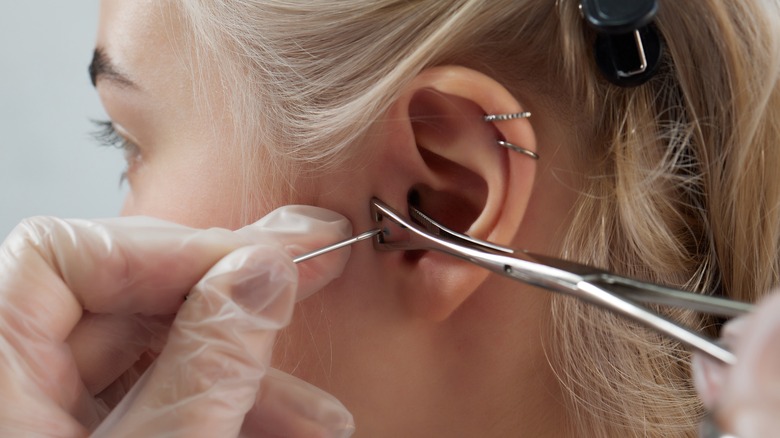 Vershinin89/Shutterstock
Unsurprisingly, when you poke a hole clear through your skin, your piercing may take a little while to heal. Your body will try its best to close the hole during the first few weeks, so it is important to keep your earring in place while your ear builds new epithelial cells. According to Sutter Health, "The epithelial cells form a tube-like layer of skin along the inside of the piercing to protect your body from the foreign object."
When it comes to piercing your ears, it's important to remember that the higher up from your lobe, the longer the healing process. Piercing your earlobe requires the least maintenance because the cartilage on your earlobe is typically thinner and softer and tends to heal within a month or two. Piercing specialist and researcher Sarah Lacy told Self that a cartilage piercing takes a long time to fully heal. Per Lacy, "[Most] of the surface healing happens in the first 12 weeks or so; however, the deeper part of the piercing still needs a full year to heal." Experts suggest getting your ear poked by a piercing specialist — usually at a tattoo shop or piercing parlor. These professionals will pierce your ear with a sterilized needle, taking their time to align your chosen starter stud or small hoop correctly. Piercing guns have been found to cause trauma to your cartilage, leading to an increased risk of infection.