Who Is Idris Elba's Wife, Sabrina Dhowre Elba?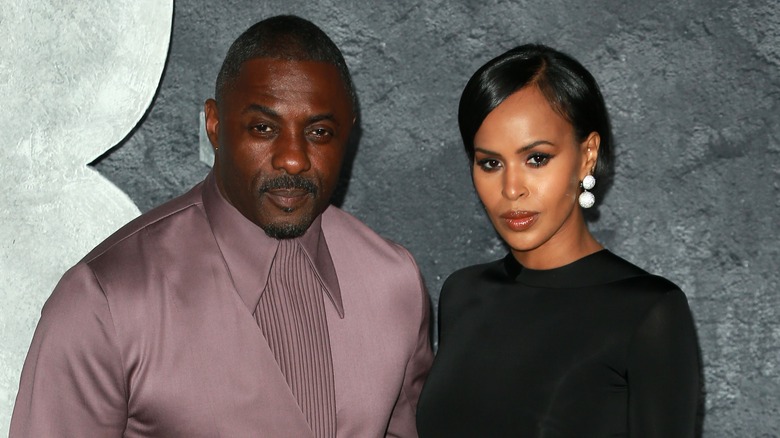 Fred Duval/Shutterstock
If you list Hollywood's tall, dark, and handsome actors, it won't take long for Idris Elba to come up. He was named People's 2018 Sexiest Man Alive, after all. The star is known for his roles as Heimdall in the Marvel Universe and John Luther of "Luther: The Fallen Sun." While we fall in love with Idris' on-screen presence, he is head over heels for his wife, Sabrina Dhowre Elba.
The two met at a Vancouver jazz club in 2017 while Idris was there filming "The Mountain Between Us." The actor told British Vogue, "We've been literally inseparable since we met. Inseparable." In 2019, their love was written in stone as the couple officially became husband and wife. Their matrimony was a spectacular three-day wedding celebration in Marrakesh. Years later, the pair is still going strong.
To commemorate their fourth wedding anniversary, Sabrina posted a video of her frolicking on the beach with her spouse. She paired the post with audio from the rom-com "Garden State," which played in part, "When I'm with you, I feel so safe. Like I'm home," and the caption, "Happy 4th anniversary baby, thank you for always helping me try to conquer my fears."
Sabrina may be known as the woman who took the Hollywood hunk off the market, but she is also an activist, businesswoman, actress, and model.
The multi-talented Sabrina Dhowre Elba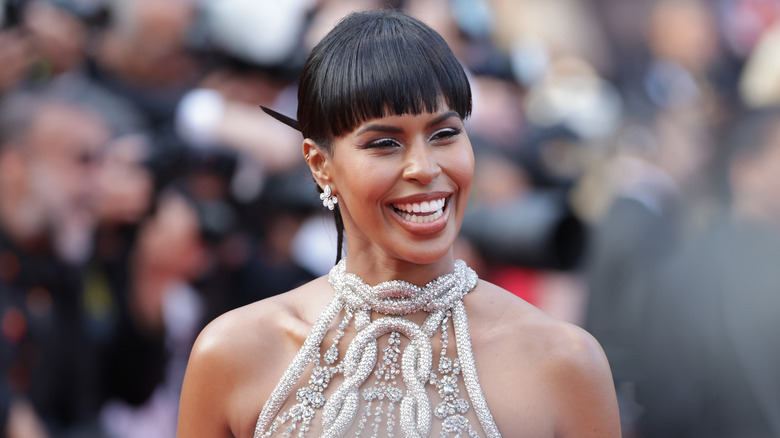 Pascal Le Segretain/Getty Images
Although born in the United States with Somalian roots, Sabrina Dhowre Elba was raised in Canada. She got her start modeling and held the title of Miss Vancouver after winning the pageant in 2014. The "Three Thousand Years of Longing" actor is signed to the IMG talent agency. She has been featured in Vogue, Harrods Magazine, ICONS, Esquire Middle East, Ebony, and several other high-profile publications.
However, Mrs. Elba is not just a pretty face. Sabrina is a UN Goodwill Ambassador for the International Fund for Agricultural Development. Her efforts work towards making a change for women in rural areas. In a COP27 panel, Sabrina shared, "My mom was a huge advocate. She's probably the reason I worked with IFAD because she understood the importance of agriculture growing up in a community that depended on the land. And she actually introduced IFAD to me so I thank her every day for her philanthropic work because it has really inspired me."
But wait, there's more. Apart from her solo adventures, Sabrina is on a business journey with Mr. Elba right by her side.
The Elba's podcast and skincare line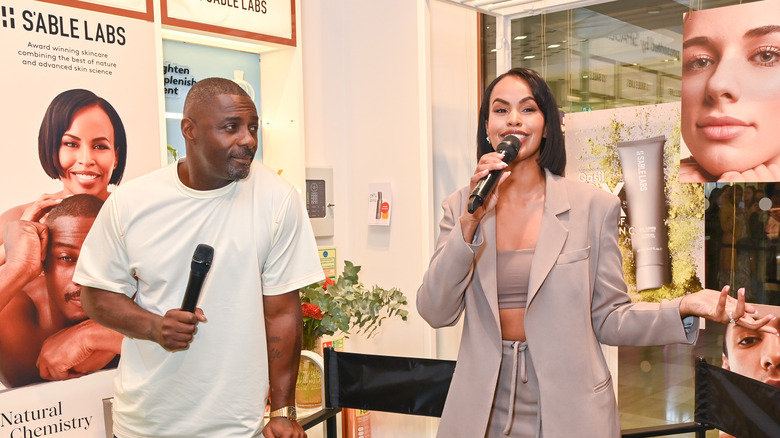 David M. Benett/Getty Images
It seems like everyone has a podcast these days. Well, the Elbas aren't proving us wrong. They too have something to share with the public. Their Audible podcast "Coupledom" features dynamic duos revealing the hidden wisdom of spending your life with another.
Along with relationship tips, Idris and Sabrina Dhowre Elba are helping you get perfect skin. They are ​​co-founders of S'ABLE Labs, a melanin-safe skincare brand. It is a business that centers around looking good and doing good. A portion of their profits are donated to the Farm Africa organization, which promotes sustainable agriculture on the continent.
Working together and living together can strain both the business and romantic partnership, but the Elbas make it work. Sabrina told People, "It's not 100 percent easy to work with someone you're in a relationship with. But I feel like we've definitely sort of found our way. Now we get to sort of build dreams together and see what that looks like." It looks like the spark is burning bright with these two.