Angela Bassett Put Her Body Through A Grueling Ordeal While Preparing To Play Tina Turner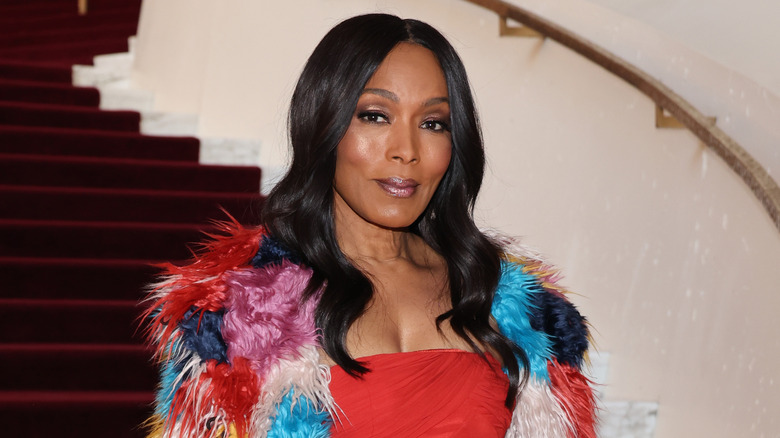 Cindy Ord/Getty Images
Angela Bassett has played many incredible roles so far in her career, but there's one role she looks back on with pure wonder over how she managed to pull through. According to the award-winning actress, playing the role of Tina Turner, the Queen of Rock 'n' Roll, left her feeling both mentally and physically exhausted. The 1993 biopic "What's Love Got To Do With It" starred Bassett as the fun-loving, musically-inclined Tina Turner as she rediscovers herself and seeks freedom from the horrific abuse of her husband, Ike Turner. Bassett sat down with Variety to revisit her time playing Turner. It was a role she cherished and knew she had to get down perfectly. "Her story was just tearing down so many walls and breaking so many barriers," she explained. "We didn't know to what extent it would, but we knew the story of this brilliant Black woman was important to tell."
She knew it would also come with its challenges. The film would portray many of Ike's violent outbursts towards Tina, and Tina's famous dance routines would have to be nailed by any actress who played her. During the screen test held before she landed the part, Bassett admitted she suffered a small hairline fracture in a scene where she had to fall behind a couch. This was only the first sign of the sheer dedication it would take for Bassett to perform in what she calls one of her most difficult roles to prepare for (via Entertainment Tonight).
She felt 'absolutely spent' after hours-long dance training
The late Tina Turner will forever be remembered for her energetic, playful dance routines and deep, powerful vocals that got the crowd roaring. To get Turner's iconic moves down, Angela Bassett was put through some incredibly intense training that involved 10 hours of excruciating cardio with legendary choreographer Michael Peters. Peters has worked on some of the most popular dance routines of stars like Donna Summers and Michael Jackson. 
Bassett's cardio training came after getting up at five in the morning and working out at the gym for two hours. "Pain was irrelevant," Bassett told Variety. "Fear was real and physical pain and torture was just going to be a part of it." Thankfully, Tina Turner herself pressed for Bassett to have the option to learn the routines barefoot instead of in five-inch stilettos, as the actress was originally instructed to do.
Once filming began, the days didn't get much easier. The "Wakanda Forever" star remembers her coworker, fellow actor Chi McBride, saying of their workdays, "It's as if we're those cartoon characters and we're laying across the furniture on-set and we all have those black X's across our eyes." She added that everyone on the set felt "absolutely spent" by the end of the day.
Her meals during training are something she would never repeat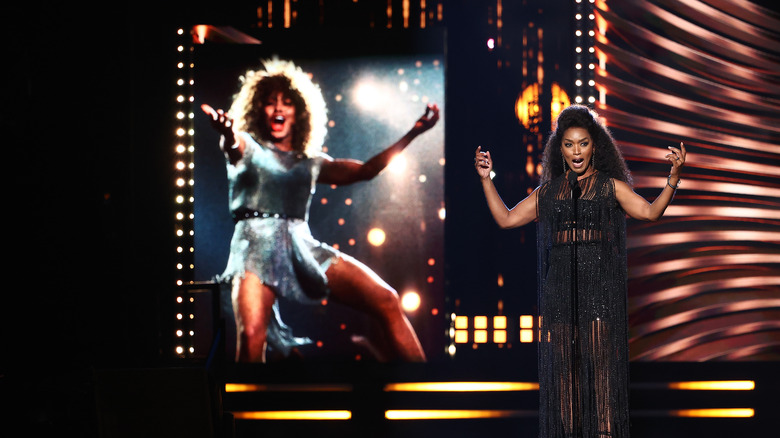 Kevin Kane/Getty Images
Actors often have to adjust their eating habits and exercise routines in order to achieve a specific look for their upcoming character. However, the meals Angela Bassett had to eat every day for her role as Tina Turner have us feeling squeamish and tired for her.
According to Bassett, her trainer suggested she eat "broccoli, string beans, Yukon potatoes and bland chicken breast" while she was filming. Her trainer also had her drink only black coffee and water every day, and that was her diet. It sounds like the most boring diet anyone could force themselves to stay on, and for her to maintain that same meal for as long as she did must have been no small feat.
Finding the time to even eat her food was hard as well, Bassett admitted to Variety. "There was no time to sit down at a table and eat those items. You literally stood stuffing them in your face, one-by-one and then jump back on the dance floor," she said. "I was losing inches every week." All her hard work on set was worth the final product, as Bassett would go on to win a Golden Globe award and an Image award for the part. "What's Love Got To Do With It," which has reached cult classic status, has also become a touching tribute from Angela Bassett to Tina Turner.