The Hilarious Birthday Cake Princess Diana Gifted Son William The Day He Turned 13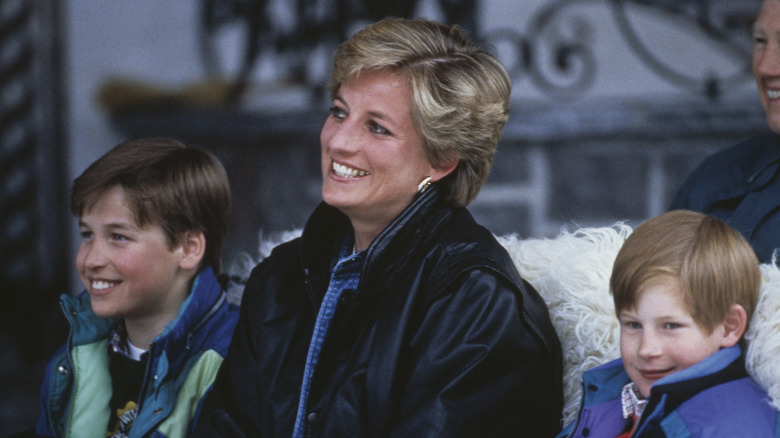 Princess Diana Archive/Getty Images
Princess Diana was commonly known as the People's Princess — and for good reason. She was a humanitarian who strived to make the world a better place for the less fortunate and a fashion icon that changed royal rules forever with just one bold outfit, but above all else, Diana just had a down-to-earth, charismatic, and friendly aura about her. Given her many talents, it's easy to forget that while she was a princess, she was also a mother and a very normal one at that.
Like every parent, Diana didn't shy away from occasionally embarrassing her children. Former Buckingham Palace chef Darren McGrady described an adorable but awkward incident that happened on Prince William's 13th birthday to Hello!. On the morning of the prince's birthday, McGrady opened the refrigerator doors to find a giant pair of edible, frosted, and sugary boobs, and naturally, he was quite startled. But after consulting with a butler, it all made sense.
"The princess had ordered a boobs cake for William's 13th birthday!" he recalled. "The princess loved embarrassing people in the nicest way, in a fun way, whether it was telling a dirty, risqué joke — which usually got me. William just went bright red." And while the youngster understandably was a little embarrassed, his brother, 11-year-old Prince Harry, loved it so much that he wanted one of his own. McGrady also joked about how Diana was so bad at cooking that he often left her microwaving instructions for food. But that isn't the only time the beloved royal pranked her children.
Princess Diana embarrassed Prince William in the best way possible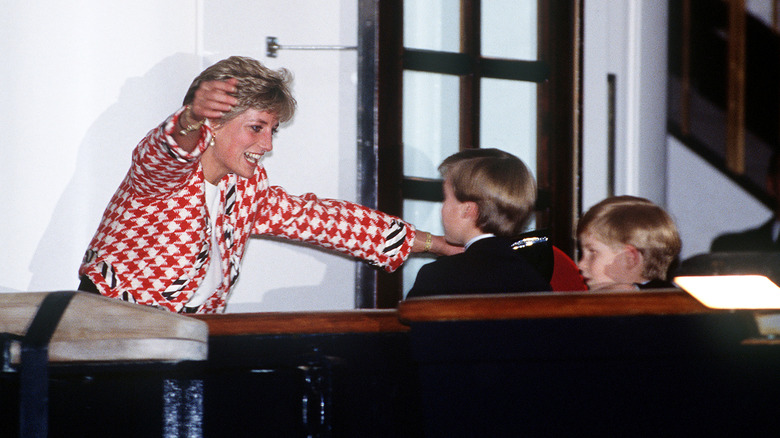 Princess Diana Archive/Getty Images
Despite their royal heritage, Prince William and Prince Harry had a relatively normal upbringing. William kept photos of dreamy supermodels, but little did he know, his mother would use that information for a prank. In a 2017 interview for "Diana, Our Mother: Her Life and Legacy," the Prince of Wales recalled the hilariously embarrassing incident: "Just outside this room where we are now, she organized, when I came home from school, to have Cindy Crawford, Christy Turlington, and Naomi Campbell waiting at the top of the stairs." 
William added, "And I went bright red and didn't know quite what to say and sort of fumbled and I think I pretty much fell down the stairs on the way up," (via the Mirror). He also reminisced about how his mother sent him funny, embarrassing, and wild greeting cards when he was away at boarding school. The contents of these cards were so out-of-pocket that William waited until he got home to ensure his teachers couldn't read them. 
Prince Harry wasn't immune to her pranks either. Her formal royal butler, Paul Burrell, revealed that she once added fake dog poo to Harry's Christmas stocking. He noted that the prince loved his present and followed in his mother's footsteps with the intention of pranking Queen Elizabeth II with the same gift. Diana was a prankster since her younger days. While in school, she reportedly made prank phone calls and ran away after ringing doorbells.
She always tried to give her sons a normal childhood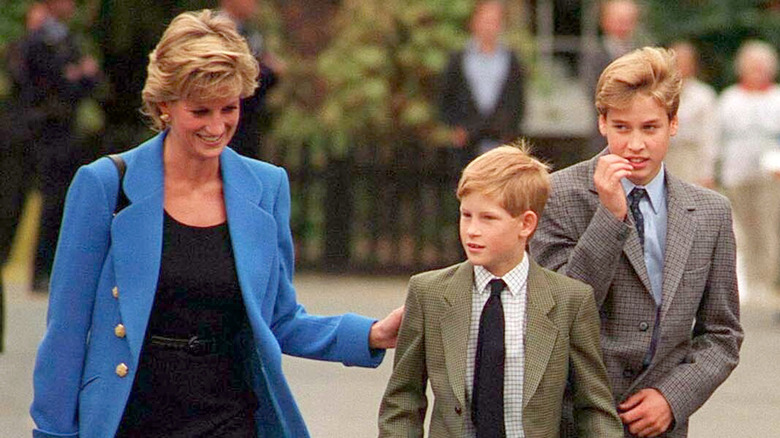 Anwar Hussein/Getty Images
Like any mother, Princess Diana wanted to see her children as much as possible despite her royal duties, so she worked her schedule around them. To help her boys develop critical skills and experience the world normally, Diana opted not to hire private tutors, instead electing to handle their schooling outside of the palace. According to Newsweek, this was likely because she had worked in a nursery school herself at one stage. Diana also frequently dropped her boys off at school.
As a royal parent, you'd think she told her sons to always be on their best behavior, but Diana always encouraged fun, including notably having a family day out at the theme park Alton Towers, in 1994. In an ITV documentary, Prince Harry fondly reminisced about his mother, "She was fun through and through." He added, "One of her mottos to me was, 'You can be as naughty as you want, just don't get caught.' She would come and watch us play football and, you know, smuggle sweets into our socks," (via Hello! magazine).
In fact, Diana's desire for a normal life in California inspired Harry and his wife, Meghan Markle's move stateside. Similar to Diana, Markle received numerous scathing remarks from the British tabloids, and Harry was aware of the mental impact it had on his mother, so he sought to protect his family by relocating.