The Personality Trait Ben Affleck Thinks Wife JLo Would Change About Him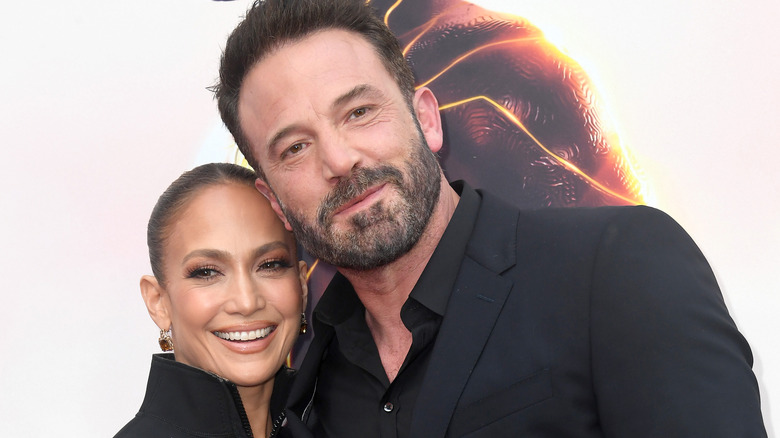 Albert L. Ortega/Getty Images
Since Ben Affleck and Jennifer Lopez got back together, we've been eager to lap up any details about the couple's relationship, which is unsurprising considering Bennifer was one of Hollywood's most famous and beloved pairings back in the early 2000s. Those days, it was all about going big from her mega-carat pink diamond engagement ring to their PDA-heavy music video, and finally, their shocking pre-wedding split. 
It's safe to say that these two have a history. But now they're back together, seemingly for good after successfully pulling off a second wedding, and everything seems like rainbows and roses. Or is it? During an appearance on "The Drew Barrymore Show," Affleck admitted that there's probably one thing his wife would change about him (a personality trait, that is, so don't get any ideas about his massive back tattoo). 
As the actor told Barrymore, "She would probably want to cultivate brevity in the way I speak. I don't know if you've noticed, but I go on and on and on and on and on ... I talk a lot, and I talk in circles.'" We can sum it up for you, Ben — you're long-winded and J-Lo needs you to get to the point a lot quicker. 
They're not taking their second chance for granted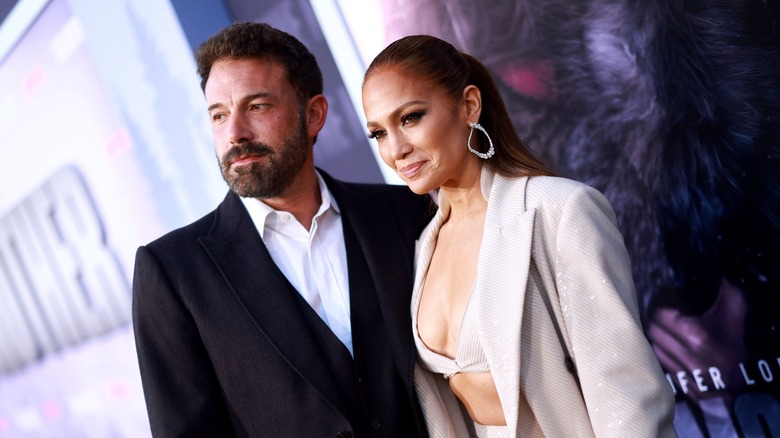 Matt Winkelmeyer/Getty Images
Ben Affleck made sure to tell host Drew Barrymore that his superstar wife, Jennifer Lopez, has never said that to his face, of course. He was just taking a stab in the dark about which trait she would change if prompted. If you asked JLo, she might not change a thing. According to the Daily Mail, sources claimed that Bennifer 2.0 was always a sure thing. Insiders revealed, "She was always obsessed with Ben. They have always loved each other.'" 
When the Hollywood It couple split in 2004, fans were devastated, especially after they remained friends and Lopez confirmed that the love they shared was genuine. She cited the intense media frenzy surrounding them as one major reason for the breakup. A few years before the couple got back together, Lopez reminisced about how if they had crossed paths at a different time, maybe they never would have gone their separate ways. 
Even her former manager has said that Affleck is the one for Lopez. Thankfully, the stars aligned in 2021, almost two decades later, and as J-Lo memorably gushed to People, "It's a beautiful love story that we got a second chance." Suffice it to say, the singer and actor seems pretty smitten regardless of her hubby's rambling nature.
But how does Lopez feel about Affleck's infamous tattoo?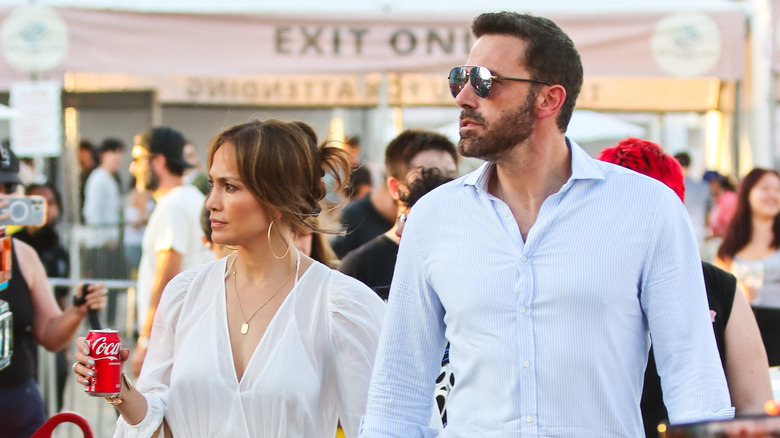 Bg020/bauer-griffin/Getty Images
For the uninitiated, Ben Affleck has a huge back tattoo. For a while, the typical "guy-next-door" actor tried to pass it off as a fake for a movie; but today, we know that's not true. The intensely colorful phoenix that spans his entire back, from shoulders to hips, is real and apparently sentimental to Affleck, who confessed on "The Ellen DeGeneres Show" that: "It's meaningful to me. I like it." His spouse? Not so much.
Jennifer Lopez came out and said, "It's awful!" on "Watch What Happens Live". As she told host Andy Cohen, "It has too many colors. His tattoos always had too many colors. They shouldn't be so colorful, you know what I mean?" Colorful it is, but as far as we know, the pop star still hasn't convinced Affleck to get it removed. Fortunately for all of his ink haters, he typically keeps it discretely covered with a shirt. So maybe there are actually two things Lopez would change about her husband if given the chance.