Melissa McCarthy's Least Favorite Thing About Filming Gilmore Girls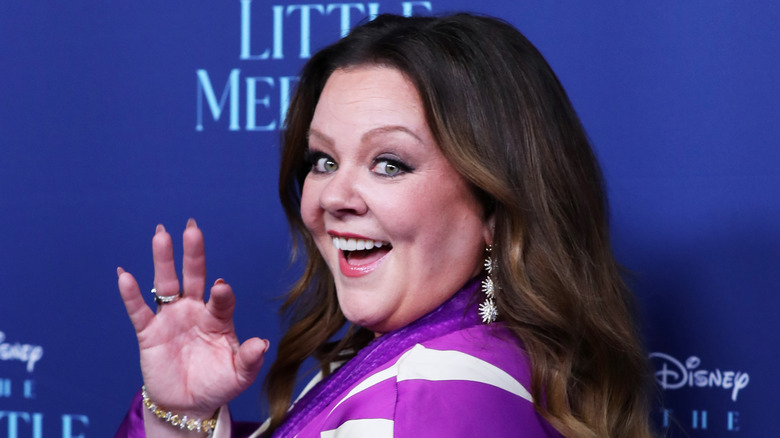 Lisa Maree Williams/Getty Images
If you've ever had the pleasure of following Lorelai Gilmore (played by Lauren Graham) and her daughter, Rory Gilmore (Alexis Bledel), through their adventures in the quaint fictional town of Stars Hollow, Connecticut, then you know the setting of "Gilmore Girls" strived to be the most picture-perfect East Coast locale. The set was designed to resemble the Litchfield Hills area of the state, filled with cute diners, adorable small-town parks, and a healthy dose of charmingly chilly New England weather.
Funnily enough, "Gilmore Girls" was filmed in hot and sunny Burbank, California. It's a fact that Melissa McCarthy wished wasn't true when she was starring as the endearing Sookie St. James on the beloved show. In an interview with Entertainment Weekly, the actor bemoaned the wintery scenes: "Sometimes we were like crammed into small things with coats on, but it was actually like 112 degrees in Burbank." 
She continued, "We were all in coats and trying to look blustery. And I was like, 'Are we explaining why I have Malaria and why I'm in a full flop sweat?'" Combined with the show's strict wardrobe rules, the Californian climate sounds like a recipe for disaster. The "Little Mermaid" star revealed that someone even passed out from the heat when they were attempting to shoot a poster for the show. We can't imagine how comical it must have been for Graham to act out Lorelai's infamous "I smell snow!" scene while baking in the Burbank sun.
Are bad memories the reason McCarthy stopped watching Gilmore Girls?
Millions of viewers watch and love Amy Sherman-Palladino's cult-favorite "Gilmore Girls," but Melissa McCarthy may no longer be one of them. She confessed in a "Sunday Today" interview that she no longer watches "Gilmore Girls" in her own home, not even with either of her daughters. "I'm also always afraid somehow, something's going to happen, and I'm going to be found in a room watching my own thing. So I have a super paranoia about, 'I can't watch my own stuff in the house,'" the Oscar nominee shared. 
The paranoia goes so deep that McCarthy joked that she has come up with a scenario where she passes out, and the paramedics have to come, only to find her in her room watching herself on television. Sheepishly admitting that if she does sit down to find herself onscreen, she thinks, "'Ooo, God. Do I feel lightheaded?' I don't want to pass out in a room where my stuff is playing." 
Even though many of those who grew up loving the show are now sharing it with their children, the "Bridesmaids" star probably won't be one of them, though she did obviously enjoy her time on set. Her girls will just have to watch their mom play Sookie for all seven seasons on their own.
Will Sookie ever return to Stars Hollow?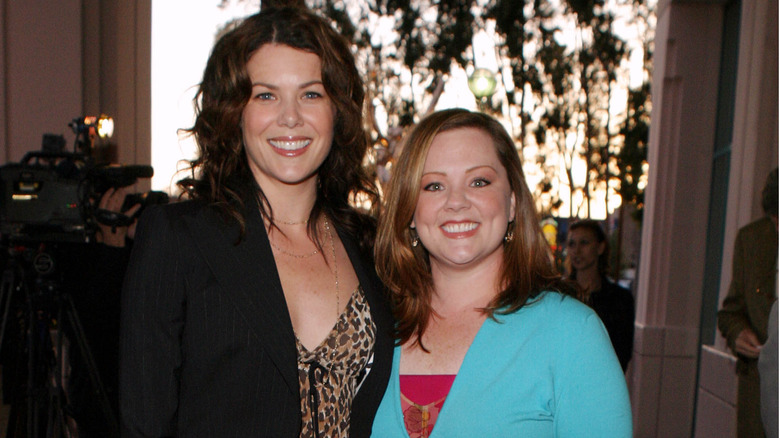 Christopher Polk/Getty Images
Speaking of seven seasons, Melissa McCarthy has been questioned repeatedly about whether or not she'll ever come back for a reboot. "'Gilmore Girls: A Year in the Life" premiered on Netflix in 2016 to great fanfare, amassing close to five million viewers on average per episode. Though plenty of rumors exist, another season hasn't yet been projected at the time of writing. 
Nevertheless, the revival didn't bring back all of Sleepy Hollow's dearest characters — Sookie was notably absent for much of the first season. In a Twitter response to one fan's comment pleading with McCarthy to carve out the time to make an appearance in the reboot, McCarthy replied, "Thanks for the invite, but sadly no one asked me or Sookie to come back to Stars Hollow." 
Thankfully, McCarthy had a quick cameo in the final episode. If they do produce another season, we can only hope they extend an invite to Sookie (sans coat) because we'd love to see more of what her character is up to now!