Tom Holland Used His Handyman Skills To Impress Zendaya In The Early Days Of Their Romance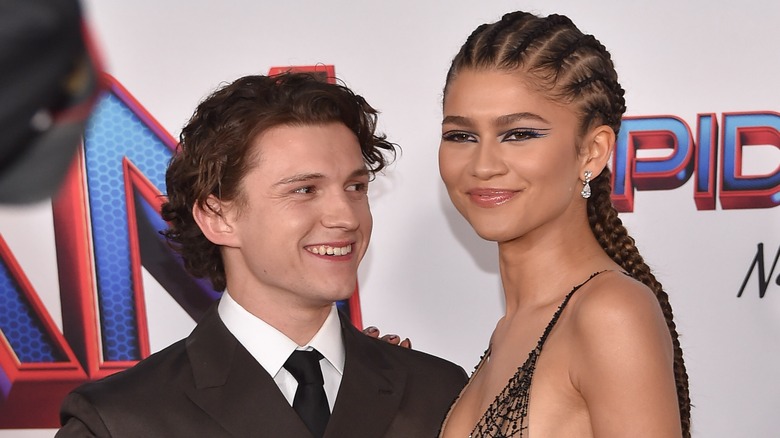 DFree/Shutterstock
Although Tomdaya (Tom Holland and Zendaya) seem like an effortless, basically married couple these days, Holland definitely put in the work to dazzle Zendaya during the early stages of their relationship. The "Spider-Man" costars were rumored to be dating for a while before they were outed as a couple in July 2021 when they were photographed kissing in a car. Since then, they've confirmed their relationship on social media, given each other lots of loving looks on red carpets, and occasionally spoken about their romance in interviews. 
During a June 2023 interview, Holland reflected on his relationship with Zendaya and claimed to BuzzFeed that he actually has "no rizz whatsoever," (a slang term for coming across smooth and charming in a romantic or flirting context). He joked, "I don't know, I need you to fall in love with me, really, for it to work." Despite his supposed lack of rizz — which is up for debate, given his massively talented and beloved girlfriend — the actor does have a special skill that impressed Zendaya when they first started seeing each other: carpentry. 
During a June 2023 interview with UNILAD, Holland opened up about his passion for carpentry and how he used the skill to impress Zendaya one time. "Carpentry is something I just really enjoy," the actor shared. "I love it. I made my mum's kitchen table; I made my mum's office. I built all the cupboards in my bedroom. I built a little birdhouse with my granddad."
Tom fixed Zendaya's door for her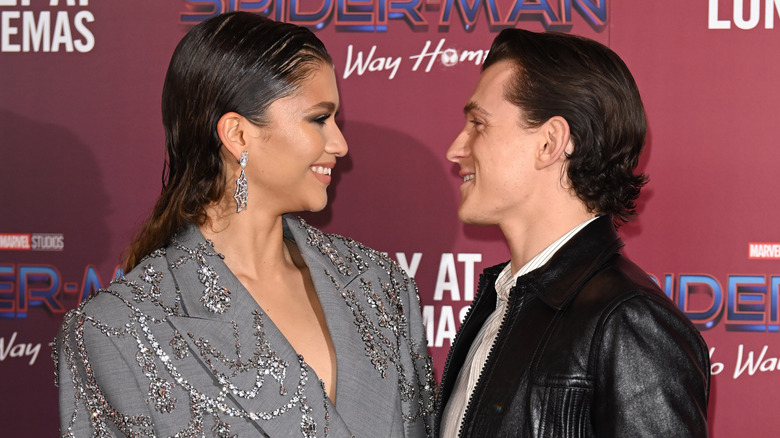 Karwai Tang/Getty Images
Tom Holland's love for carpentry may be surprising, but he has an affinity for the skill. In 2014, Holland attended carpentry school when he was struggling to get auditions and "loved it," per GQ. At the time, his mom told him he needed to have a backup plan outside of acting. Carpentry seemed like a natural choice since many of his relatives are skilled in the carpentry trade, Holland told GQ. "My mum said, 'Look, you're not getting any work, so you need to go and have a plan B. I've booked you at this carpentry school in Cardiff. Six-week course. You're gonna go, you're gonna learn to be a carpenter,'" Holland recalled in the interview, noting that his first audition for "Spider-Man" happened while he was taking the class.
The "Spider-Man" star's skills came in handy (no pun intended) at the beginning of his relationship with the "Euphoria" actor. "I fixed my girlfriend's door once really early on in our relationship," Holland said while speaking with UNILAD. "I was hanging out at her house and her door was broken. I was like, 'I'm gonna fix that door for you.'" He pointed out that his hard work was certainly worthwhile: "And now we're in love."
That handiwork was the start of a long-lasting, beautiful relationship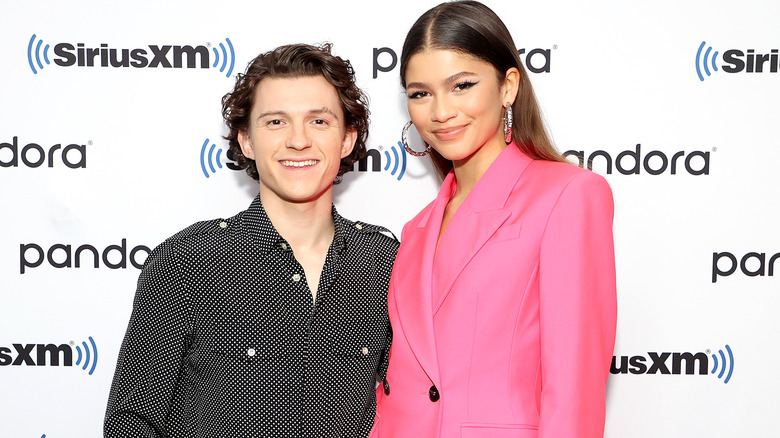 Cindy Ord/Getty Images
Tom Holland's carpentry skills have evidently served him well in the long run, because he and Zendaya seem like the real deal. In November 2022, Us Weekly reported that Holland and Zendaya were looking to settle down and plan a "real future" together. Based on all their adorable date nights and quotes about each other, that assessment is looking accurate. Although the duo prefers to keep most of their relationship private, fans have caught glimpses of their romance from what they share online and during endearing public moments. 
The couple went Instagram official in September 2021 when Holland posted a sweet mirror selfie of him and Zendaya, writing in the caption, "My MJ, have the happiest of birthdays. Gimme a call when your up xxx." These days, they seem to be enjoying concert dates — they had a blast dancing at Usher's Las Vegas, Nevada show in April 2023 and also attended Beyoncé's Warsaw, Poland show on June 27, 2023. During the singer's performance of her hit "Love On Top," Holland and Zendaya were filmed lovingly serenading each other during the chorus. "Baby it's you / You're the one I love / You're the one I need," they sang with passion.