The Memento Adele Made Sylvester Stallone Leave Behind When She Bought His House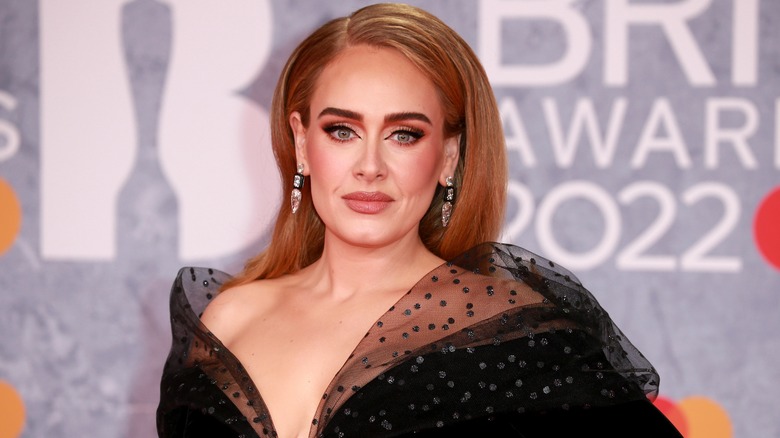 Fred Duval/Shutterstock
It seems that British pop singer Adele is a big fan of the Rocky film franchise; so much so that when Sylvester Stallone — Rocky Balboa on the big screen — wanted to sell his California home, the "Somebody Like You" singer insisted on retaining one iconic item before buying his mansion. The item in question is the incredible bronze Rocky statue, wherein the titular boxer is seen doing his legendary fist-pumping pose. It was placed near the pool of the Los Angeles mansion and the said statue almost kept Adele from buying Stallone's house.
In an interview with The Wall Street Journal, the action star shared that Adele "wanted the statue," with the singer even going as far as pulling the plug on the real estate deal if she didn't get it, and saying "That's a no deal. That's gonna blow the whole deal." Despite wanting to take the statue with him, Stallone mentioned he left it to support the Grammy winner's renovation of his former Beverly Hills property. "She wanted the statue. I like what she's doing; she's making it gorgeous," he told The Wall Street Journal. 
In 2022, Adele bought Stallone's 3.5-acre property for $58 million, which seemed a great deal since Stallone originally wanted to sell the place for a whopping $110 million and he last offered the estate for $80 million.
The pandemic effect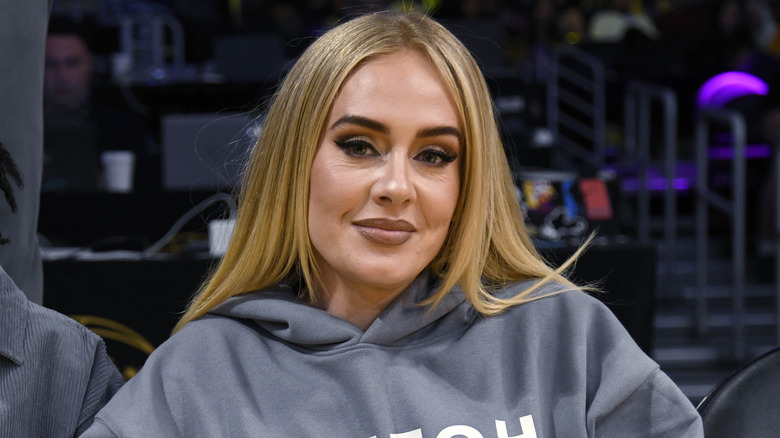 Kevork Djansezian/Getty Images
So how did the 16-time Grammy winner become a fan of all things "Rocky?" In an interview with Vogue, Adele shared about her consistent workout routine during the COVID-19 lockdown. The world has seen Adele's incredible transformation and Sylvester Stallone's films played a huge part in it. She revealed she tends to watch a movie while sweating it out, and the Rocky franchise is a favorite. 
Writer Abby Aguirre, who chatted with Adele at a private gym in West Hollywood for the singer's Vogue cover, even noted that perhaps her love for Rocky movies is the reason she has a pair of boxing gloves displayed on the wall. During the interview, Aguirre observed how the singer would begin singing randomly. With Adele coming down with "Rocky" fever, it was no surprise that she belted a tune from the film's soundtrack. 
Adele is just one of the million fans of Stallone's impressive work. Stallone wrote the screenplay for the first "Rocky" film, which was released in 1976, and was hellbent on playing the titular role himself. The actor recalled watching a boxing match between Muhammad Ali and Chuck Wepner as his inspiration. The movie catapulted Stallone to fame, even snagging an Oscar nomination for his acting performance. The cult classic won big at the Academy Awards, bringing home Best Picture, Best Direction, and Best Editing.
Adele is into real estate investing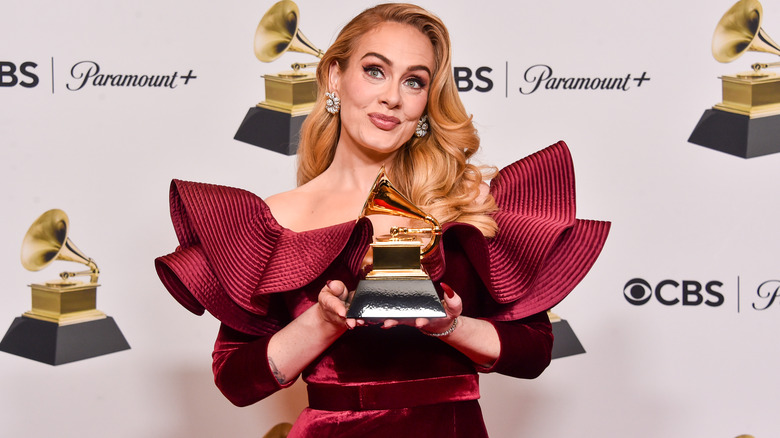 Alberto E. Rodriguez/Getty Images
Adele's purchase of the former Stallone home isn't the singer's first Beverly Hills property. In fact, in 2016, she bought a $9.5 million private retreat in Hidden Valley. Then in 2019, Adele bought another property in Beverly Hills— this time, a mansion worth more than $10 million.
In 2021, the Emmy winner secured her third property in Beverly Hills for $10 million. The renovated mansion belonged to her longtime friend, actress, and socialite Nicole Richie. Aside from California, Adele also has properties in London. In 2012, four years after her hit album "19" was released, the singer bought two Kensington homes worth over $14 million. She shelled out another $2.5 million in 2021 to combine the two properties into one mega-mansion.
So how much is Adele really worth to afford these luxurious properties? As of 2023, the Tottenham native has a net worth of $220 million (per Celebrity Net Worth). From 2009 to 2019, the singer reportedly made $430 million from her record sales and concerts.