The Beauty Trick Behind Candace Cameron Bure's Iconic Full House Bangs
Jose Perez/bauer-griffin/Getty Images
When it comes to '80s and '90s fashion, it's hard not to think of Candace Cameron Bure as DJ Tanner on the beloved TV series "Full House." The actor was one of the most popular teen stars of her day thanks to the family sitcom, and she had so many fans trying to emulate her wardrobe and her big hair with her signature teased bangs. "You all wanted to dress like DJ Tanner," Cameron Bure told TODAY in 2017 while looking back at her "Full House" style.
After critiquing some of her wardrobe choices from her DJ Tanner days, the actor went on to talk about her hairstyle. "It's the perfect bang with height and the wing, that comes in," she explained. "No one could get my bangs like that. So I went to my hairdresser, meaning the woman who cut my hair and styled it, not the hairdressers on the set. I would drive to the salon before every taping and she would blow out my hair. And then I'd arrive to the set with my hair done. And then they'd do makeup on me and get dressed — because she perfected that bang and no one else could do it," Cameron Bure added.
However, over the years, the Hallmark star learned to style her own DJ Tanner-inspired bangs. She even told her fans how to achieve the look for themselves.
Candace Cameron Bure shares the secret to DJ Tanner's big bangs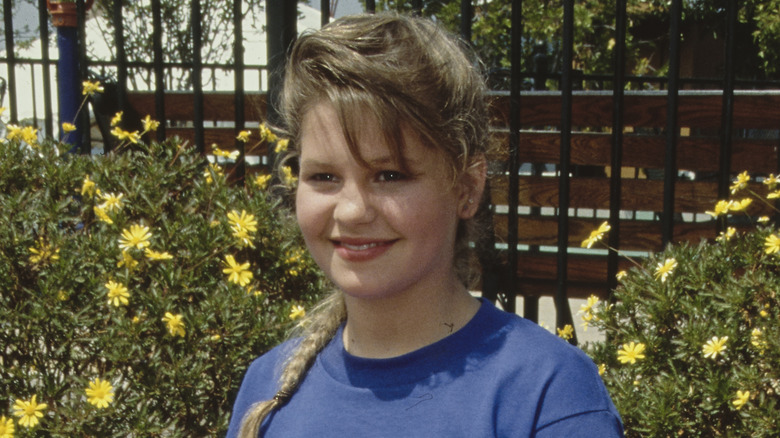 Michael Ochs Archives/Getty Images
In 2020, Candace Cameron Bure sat down for People Magazine's "Defend Yourself" series and opened up about how she's perfected DJ Tanner's iconic "Full House" hair look over the years. "I mastered the self-tease. Here's how you got the iconic high bang, okay? You take the palm of your hand and you go like this," she said as she brought her hand to her hairline, held it flat against her head, and tousled her bangs. "Which automatically gives you a rat's nest. And then you took the Aqua Net and you went up and over, and then it would stay up. But this was the key — you had to do this," Bure explained as she showed off her hand-in-hair technique a second time.
As the oldest Tanner sister, DJ was often a fashion inspiration to her fans, many of whom have grown up with Cameron Bure and still look to her for fashion, beauty, and health tips. The TV star even created her own clothing line with QVC. However, she hasn't forgotten her '80s and '90s style. "You know that you all had the same hairstyle and if you didn't, you tried to have it," she told the outlet. "Just some big bangs, up high, a lot of hairspray, wings on the outside. That's what the 80s and 90s were for, man — big hair." Of course, Cameron Bure wasn't the only "Full House" star known for their hair.
John Stamos' Full House hair was also iconic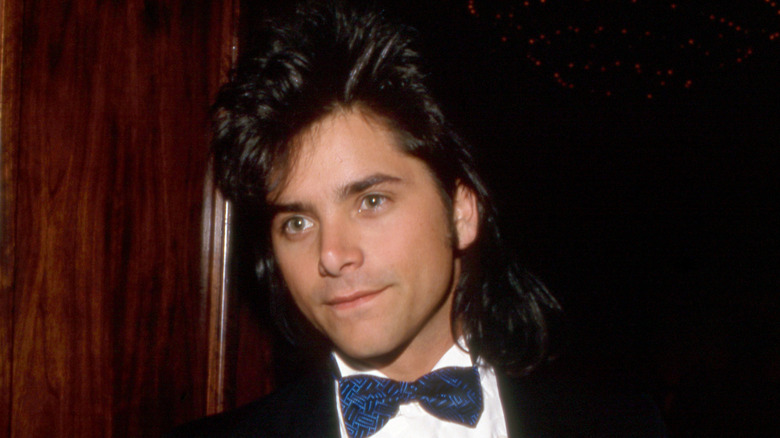 Mediapunch/Getty Images
Although Candace Cameron Bure's hair was iconic, DJ Tanner wasn't the only member of the "Full House" cast with great locks. John Stamos, who played Uncle Jesse, was known for his killer strands. Jesse showed up in the early seasons with a mullet, very much in style for the time, and from there, the character kept up with hairstyle trends. There were often jokes made about Jesse's perfectly coiffed hair.
Looking back, Stamos says he's not a fan of how his hair looked during his early days on the iconic TV series. "It was like two crows had died on my head," he told E! News in 2015. "The sideburns were big. I look now and I go, 'Why didn't anybody say anything to me?'" he added.
In 2020, Stamos joked about passing his gorgeous head of hair off to his son, Billy. In a sweet Instagram post, Stamos held up his young son following his bath, and although Billy's hair looked to be long and thick, the actor couldn't help but quip that the child had "hair envy." "Someday son, someday," he captioned the photo of Billy grabbing his locks.
Overall, it seems that "Full House" has become known for its characters' hairstyles nearly as much as its storylines over the years.