Kevin Costner And Christine Baumgartner Once Split Years Before Their Messy Divorce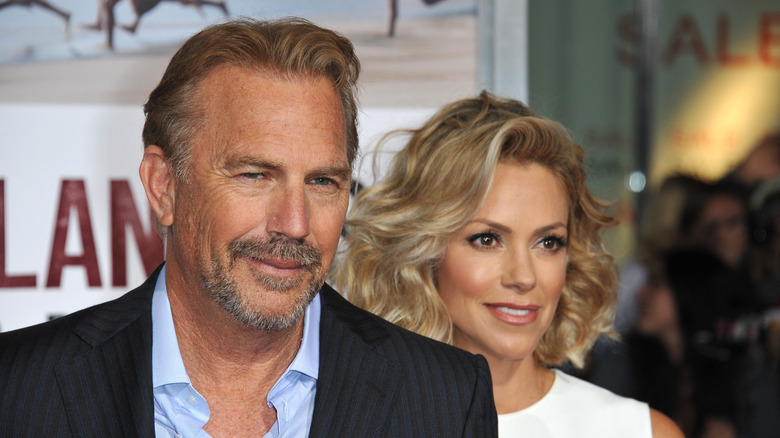 Featureflash Photo Agency/Shutterstock
The writing might've already been on the wall when it comes to Kevin Costner's divorce from Christine Baumgartner. Baumgartner seemingly came out of left field when she filed for divorce from Costner in May 2022, citing "irreconcilable differences," according to TMZ. The outlet's referral to Baumgartner as Costner's "estranged wife," and the quickness with which the "Dances with Wolves" star lawyered up with famed divorce attorney Laura Wasser highlighted how strained their marriage was after 18 years and three children. However, insiders claimed Costner was caught off guard by his wife's divorce filing and still desired to mend their broken fences, according to Page Six. While serial cheating allegedly caused the end of Kevin Costner's first marriage, sources denied the star was unfaithful to his second wife. 
Costner and Baumgartner are gearing up for a divorce battle that includes joint custody filing for their three children and Costner's attempt to push Baumgartner out of their marital home, per ET. The messy split seemingly reflected the rocky start to their nearly 30-year relationship after first meeting while Costner was married to his first wife Cindy Silva. The two wouldn't cross paths again until Costner was divorced with four kids, three with his ex-wife and one from a short-lived romance with Bridget Rooney. Costner might've also offended Baumgartner when they reconnected in 1998 and he asked if he could call her "in two weeks." His forwardness would also lead to a brief split ahead of their 2004 wedding.
Having kids was a deal breaker for Christine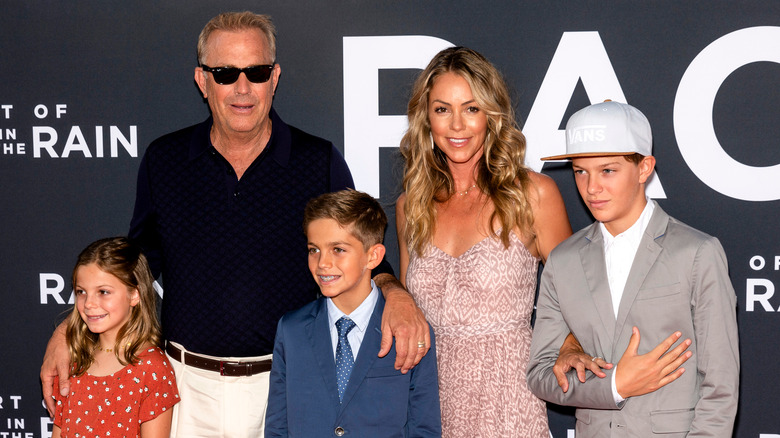 Ovidiu Hrubaru/Shutterstock
Kevin Costner and Christine Baumgartner didn't have the smoothest journey ahead of their walk down the aisle. The "Yellowstone" star owned up to causing their first breakup due to his opposition to having children with Baumgartner. Costner was already a father to four and didn't care to welcome more children in his older age,  he admitted to Parade in 2008 (as noted by the Irish Examiner). But Baumgartner, who's 19 years younger than Costner, wanted children or wanted out of the relationship. It was Costner's trepidation that help up their 2004 wedding. "Christine wanted a child, but I was afraid I couldn't be an effective father," he revealed.
This led to a breakup prior to the couple exchanging vows at Costner's ranch in Colorado in 2004. Three years after tying the knot, Costner and Baumgartner welcomed their first child together, a son Cayden that left Costner concerned about raising young children again, via People. The "Hidden Figures" star was 52 when Cayden was born and he worried he wouldn't have the energy that he had with his older children or that "someone [else] will raise him, meaning that my life will end prematurely," he said at the time. A year later they welcomed their son Hayes, and their daughter Grace came in 2010. Costner and Baumgartner were happily married when they welcomed their three children (bringing Costner's total children up to seven) and likely had no idea the kids would be at the center of a divorce.
Christine wants her financial demands met before she leaves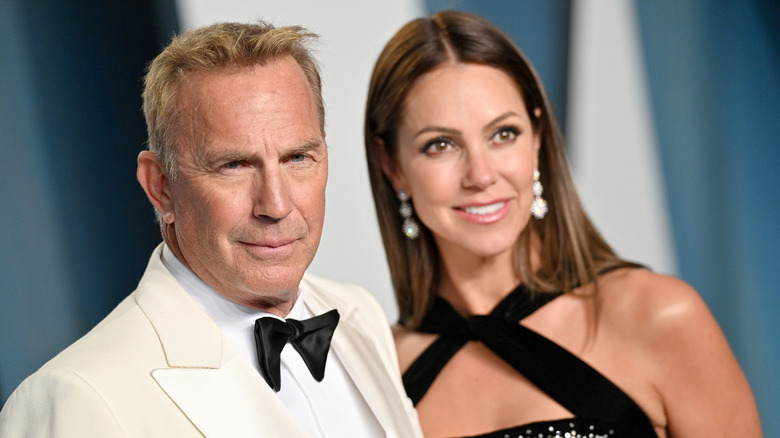 Lionel Hahn/Getty Images
One month after Christine Baumgartner filed for divorce from Kevin Costner, she requested $248,000 a month in child support, People reports. According to the handbag designer, the nearly $250k payments she was seeking wouldn't be enough to provide the lifestyle that their children were accustomed to. Costner would also have to pay for their private-school tuition, extracurricular activities/sports, and healthcare expenses. In separate legal documents filed by Costner, the "Tin Cup" star had already agreed to cover the cost of the kid's schooling and extracurricular activities. He also agreed to pay $30,000 a month for Baumgartner's living expenses and $10,000 toward her move. He just wanted her out of their marital home, according People.
Costner cited their 2004 prenuptial agreement where Baumgartner agreed that 30 days after a divorce filing, she would move out of their marital home, TMZ reports. But that was before three kids were involved. Baumgartner is accused of staying well past the 30 days and making "various financial demands" in order to leave. Costner had allegedly already given Baumgartner $1 million in addition to the other money offered. However, as the messy divorce lingers on, it looks like it'll take more money to settle.