Why Sister Wives Fans Were Upset By Kody Brown's 'Knife In The Kidneys' Comment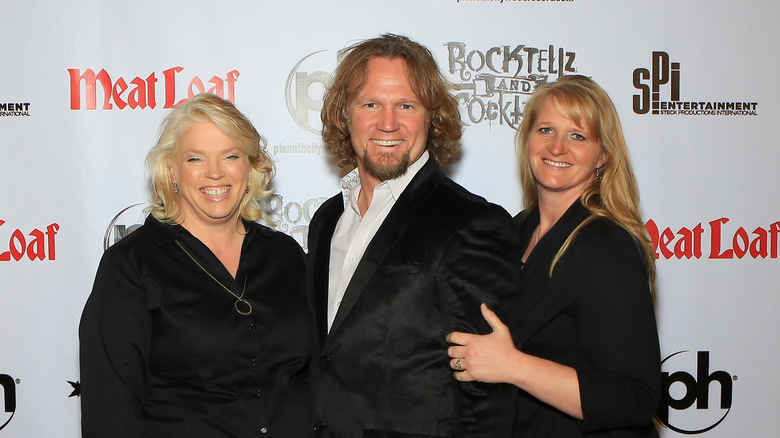 Gabe Ginsberg/Getty Images
A lot went down on Season 17 of TLC's "Sister Wives," and one notorious scene involved Kody Brown having a meltdown after his wife Christine announced to him and her sister wives that she was leaving.
In Episode 10, Christine told Kody and the wives that she would be moving in a week as they gathered outside on the front porch of her home (via TLC). Fourth wife Robyn became visibly upset and asked how her relationship with Christine would continue, and that's when Kody got irate."She's treated you like dirt from the very beginning," Kody turned and said to Robyn. "That's the relationship you have with her. That's the reason I'm angry."
He then leapt up from his chair, started screaming at Christine, and uttered those infamous words: "Man, just the knife in the kidneys over all these years! The sacrifices I've made to love you. Wasted!" And fans of the show noted that his particular choice of words hit home for more reasons than one.
His daughter Truely suffered kidney failure under Kody's watch
Besides a "knife in the kidneys" being a highly unusual reference, it was a very poor choice of words considering that Christine and Kody's youngest daughter went into kidney failure when she was three years old. Truely had the flu and became severely dehydrated, which led to her going into kidney failure. She spent 11 days in the hospital, and doctors didn't know if she would recover, but luckily she improved due to dialysis and medication.
What adds to the heartbreak is that Christine was out of town for four days and left Kody in charge. He, in turn, left a sick three-year-old under their daughters' care, who were young teens at the time. When Christine returned home, she noticed Truely's eyes crossing and rushed her to the hospital. 
Though Christine didn't publicly blame Kody for Truely's harrowing experience, Kody said on the show in 2022 during the COVID-19 pandemic (via People), "I think Christine hates me partly because Truely almost died. And she thought that I had been negligent." He explained, "The reason I have never brought this up before is because I didn't feel like I had to make the argument so forcefully in the past."
Kody dismissed another daughter's medical needs
Between his unhinged rage and Kody's self-victimization, fans of the show were quite upset with how the scene unfolded. Newsweek reports that one Reddit user commented, "Isn't it somewhat ironic he's complaining about stabbed kidneys when his neglectful parenting contributed in part to Truely going through actual kidney failure?" Another agreed and sarcastically wrote, "He flubbed up and read Truley's line!! The script called for Truley to tell him, 'It felt like a knife to the kidney when you left me with teenagers while I was sick. I was so dehydrated that I went into kidney failure and almost died.'"
That wasn't the only time that Kody overlooked the health of his and Christine's children. Daughter Ysabel had battled very painful scoliosis and finally felt like surgery was her last option after years of painful treatments that hadn't worked. Kody attempted to get her not to do the surgery while Ysabel explained very gingerly how she needed it. 
Christine traveled from Arizona to New Jersey with Ysabel, supported her through surgery and recovery, and transported her back and forth on her own, while Kody stayed home (via Insider). Even worse, he served as an officiant at a friend's wedding soon after. "Ysabel's heartbroken, oh my gosh," Christine said on the show. "She goes, 'How can he justify officiating Brian's wedding when he wouldn't even come to my surgery?'"