The Meaning Behind The Colors Kate Middleton Often Wears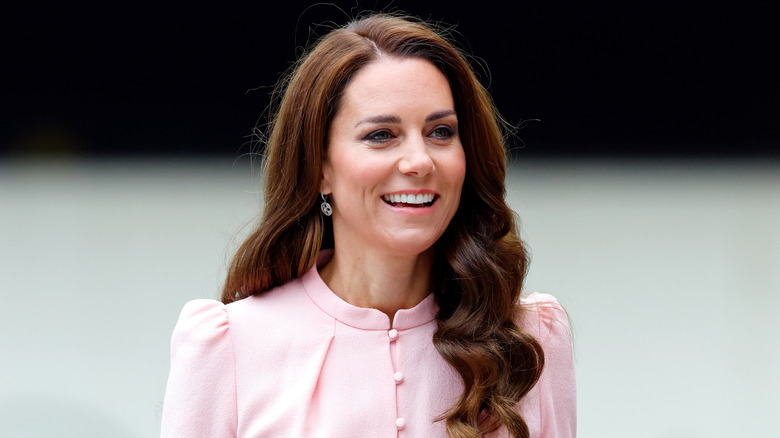 Max Mumby/indigo/Getty Images
When a young Princess Catherine ascended the steps of Westminster Abbey in her stunning Alexander McQueen wedding dress in April 2011, the world collectively knew that they were watching a style icon in her earliest stage. Becoming the Duchess of Cambridge upon her marriage to Prince William, Catherine's early royal wardrobe was a smart mix of designer and affordable street wear labels, giving her a sense of relatability and an air of approachability. With time, however, Catherine's wardrobe became more fine-tuned — luxury labels became staples in her attire, classic silhouettes were revisited with modern flair, pantsuits began making an appearance. Once she became the Princess of Wales in September 2022, Catherine's closet took an enormous leap forward.
Amid her new and improved silhouettes and stunning ensembles, Catherine has played into color theory and significance as she has evolved her royal looks. Using different hues to tell a story — or to stand out from the crowd — Catherine's fashionable choices are all starting to play into a larger script, exemplifying her role and doing much of the talking through color, designer, and occasion. From Trooping the Colour and the beloved Royal Ascot to appearances meeting with members of the Commonwealth, Catherine's outfit choices are incredibly intentional, leaving royal watchers clues as to what message she was getting across with her pick. Here, we're taking a closer look at the meaning behind the colors Catherine often wears.
Red has significant meaning now that Catherine is the Princess of Wales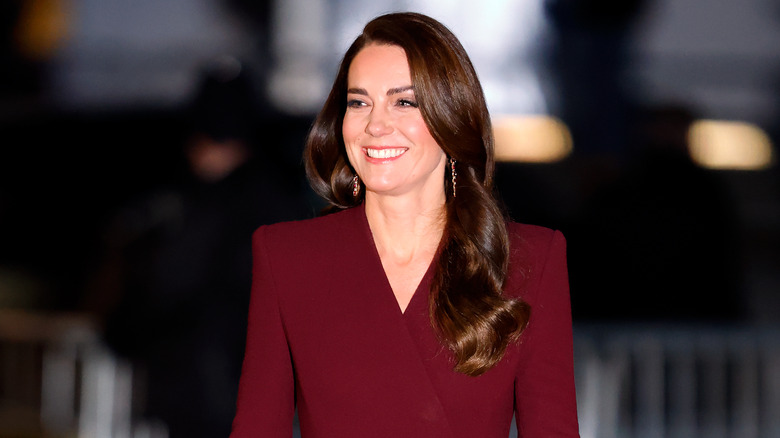 Max Mumby/indigo/Getty Images
Princess Catherine in red is a match made in heaven. Not only does the hue compliment her auburn hair and soft features beautifully, but it allows her to really deliver that wow factor. Before she became the Princess of Wales, Catherine was starting to adopt more and more responsibility as a royal — no doubt in preparation for her future role. One such event she took on is the Christmas carol concert, hosting the event starting in 2021. Her burgundy red ensemble in 2022 – her first carol appearance as the Princess of Wales — was the perfect color choice for the occasion. Not only was it incredibly on theme, but the bold color allowed her to command attention.
As it turns out, red is a very symbolic hue for Catherine now that she represents Wales on a global scale. She busted out a red ensemble yet again when visiting St. Thomas Church, and color psychologist Tash Bradley broke the decision down for Hello! magazine. Noting that red is a prominent color in Wales' flag, Bradley further explained, "If a royal is wearing red they are commanding attention, straight away."
"If I saw a royal in a red outfit, they're wanting to stand out amongst the other royals," Bradley noted. "Red is a stimulating color, it affects the body and you physically are stimulated by the color red."
Blue worked in Catherine's favor for some time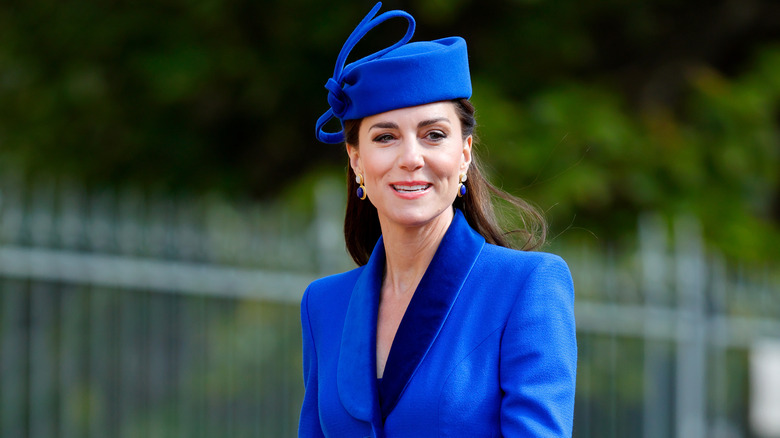 Max Mumby/indigo/Getty Images
There's nothing quite like the trustworthiness of the color blue, and Princess Catherine has definitely gotten this memo on more than one occasion. Blue no doubt works for the royal, and she has stepped out in some gorgeous attires utilizing the hue. Notably, her Catherine Walker & Co. electric blue coat dress that she wore to the Easter Sunday service at St. George's Chapel in 2022 was — and is — one of her best looks to date. Coordinating with her husband and three children — who all sported some shade of blue — Catherine stood out from the crowd and flashed her perfect smile while doing so.
The Easter 2023 appearance was certainly not the first time that Catherine and her immediate family used blue to present a united front. Speaking to MyLondon about the color choice was color psychologist Karen Haller, who explained that the decision to wear blue and have hues of it speckled throughout the family is never a coincidence.
"Wearing the same hue ... the Cambridges are showing they are coming together as a family, representing themselves as a cohesive unit," Haller noted. "When it comes to color psychology darker blues communicates you are in a position of authority, trustworthy, reliable and can be depended on. You have a sense of duty and take that seriously with committed focus."
Emerald green is a big win for Catherine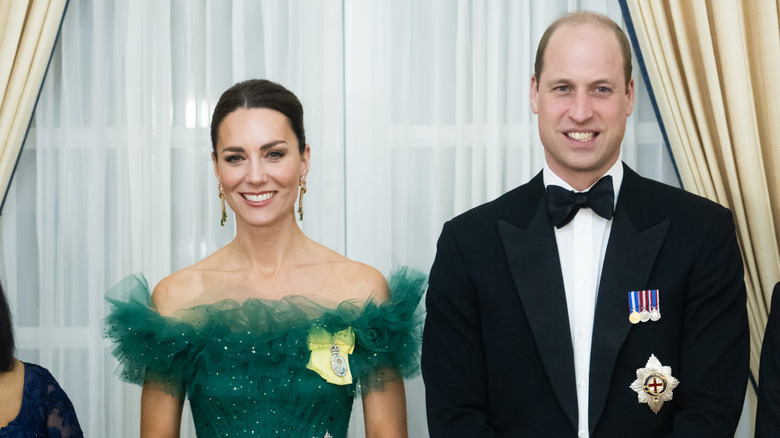 Samir Hussein/Getty Images
Princess Catherine can pull off any color — which is an incredible feat when you think about it — but no shade pops quite like emerald green. Given her dark locks and fair skin, dark green complements the princess beautifully, and there's no greater example of this than her appearance at the formal state dinner in her and Prince William's honor when on their 2022 Caribbean tour. Stepping out in a stunning off-the-shoulder Jenny Packham gown, Catherine simply stunned in the emerald green choice. The A-line skirt and fitted bodice was a perfect cut, and her choice to wear emerald and diamond earrings loaned to her by Queen Elizabeth II was icing on the cake.
Catherine has continued to incorporate emerald green in her wardrobe, no doubt now thanks to her heightened role within the royal family and her connection to the country of Ireland (more on that later). Speaking to the color decision, specialist Gabriella Winters told Hello! magazine that dark green is a choice that absolutely works in Catherine's favor.
"Kate has medium-dark eyes that are on the softer side in terms of intensity, and dependent on the lighting they appear to be slightly different shades of green," Winters said. "She wears her eye colors often and very successfully. Wearing colors that are innate to your coloring will make you appear graceful, fresh and elevated — Kate wearing her eye colors make her look effortlessly elegant, glowing and refined."
Catherine wore pink to fulfill a very special promise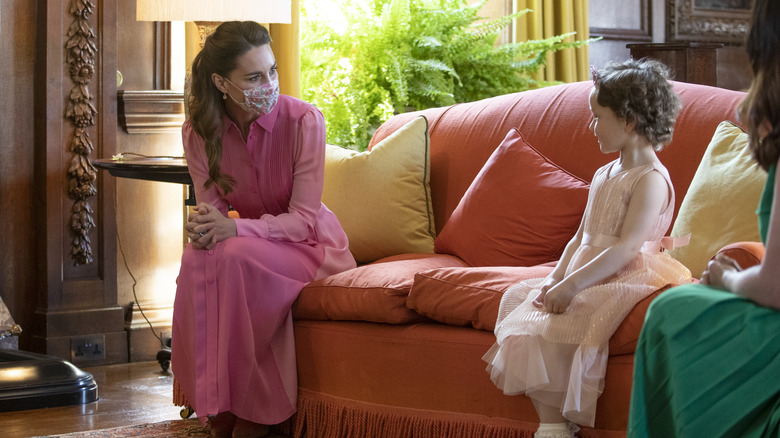 Wpa Pool/Getty Images
Throughout her time as a royal, Princess Catherine has championed children's causes and continues to advocate for issues close to the child raising process. Amid her work in 2020, which was kept largely online due to COVID-19, Catherine met a little girl named Mila Sneddon, who was just 4 years old at the time. After being diagnosed with leukemia, Mila got on Catherine's radar, and a photo taken of the tiny tot by her mother eventually ended up in Catherine's photography collection, "Hold Still." Per the Daily Mail, the two later met via phone and shared a sweet conversation, with the princess telling the little girl, "I'm not wearing a princess costume right now I'm afraid, Mila. I'll have to make sure I try and find a pink dress. Hopefully when, one day, hopefully, Mila, we'll get to meet and then I'll remember to wear my pink dress for you."
Well, in May 2021, Catherine and Mila met in person for the first time, and Catherine kept her promise. Coming to the sweet interaction in a beautiful pink dress that featured multiple hues, Catherine looked ever the princess. Mila also wore her best pink dress and made sure to spin for Catherine for the full effect. The meeting made its way to Twitter, and fans were quick to highlight the sweet promise Catherine kept. "Catherine is one lovely lady," a fan wrote. "She remembered and wore pink as promised, but still left the crown for Mila to shine."
The princess also chose pink hues during heightened stress for the royal family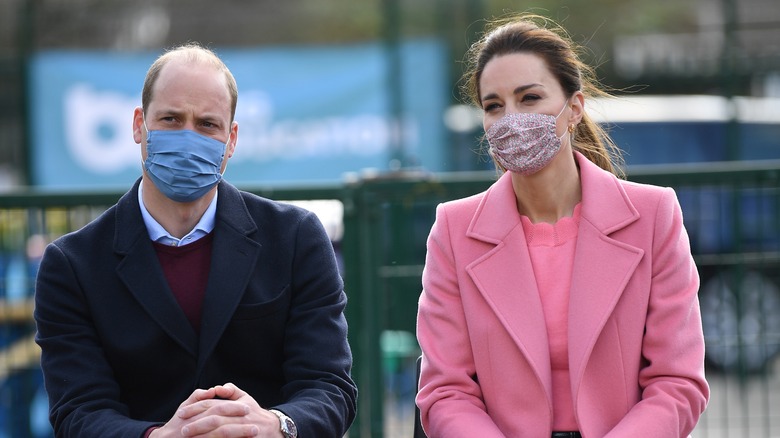 Wpa Pool/Getty Images
Though Princess Catherine's fulfilled promise to little Mila Sneddon saw the utilization of pink in the sweetest way, it wasn't the only time the royal let the hue do the talking. In March 2021, Prince Harry and Meghan Markle sat down with Oprah Winfrey for their now-famous interview, revealing their truth about the royal family, the royal rota press institution, and the realities they faced from a racial and mental health perspective. The royal family stayed relatively mum on the subject, and Catherine started stepping out in shades of pink in the immediate aftermath. According to color psychologist Lee Chambers, this was no coincidence, as the princess likely used the shade to come across as "lovable and convey kindness."
"Dressing in the color pink can represent a number of feelings. As a color, it combines elements of red such as affection, and aspects of white, such as purity," Chambers told the Daily Mail of Catherine's outfit color choices at the time. "The symbolism of wearing pink suggests that Kate is wanting to feel lovable and listened too. As a color, it conveys kindness and understanding in a non-threatening way, which is a message that she will want to be communicating at the moment."
Chambers also noted that pink could have been a nostalgic shade for the princess, too, allowing her to feel comfortable in her own skin at a point of stress for the royals.
Electric green held a deeper meaning for Catherine during her Trooping appearance in 2023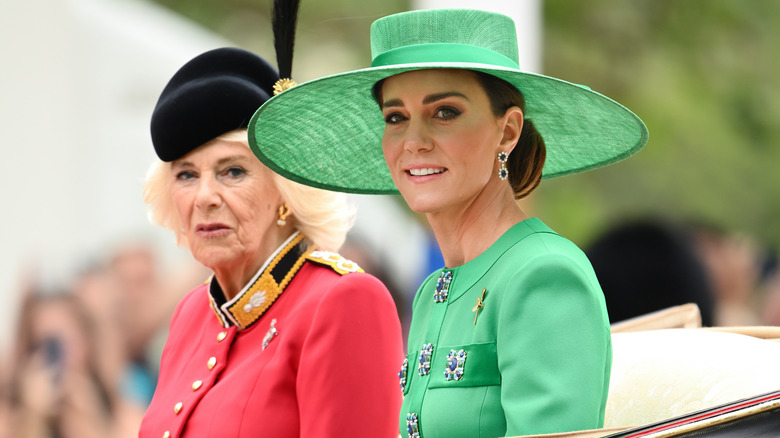 Karwai Tang/Getty Images
Trooping the Colour is one of the rare opportunities to see the entire royal family gathered in one place, and Princess Catherine certainly did not disappoint in 2023. Appearing for the first time as the Princess of Wales, Catherine's bold green ensemble for the day in question not only allowed her to stand out from the crowd, but paid tribute to one of her newly adopted titles.
In the process of becoming even more of a prominent royal, Catherine became a colonel of the Irish Guard, a well-respected position that has allowed her to connect with Ireland unlike ever before. For Trooping the Colour, Catherine's decision to wear the well-connected Irish color of green — as well as her shamrock brooch — was no doubt a nod to her new role.
Additionally, Catherine's designer for the occasion in question was a nod to her and Prince William's ongoing work as senior royals. William has been vocal in his advocacy for environmental causes, spearheading the Earthshot Prize every year. In November 2023, the award ceremony will be held in Singapore, and Catherine's decision to wear Singaporean-born designer Andrew GN to Trooping the Colour was no coincidence. The vibrant green ensemble was paired with a coordinating hat by Philip Treacy, and Catherine additionally chose to wear a pair of sapphire earrings once belonging to Diana Spencer.
Choosing red for the 2023 Ascot was no small decision on Catherine's part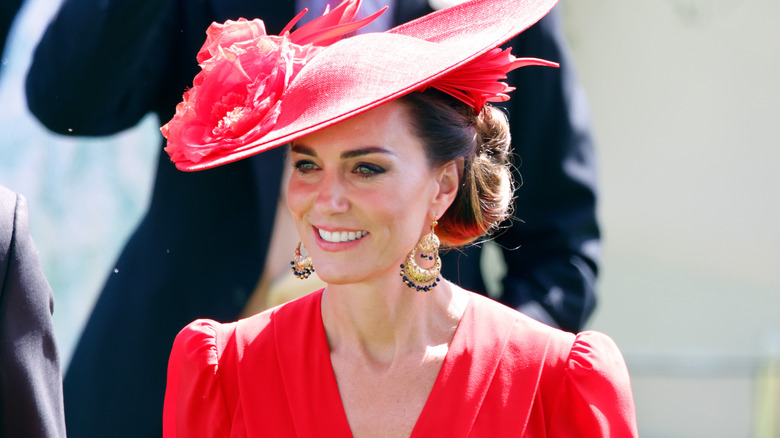 Max Mumby/indigo/Getty Images
The Royal Ascot is one of the most fashionable occasions that allows the royals to step out in style. As pointed out by royal commentator Amanda Matta, Princess Catherine has often worn more muted shades of white and blue for the event in years past, as it is a daytime occasion that fosters a softer, outside approach to fashion. However, for the 2023 Royal Ascot, Catherine stepped out in a bold red dress from go-to designer Alexander McQueen, pairing the ensemble with a Philip Treacy hat and wow-factor gold earrings. The choice was a huge departure from her looks of years past, and according to Matta, it was a very intentional decision.
"The bright, bold color of Kate's look is an outlier for Royal Ascot in several ways," Matta explained. "The color palette among royal women this year seems to be very heavy on the pastels and the whites ... [Catherine] wanted to stand out from the pack of royals attending in 2023."
Speaking to Catherine's bold approach even further, The Daily Telegraph's fashion news and features director, Bethan Holt, told People that the princess is embracing a new tactic that has red front and center. "I think this is her power moment — she's easing into the Princess of Wales role and that promotion that she's had in such a beautiful way," Holt explained. "She's got this big new title, and she's dressing for that job."
Deep blue was incredibly significant during an appearance of Catherine's in 2021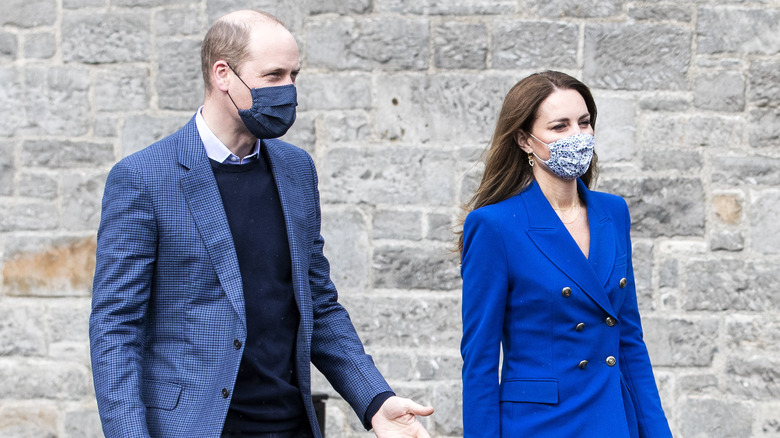 Pool/Getty Images
When Prince William and Princess Catherine got engaged, the young prince presented his future wife with the iconic sapphire and diamond engagement ring that once belonged to his mother, Diana Spencer. The deep blue ring had become synonymous with the late princess, and to see it on Catherine's hand was a very full circle moment. Catherine has rarely commented on her late mother-in-law, but she did speak to the ring in a rare moment caught on camera (via Marca). "It was exactly the same size," Catherine said of the sapphire engagement ring. "It is very special. What an honor to be able to wear it. I never met her, sadly."
The ocean-blue sapphire present on Catherine's hand is certainly not the only connection — both in color and style — that the Princess of Wales has with the late Diana. While appearing in Scotland for an official tour in 2021, Catherine stepped out in a stunning dark blue ensemble, wearing a Hope pleated skirt and a coordinated blazer from Zara — the ring, of course, on her finger. Not only was the look striking from a color perspective, but Catherine's ensemble choice was a near exact copy of an outfit Diana wore back in 1992. Sporting a blue blazer and coordinated pleated skirt, the top featuring gold hardware, Diana's look was incredibly striking; Catherine's decision to mirror the look certainly did not go unnoticed.
Yellow was a symbolic choice for Catherine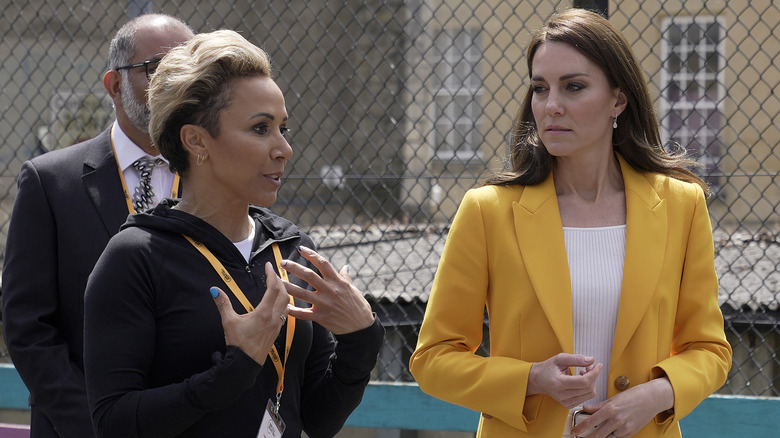 Wpa Pool/Getty Images
Princess Catherine makes a number of official appearances in step with her advocacy work. Focusing on the health and wellness of children and mothers, as well as mental health, Catherine's charitable dedication is a focal point of her royal role. While making said-appearances, the princess's wardrobe is never left to the wayside, and she has often incorporated yellow when making a stop that could benefit from a little joy. For example, she stepped out in a lovely sunflower yellow dress while visiting the Royal County Surrey Hospital in October 2022, offering a cheery hue and smile as she visited with new moms. Catherine employed the same tactic when meeting with Dame Kelly Holmes and discussing advocacy work amid Mental Health Awareness Month. Wearing a sunny yellow blazer, Catherine looked effortlessly happy as she made her official appearance — according to body language expert Darren Stanton, yellow was a poignant choice.
"Kate looked happy and confident as she switched up her usual color palette, as she tends to go for red, blue, white and purple," Stanton told Hello! magazine of her appearance. "Such a color allows her to reveal her personality a bit more, with Kate clearly comfortable in her outfit choice as she looks relaxed. Her latest appearance shows she's really evolved into attending engagements alone. The princess clearly has a lot of confidence and has become a natural at going to these events and meeting dignitaries on her own."
Catherine's appearances in purple hold deep meaning as a prominent royal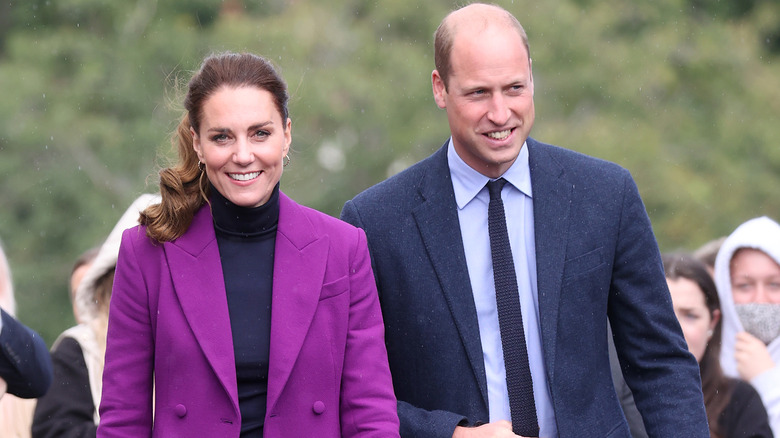 Chris Jackson/Getty Images
When Princess Catherine first came on the royal scene, she employed a number of sweet silhouettes, affordable options, and overtly feminine pieces. As her time within the firm has evolved, however, Catherine has traded her once-trademark look for silhouettes that are clean cut, designer-oriented, and business first. Such a departure truly made royal watchers pay attention, and many were shocked to see the princess appear in a purple pantsuit in September 2021. Donning the look while on a visit to Northern Ireland, Catherine looked like an actual boss, ready to command attention with a flick of her perfectly styled ponytail. Commenting on the striking ensemble was celebrity fashion stylist Miranda Holder, who told the Daily Mail that employing a pantsuit was just Catherine's latest tactic in her ever-evolving sense of style.
"This aesthetic works perfectly for the working royal women as the on-trend silhouette keeps them relevant and fashion-forward," Holder said. "'It is a great look for when Kate is racing around from one public appearance to the next."
Not only was the silhouette a very different look for the princess, but the hue in question did a lot of talking. Purple is historically a very royal-oriented color, as it was a difficult dye to come by back in the day. Queen Elizabeth II became known for wearing purple on more than one occasion, and the shade has maintained its ties to nobility over the years.
Catherine's white ensembles are inspired by 'neutrality'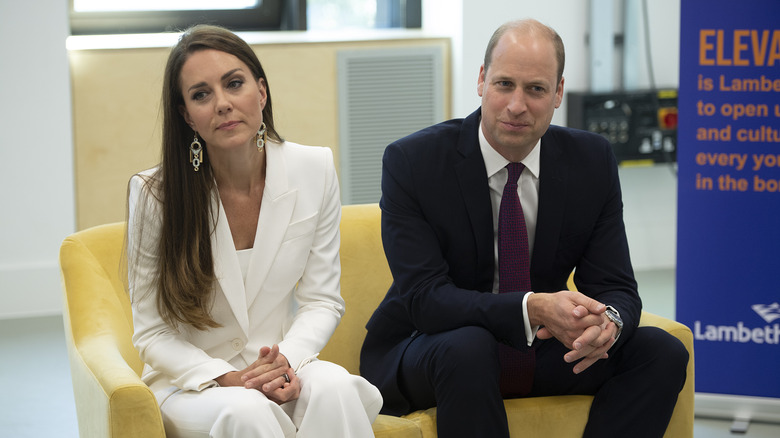 Wpa Pool/Getty Images
When we think of Princess Catherine in white, we immediately think of her stunning wedding dress. As it happens, however, the royal — when making official appearances — employs white with a very specific person in mind: her husband. According to body language expert Darren Stanton, Catherine chooses the simple hue when she wants Princess William to be the center of focus. Unlike her appearances say in bold red or electric blue, white allows Catherine to present a less commanding tone, balancing her star power with that of her husband's.
"Kate's choice of clothing always gives away how she wants to be perceived at a certain engagement," Stanton told Marie Claire, focusing specifically on the white ensemble the princess wore for Windrush Day. "Here she is wearing white, her go-to color for neutrality. She wears white when she is trying to deflect attention away from herself or wants to ensure all eyes are on William instead. White is also the color she chooses when she attends more solemn and respectful events and she wants the attention to be focused purely on the event itself."
For Windrush Day, Catherine wore an Alexander McQueen white suit, which had first made an appearance during her and William's royal tour of the Caribbean months prior. Professor Philip Murphy told The Guardian that the tour was "a perfect storm" of PR chaos. Perhaps bringing the McQueen look out one more time allowed Catherine to switch up the narrative.