Chelsea Handler Once Went On A Date With Bobby Flay (& She Was Mad He Didn't Cook For Her)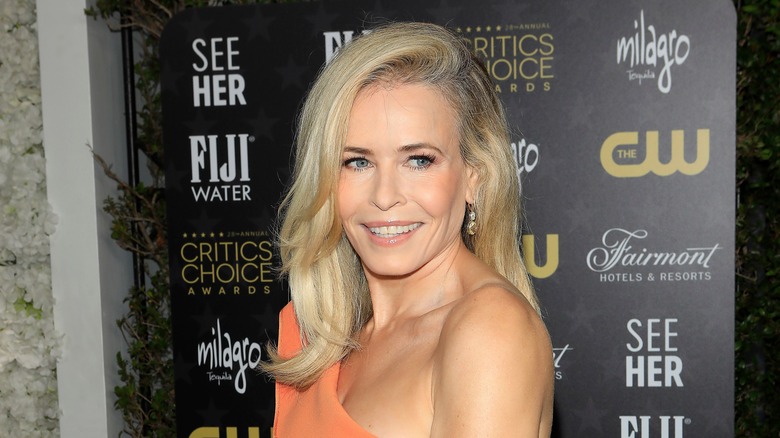 Joe Seer/Shutterstock
What do you get when you put funny woman Chelsea Handler and chef extraordinaire Bobby Flay in a room together? According to Handler, you get plenty of flirting, but no freshly-prepared food by Flay, and that was a real disappointment.
Handler's dating history contains an interesting lineup of men, but Bobby Flay takes the cake for being one of the most unexpected dates we've heard the "Chelsea Lately" star has been on. She dove into details about the date with the hosts of the "Breakfast Club" on Power 105.1 FM. But first, she dispelled the rumors that she and Flay were an item. "I did not date Bobby Flay; I went on a date with Bobby Flay, one time," she confided with a smile.
Apparently, the date didn't feature a meal prepared by the famous chef, and Handler was sorely disappointed. In her signature deadpan tone, she wondered, "Is he that great of a chef that I needed him to f***ing cook for me?" before she added while laughing good-naturedly, "F*** you, Bobby Flay!"
Instead of a home-cooked meal, the two shared a 'flirty dinner' out
Even though there was a little exaggerated disappointment on Chelsea Handler's side, her date with Bobby Flay still sounds sweet. Plus, it did actually include a fancy meal, just not one prepared by Chef Flay.
Per sources with Page Six, the comedian and chef shared a romantic dinner at the Blue Plate Oysterette in Santa Monica, California in January 2016. According to the eyewitness, the couple arrived in the same car to the venue. They also seemed "flirty" during their dinner and opted to sit at a back corner table in the restaurant. Before the night of the cozy dinner date, Handler explained on "The Ellen DeGeneres Show" that she would be going on her "first date with someone famous" and that a friend had set the two of them up.
Bobby Flay's relationships have been a bit contentious, but he was officially back on the market before his date with Handler. He had finally settled a long divorce court battle with his ex-wife actress Stephanie March the year prior.
Their personalities would make for an interesting date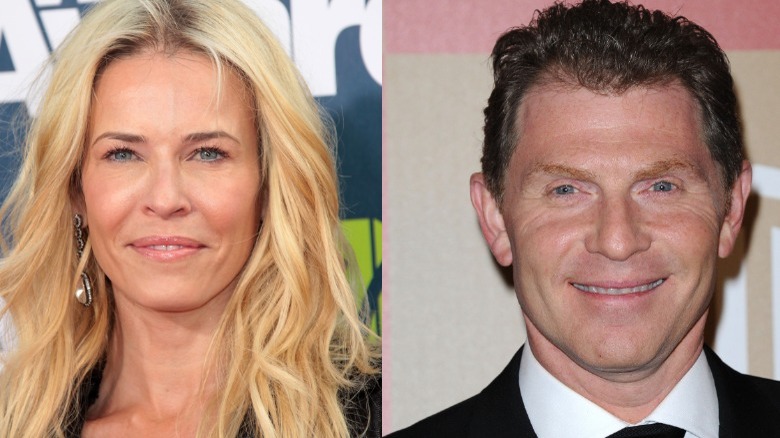 DFree & DFree/Shutterstock
All flirting but no food prepared by Bobby Flay. We can totally understand Chelsea Handler's disappointment here. If you go out on a date with a world-renowned chef and don't get a home-cooked meal, we'd be pushing any other food around on our plate with a remorseful sigh. Even Charlamagne Tha God teased Handler a bit for the date, saying she got "short-changed" during the dinner since the chef didn't cook for her.
Still, the more we think about it, the more we can see why the date between these two stars happened, although admittedly, they do make a bit of an odd match. Chelsea Handler is known for being somewhat of a rulebreaker. In just her interview with the "Breakfast Club" alone, the comedian was seen getting a little handsy with one of the hosts. She also talked about the hilarious moment when she and "Brady Bunch" mom Florence Henderson got "sh**-faced" together.
Bobby Flay, on the other hand, is all about rules. After all, how can you ever prepare a delicious meal if you don't follow a good recipe? Handler is flamboyant and outspoken, and we think she and the more mild-mannered Flay could balance each other out on a date. Of course, if there is ever another time these two hang out, we hope Flay will whip out the mixing bowls and fix Handler something mouthwatering.