What Have Been The Most Successful Products From Shark Tank?
Over the course of its 10-plus years on air, "Shark Tank" has seen its fair share of misguided business ventures and cringe-worthy pitch sessions. Sharks like Mark Cuban, Lori Greiner, and Barbara Corcoran (among others) have been asked to invest in everything from cat cafes to dangerous baking-broiling alarm clocks — how can we forget Wake N Bacon? However, the show has also backed a set of pretty impressive products. In fact, you probably have some of these inventions in your house.
Designed by Aaron Krause, Scrub Daddy is an odor-resistant sponge built to withstand the test of time. What's more, it won't scratch your non-stick pots and pans. Krause pitched Scrub Daddy on Season 4, Episode 7 of "Shark Tank," and Lori Greiner bit, securing 20% of the company's stock. Since then, the company has expanded to include other products including "Scrub Mommy" and "Eraser Daddy." Aaron Krause is a certified millionaire, making him one of the show's top success stories.
Bombas socks got their start on the popular ABC show too. For every (very comfortable) pair you buy, another is donated to a person in need. As the company's co-founders, David Heath and Randy Goldberg, discovered, socks are requested more than anything else in homeless shelters. Since their 2014 "Shark Tank" appearance, the Bombas guys have donated over 100 million socks.
Other successful "Shark Tank" ventures include the Squatty Potty and Stasher reusable bags, businesses that are now worth millions. 
Other business ventures weren't so lucky
As world-renowned investor Mark Cuban explained, "Everybody wants to be that person who can just have an idea in their garage, in their bedroom ..." (via The Daily Show). The sharks can take your college invention to the next level. "If we say yes they go from being just a business to being that guy, that business," he added. However, not all business proposals show promise — far from it, in fact.
One of the most ill-advised pitches was the so-called "Ionic Ear" from way back in Season 1. "The worst pitch is probably the crazy engineer who had a Bluetooth device that would only work if you surgically put it in your ear," fan-favorite shark Barbara Corcoran told USA Today. According to Corcoran, a doctor had to surgically remove the device in order to recharge its battery. Suffice it to say, the ear implant didn't take off. Perhaps even stranger, a Season 3 contestant claimed he could harness the spin of the earth with a world-class generator, turning it into a renewable energy source (plus solid gold was one of the byproducts, somehow?) ... if it sounds too good to be true, it probably is.
Sometimes, the sharks lose out too. In Season 5, all five judges joined forces to invest in a product called "Breathometer," a breathalyzer attachment for smartphones. Unfortunately, due to faulty scientific evidence, Breathometer quickly folded. Mark Cuban still regrets his dipping into his wallet for this one.
One shark is the richest by far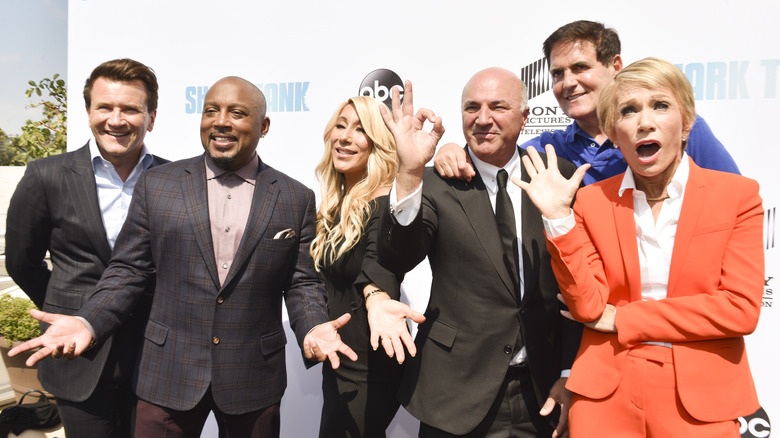 Rodin Eckenroth/Getty Images
Although Mark Cuban isn't the backer behind viral inventions like Scrub Daddy or Bombas, he's the richest shark by far — in fact, he's the only billionaire of the bunch, with an estimated net worth of $5.1 billion (via Forbes). Cuban was the co-founder of Broadcast.com before selling it to Yahoo for a massive sum. He now owns the Dallas Mavericks. Over the course of his tenure on "Shark Tank," the business mogul has invested close to $20 million in nearly 50 inventions including Nuts 'N More, Ten Thirty One Productions, and Hicc Away (which claims to be a hiccup antidote).
That being said, long-time shark Lori Greiner is even better at predicting success stories, becoming the unofficial "Queen of QVC" in the process. She's the wallet behind million-dollar business ventures like Scrub Daddy, Squatty Potty, and even Everly Well at-home lab tests. When deciding whether to invest, Greiner asks herself four key questions: "Is it something people need and want? Is it something that could be made at an affordable price? Does it have a broad mass audience like men, women, children?" Lastly, "Does it solve a problem?" (via Ellen). What's more, Mark Cuban has learned to look out for Lori Greiner's reactions during pitch sessions — "I know if I want it, he's going to try to go for it," she laughed. Over the years, Cuban and Greiner have entered 11 on-air deals together, making them a formidable duo.