The Unexpected Person Todd Chrisley Visited Before Prison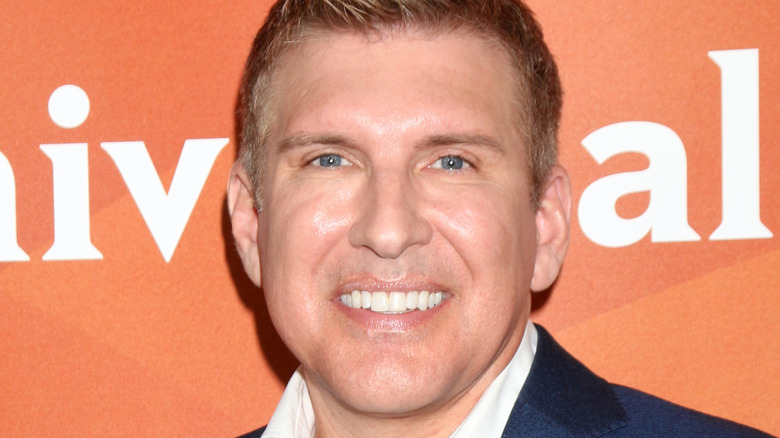 Kathy Hutchins/Shutterstock
Before Todd and Julie Chrisley reported to federal prison in January 2023 for tax evasion and fraud, the couple spent the months leading up to their sentences catching up with friends and family. "Dance Moms" star Abby Lee Miller revealed that she reached out to Todd with advice for surviving life behind bars. Julie soaked up as much time with her children and husband as she could. 
The reality TV couple also spent time with their therapist and leaned into their faith as they prepared for Todd to begin his 12-year term and Julie to start her seven years in prison. While tying up loose ends and visiting family, there was one unlikely person that Todd made time to meet with before turning himself in.
One month after learning his fate, TMZ spotted Todd grabbing a bite to eat with none other than Nic Kerdiles. The former fiance of Todd's daughter, Savannah Chrisley, dined with the "Chrisley Knows Best" patriarch at Green Hills Grille in Nashville, Tennessee, shortly before Christmas 2022. While some may view the two as unlikely pals, Todd has always been fond of the former professional hockey player.
Todd Chrisley believed Savannah and Nic put too much emphasis on social media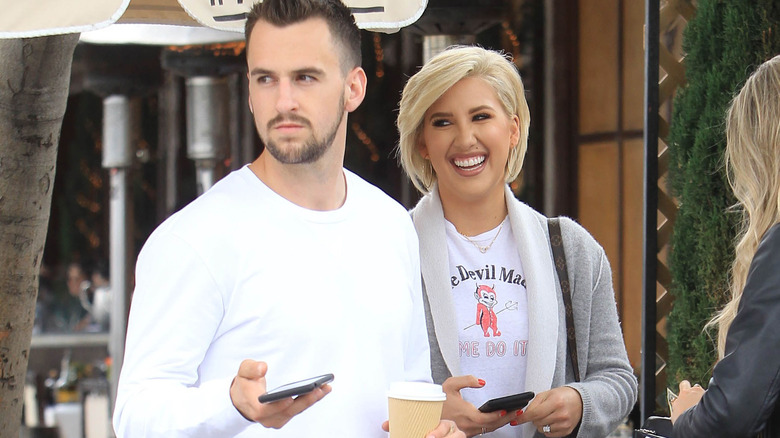 Hollywood To You/star Max/Getty Images
From the beginning of Nic Kerdiles and Savannah Chrisley's relationship, Todd Chrisley was a fan of the couple. They got engaged in April 2019 but sadly announced their split in September 2020. While Savannah has acknowledged that they moved too fast, her father has another theory as to why the romance came to a screeching halt.
During an episode of the "Chrisley Confessions" podcast, Todd shared how he believed that the young couple placed too much weight on their social media imprints, which ultimately led to the breakdown of their relationship. The former couple met on Instagram and began their whirlwind relationship soon after.
"I said, 'Had you put as much faith in the word of the Bible and in God as you did that blue checkmark,' I said, 'Things may have ended differently,'" Todd recalled of a conversation with Savannah. Nevertheless, earlier in the podcast, Todd let it be known that he and the Chrisley family still loved the former Anaheim Ducks star regardless. 
Both men have continued to support each other through the tough times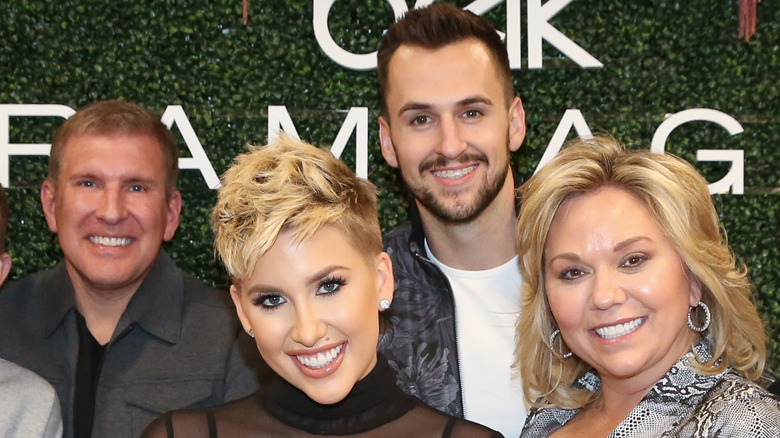 Terry Wyatt/Getty Images
It's no surprise that Nic Kerdiles chose to hang out with his former father-in-law before Todd Chrisley had to turn himself in. The devout Christian and businessman embraced Kerdiles during his own hardships. Todd and Savannah Chrisley both supported the athlete-turned-real estate broker in the days following his suicide attempt. They also appeared in an Instagram Live alongside Kerdiles in February 2022, where he addressed concerned fans with the Chrisleys by his side. 
He admitted that the COVID-19 pandemic, mixed with medication and alcohol, severely damaged his mental health. "I want you to know I love you, boy. I love you more today than I'd ever loved you. That will never change. And I will be here for you until the day that the good Lord calls me home," Todd sweetly told Kerdiles during the live stream. 
It's clear that the duo remains close, despite the curveballs that life has thrown at them. It's unknown if Kerdiles has made his way to Federal Prison Camp Pensacola to see Todd, but he made sure to visit him during the vibrant dad's house arrest before Todd turned himself in. It looks like Kerdiles is a permanent honorary member of the Chrisley clan.
If you or someone you know needs support now, call or text 988 or chat 988lifeline.org.