Angela Bassett And Austin Butler Shared A Sweet Moment When He Lost The Oscar For Elvis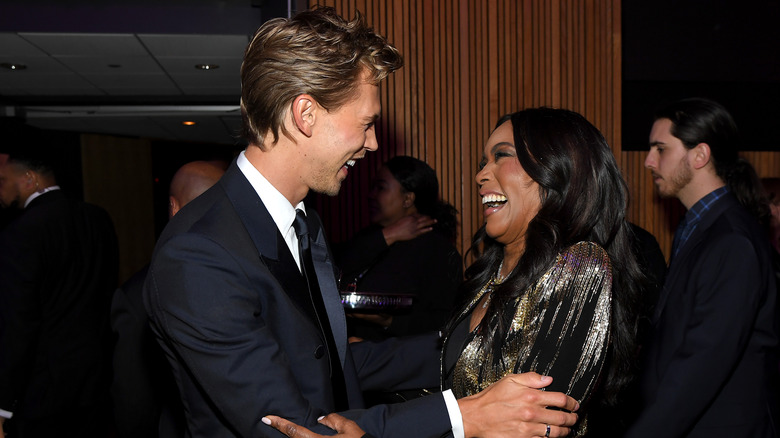 L. Busacca/Getty Images
The 2023 Academy Awards saw Austin Butler with his first Oscar nomination. The 31-year-old actor was nominated for his role as the titular character in "Elvis." Butler uncannily transformed into Elvis Presley for the film, which made it hard to believe that this was not only his first Oscar nomination, but also his first lead role in film and television. Butler spent years working his way from Disney and Nickelodeon sitcoms to supporting roles before landing "Elvis" in 2022.
For the ceremony, the actor arrived at the Oscars with support from his agent and friend James Farrell, who he brought as his guest. However, he had support from fellow nominees as well. Angela Bassett was seated next to Butler during the ceremony. She even held Butler's hand when his category was announced for best actor, and kept it as the Oscar went to Brendan Fraser for his role in "The Whale" instead of Butler for "Elvis."
Angela Bassett knows the feeling of hoping for an Oscar win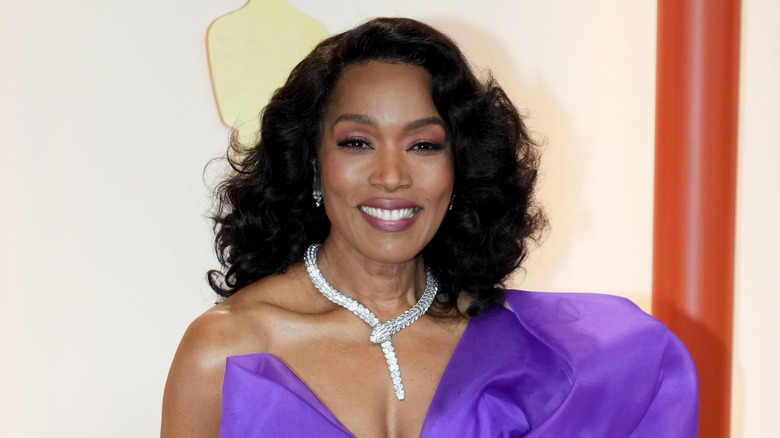 Jeff Kravitz/Getty Images
Just weeks after the 2023 Oscars, Austin Butler made it onto TIME's 100 most influential people of 2023 list. Each person on the list has an accompanying personal note about them written by another influential person or even a close friend also in showbusiness. For example, First Lady Jill Biden wrote Olena Zelenska's blurb, and Angela Bassett wrote Butler's for the honor. The "Wakanda Forever" actress explained in her Time Magazine note that the two had become friends in the months before the Oscars, which is why she held his hand during the Oscars. "I understood intimately what he felt when it was time to learn if he would climb those stairs to the stage. So, I took his hand and held it softly as the winner was announced. Although his name wasn't called, Austin is no less a winner," Bassett wrote.
Bassett does indeed know what it is like to sit in an awards show auditorium full of famous faces as you wait to see if your name is called as a winner. What helped her relate to Butler even more was the fact that her first Oscar nomination was for portraying an iconic person as well. Bassett played Tina Turner in the 1993 film "What's Love Got to Do With It," but she lost the Oscar for best actress to Holly Hunter.
Angela Bassett commented on Austin Butler's Elvis voice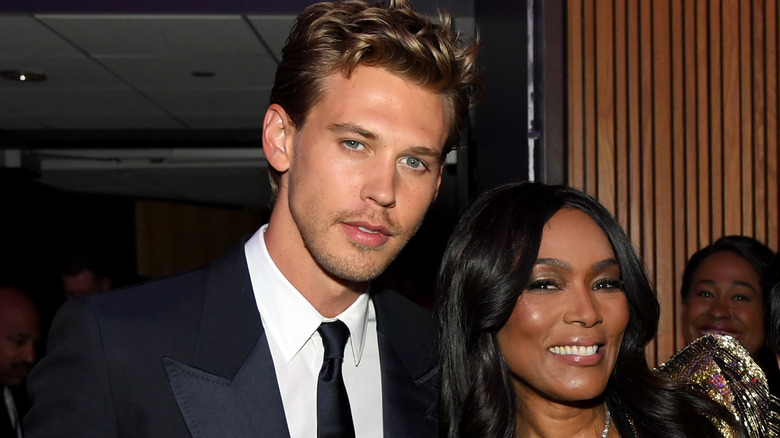 L. Busacca/Getty Images
Throughout the 2023 awards season, many pointed out that Austin Butler still talked like Elvis Presley, despite his insistence that he was not doing so on purpose. Angela Bassett reminisced on her role as Tina Turner when asked about Butler a few weeks before the Oscars. "Tina's laugh and the way she spoke took over. [...] You so lived and breathed and began to see life through their perspective. You had to. They're a part of you. I think that's what's going on with him," she explained to The New Yorker while demonstrating how she can still laugh like Turner. "It takes a moment to get back to regular you."
Fans will likely not see Butler speaking with an Elvis Presley twang in his upcoming film "Dune: Part Two." The role is vastly different from the "King of Rock and Roll." The film will see Butler as a bald villain, Feyd-Rautha Harkonnen, sword fighting against Timothée Chalamet's character Paul Atreides. "Dune: Part Two" hits theaters November 2023.