Meghan Markle Only Had A Few Minutes To Prepare Before Her Very First Meeting With Queen Elizabeth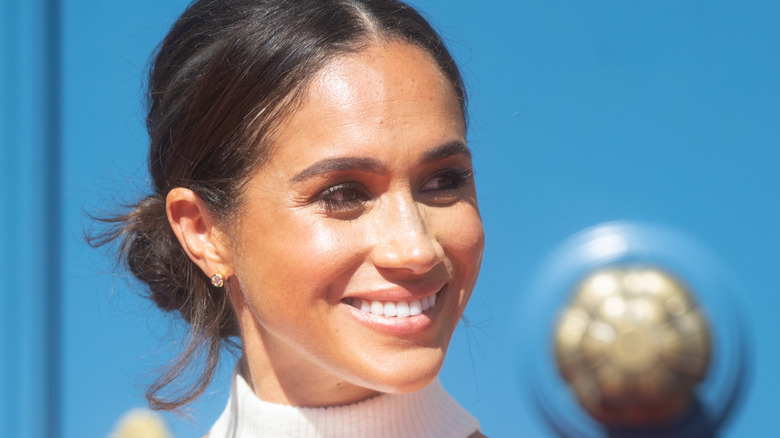 Samir Hussein/Getty Images
When Meghan Markle first met Prince Harry, she says she had little knowledge of the royal family. "Because I'm from the States, you don't grow up with the same understanding of the royal family. I didn't know much about him, so the only thing that I had asked [our friend] when she said that she wanted to set us up, was, 'Well, is he nice?' 'Cause if he wasn't kind, it just didn't seem like it would make sense," she said in an interview with BBC News. So, when it came to meeting Queen Elizabeth, Meghan had no idea that she wasn't just meeting her boyfriend's grandmother in a casual sense. Instead, Meghan learned that she'd have to curtsy, which she'd never done before — at least, not seriously.
On the Netflix documentary "Harry & Meghan," the Duke and Duchess of Sussex shared their recollection of that very first meeting — which happened on whim. "My grandmother was the first senior member of the family that Meghan met. She had no idea what it all consisted of. So it was a bit of a shock to the system for her," Harry stated, according to People. 
"It's surreal. It wasn't like some big moment of like, 'Now you're going to meet my grandmother.' I didn't know I was going to meet her until moments before. We were in the car, and we were going to Royal Lodge for lunch. And he's like, 'Oh my grandmother's here, she's gonna be there after church,'" Meghan recalled.
Sarah Ferguson taught Meghan Markle how to curtsy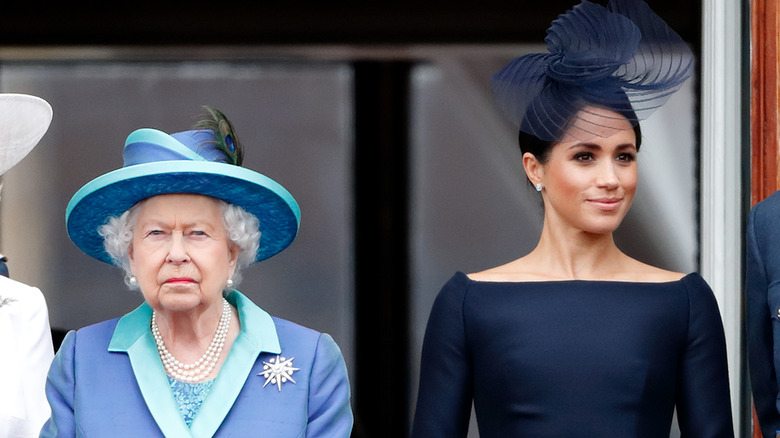 Max Mumby/indigo/Getty Images
Just moments before introducing his girlfriend to his grandmother the queen, Prince Harry asked Meghan Markle if she knew how to curtsy. "I just thought it was a joke," Meghan recalled on the "Harry & Meghan" documentary (via People). Thankfully, Sarah Ferguson, the Duchess of York, came to Meghan's rescue. "Right in front of the house we practiced and ran in. Fergie ran out and said, 'Do you know how to curtsy?' Apparently, I did a very deep curtsy, I don't remember it, and then we sat there, and we chatted," Meghan explained during her interview with Oprah Winfrey that aired in March 2021 (per Hello! Magazine). 
During the Netflix documentary, the Duchess of Sussex did an exaggerated curtsy, poking fun at the sign of the respect. Harry appeared a bit unamused by this, which quickly made headlines. Body language expert Judi James told the Daily Mail that the moment "seems to jar with Harry, who suddenly and dramatically falls out of synch with the woman he has previously been gazing at with utter and unconditional adoration. As Meghan performs her mock bow Harry's body language goes into freeze mode. His facial expression becomes a poker face, which is a royal tradition when someone oversteps the mark."
Meghan Markle is said to have gotten along swimmingly with the queen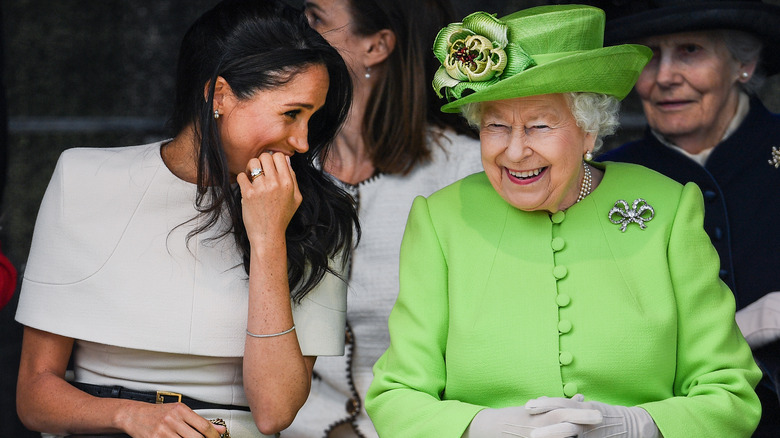 Jeff J Mitchell/Getty Images
After Meghan Markle and Prince Harry got engaged, Meghan embarked on some royal duties and even attended events with Queen Elizabeth. In her interview with Oprah Winfrey that aired on CBS, Meghan said that the queen had "always been wonderful" to her. Later on in the interview, Meghan recalled one of their joint engagements. "She asked me to join her, and I went on the train. And we had breakfast together that morning and she gave me a beautiful gift and I just really loved being in her company, and I know we were in the car — Yeah, she gave me some beautiful pearl earrings and a matching necklace — and we were in the car going between engagements. And she has a blanket that sits across her, her knees, for warmth and it was chilly, and she was like, 'Meghan, come on,' and put it over my knees as well," the Duchess of Sussex recalled, according to Elle.
Following the queen's death in September, Meghan had nothing but lovely things to say about the time that she got to spend with her. "Certainly, in terms of female leadership, she is the most shining example of what that looks like. I feel deep gratitude to have been able to spend time with her and get to know her. It's been a complicated time, but my husband, ever the optimist, said, 'Now she's reunited with her husband,'" Meghan told Variety; Prince Philip died in April 2021.