Meet Elizabeth Banks' Husband, Max Handelman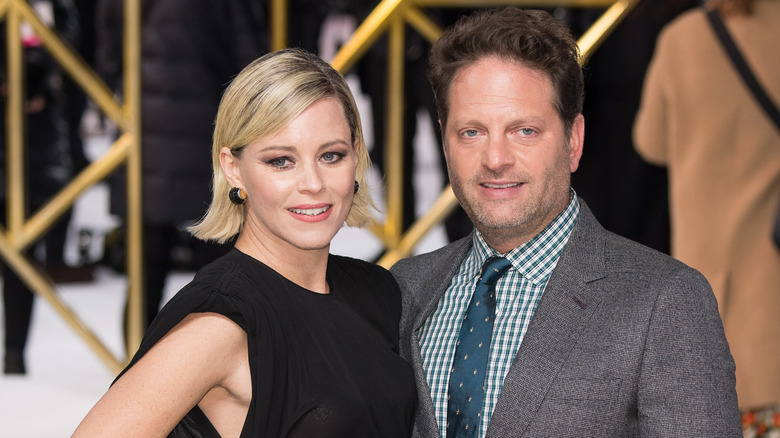 Jeff Spicer/Getty Images
We may receive a commission on purchases made from links.
From the decade-defining "Pitch Perfect" franchise to "Cocaine Bear," Elizabeth Banks is one of Hollywood's top producers, actors, and directors — she really does it all! Without her, we wouldn't know what it's like to watch the Green Bay Packers kill it in a capella riff-off, see a bear go on a drug-fueled rampage, or cheer on a modern reimagining of Charlie's Angels. However, her successes aren't limited to the entertainment industry. In fact, she considers her three-decade relationship with Max Handelman to be her greatest accomplishment to date. "I do think people grow together or they grow apart. We definitely grew together," she told Porter.
Not only have the two been partners in marriage since 2003, but they're also business partners. In 2002, the couple launched Brownstone Productions, which has backed a new generation of comedies (a cappella-centric and otherwise). Prior to joining forces with Banks, Handelman was employed on Wall Street. "He worked an 80-hour week; I was traveling all the time in a career that requires me to film on location for up to six months of the year," she explained, adding, "Forming the company really was about trying to combine our professional and personal goals."
The power couple is known for welcoming their two young sons onto movie sets — every minute counts when you're a parent, and the "Hunger Games" star is eager to show her children what she does for a living.
Elizabeth Banks and Max Handelman met in college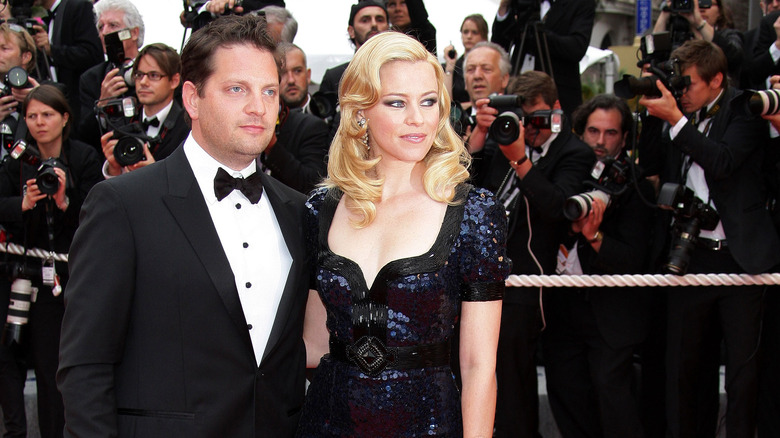 Daniele Venturelli/Getty Images
Although Elizabeth Banks and Max Handelman have been married for 20 years (an impressive feat in Hollywood), they've been dating since 1993. They met at a fraternity party on their very first day of college — they both attended the University of Pennsylvania. As Banks revealed on "Conan," she only had one (high school) boyfriend prior to Handelman, and broke up with him when she met her now-husband — clearly, it was like at first sight. "He took me on this date. It involved a jazz club and I dressed up and wore high heels all night which I never used to do," she remembered, adding that Handelman definitely pulled out all the stops.
While Banks pursued a degree in acting, Handelman studied business. In 2006, he co-wrote a book about America's obsession with fantasy football, "Why Fantasy Football Matters: (And Our Lives Do Not)." Divorce has never been an option for the "Hunger Games" star. In her words, "You're going to have bad moments. You've committed to something. Do you value it or don't you?" Over the years, they've learned to put each other first. The bottom line? As Banks pointed out to Allure (via MIC), there have been a few crushes (for both of them) along the way, but she's never met anyone she likes more than Handelman.
Elizabeth Banks and Max Handelman make ideal co-workers
Given their joint production company, Brownstone Productions, Banks and Handelman will sometimes bring the office home with them after a particularly challenging day. "You do go home at the end of the day and you're still, you know, dealing with, grappling with challenges that presented themselves that day on the set," Handelman told HeyUGuys in an exclusive interview. That being said, as the long-time producer added, "Your children, in particular, have a way of immediately, kind of, distracting you from whatever nonsense you were dealing with on set." In other words, raising kids can be just as demanding as producing a film. The pair welcomed two boys, Felix and Magnus, via surrogate in 2011 and 2012, respectively.
Although celebrity marriages are often short given heightened Hollywood variables, Elizabeth Banks and Max Handelman aren't the only it-couple that's remained together for decades. Julia Louis-Dreyfus and her husband, Brad Hall, have enjoyed 35-plus years together. Tom Hanks and Rita Wilson tied the knot in 1988, and Oprah has been with her partner, Stedman Graham, since 1986. So, it is possible to make it work in the spotlight. Plus, if you're producing partners like Banks and Handelman, a decades-long marriage can even be an upside when it comes to on-set communication.