Melania Trump's Absolute Best Fashion Moments Ever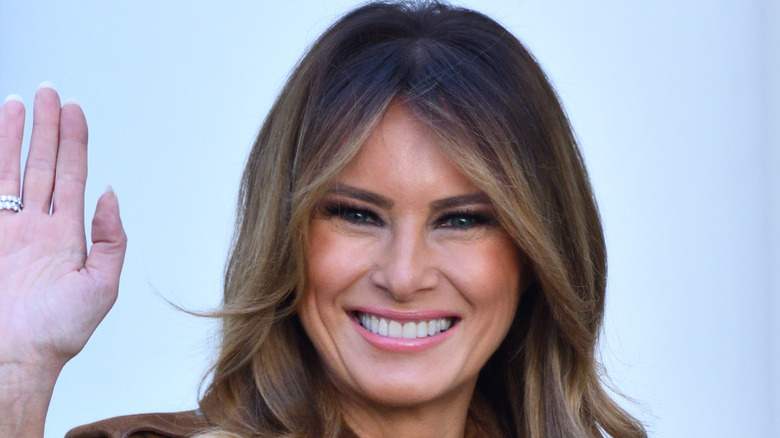 Evan El-Amin/Shutterstock
Before she became known as the former supermodel turned 45th first lady of the United States, Melania Trump (then Melania Knauss) was born in Novo Mesto, Slovenia, where she had a childhood much different from the glitz and glam of her future. But she always dreamed bigger than the small town she was raised in. And her life changed when she was discovered by photographer Stane Jerko.
Speaking to the AP, Jerko said, "I still remember how tall she was and how beautiful her figure and hair were ... There was no smile on her face because she was shy and scared, but I encouraged her to come to the studio" (via People). From there, Melania started modeling, moving to New York in 1996 and building a successful career in the fashion world before meeting her future husband, Donald J. Trump.
With her roots as a fashion model, you may imagine that Melania would have had daring looks as a first lady. But she typically opted for a more sophisticated, old-money aesthetic, though there were some notable outliers, such as the infamous "I really don't care" jacket. Melania had a distinct style that she brought to the role of first lady, often wearing expensive fashion pieces and opting for European designers. She's had many beautiful as well as controversial fashion moments, and we've compiled the best ones here.
Her showstopping 2001 Oscars gown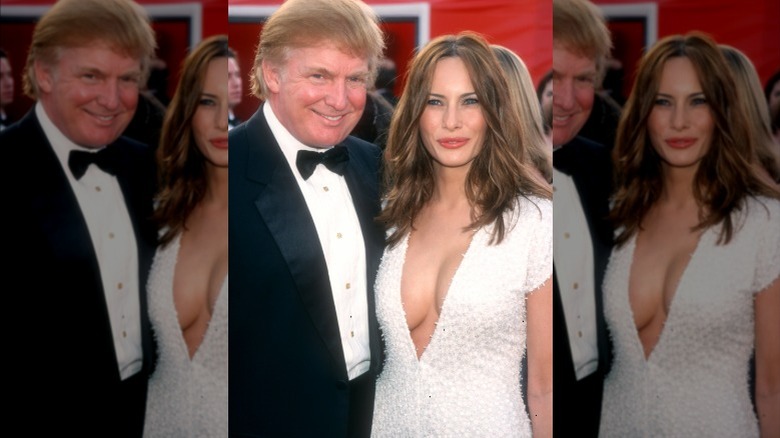 Ron Davis/Getty Images
Long before she was thought of as a potential first lady, and probably before she ever imagined she would be, Melania Trump was a model, giving her plenty of opportunities to make bold and beautiful fashion choices. One of her most striking looks was at the 2001 Academy Awards. This was when she and Donald Trump were three years into dating, and she was still known by her maiden name Melania Knauss. She walked the Oscars red carpet alongside her then-boyfriend. That year was also Trump's first time at the award ceremony. To mark the special occasion, Melania wore a form-fitting white gown with glittering detailing and a plunging V neckline.
Years later, when her husband began his 2016 campaign for president, Melania's style took on a more buttoned-up and classic style, likely in an attempt to fit the part of the first lady. But, in the early 2000s, she was still known as a supermodel and much more likely to wear eye-catching and slightly revealing outfits like this one. And while many of her first lady looks were also unforgettable, we have to remember these old favorites as well.
Her iconic inauguration outfit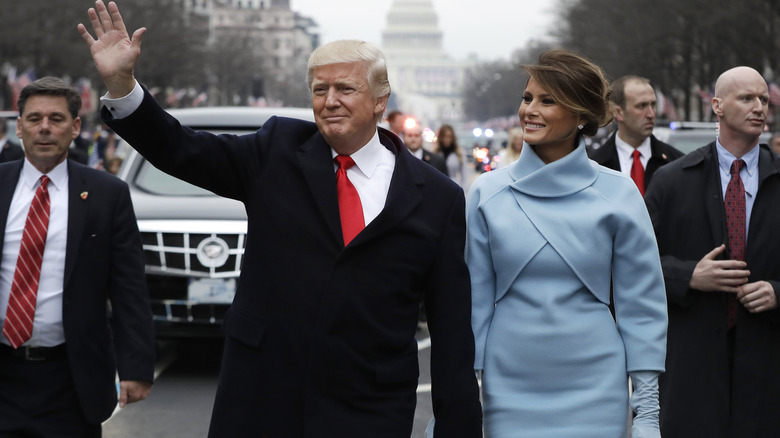 Bloomberg/Getty Images
Making her debut as first lady during her husband's inauguration, Melania Trump set the tone for many of her fashion choices to follow. She looked elegant but conservative, in a high-collared baby blue Ralph Lauren dress and jacket, with slightly lighter blue gloves and shoes to match. The tailored design fit her perfectly, and she kept the rest of her look similarly elegant but understated, with her hair swept back loosely and the only visible jewelry being her white earrings.
As InStyle pointed out, the traditional style was reminiscent of the blue coat with a matching hat worn by Jacqueline Kennedy for President John F. Kennedy's 1961 inauguration. This reference may have been purposeful as it helped her look the part of a traditional first lady.
The Slovenian-born former model and her husband were far from the typical choice for the first couple. So this could have been Melania's way of showing that she planned to take her new position seriously and act the part of the first lady of the United States with dignity. Regardless of her motivations, the design looked amazing and definitely earned its spot as one of the most iconic looks she wore throughout her husband's presidency.
Her couture inauguration gown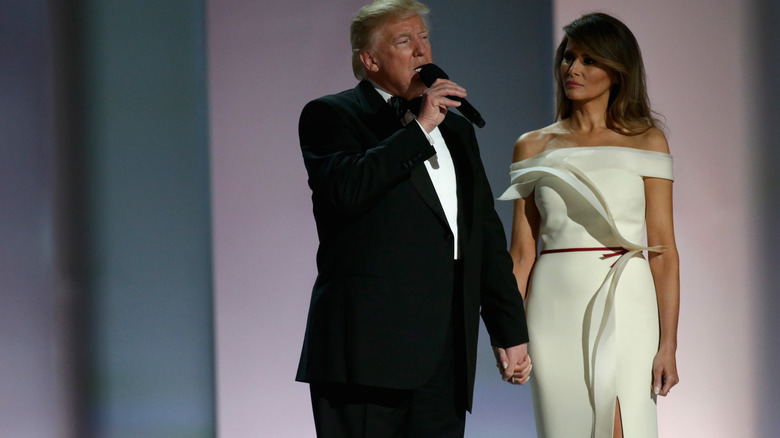 Rob Carr/Getty Images
The newly appointed first lady wore another stunning piece for the inaugural ball. She cut an impressive figure in a white silk crepe off-shoulder dress with a thigh-high slit and eye-catching red band around the waist. According to Harper's Bazaar, the couture gown was designed by Hervé Pierre, a French-born designer who's worked at a number of American fashion houses. Like her Ralph Lauren inauguration ensemble, this gown showed Melania's preference for high-end fashion pieces.
After wearing the dress to the inaugural ball, Melania donated the design to the Smithsonian to be part of the First Ladies Collection, where many other inaugural gowns are displayed. The designer Pierre joined her for a ceremony when she donated it. He said it had been an honor to collaborate with Melania on the design and have his work preserved in the museum.
Speaking about the donation to the museum, Melania was also happy to have the dress remembered in this way. She said, "In addition to celebrating fashion, which is something I have loved since I was a small child, there is no better way to memorialize such a special evening and new chapter in the life of our family" (via USA Today).
When she wore this gold dress for her Washington, D.C., debut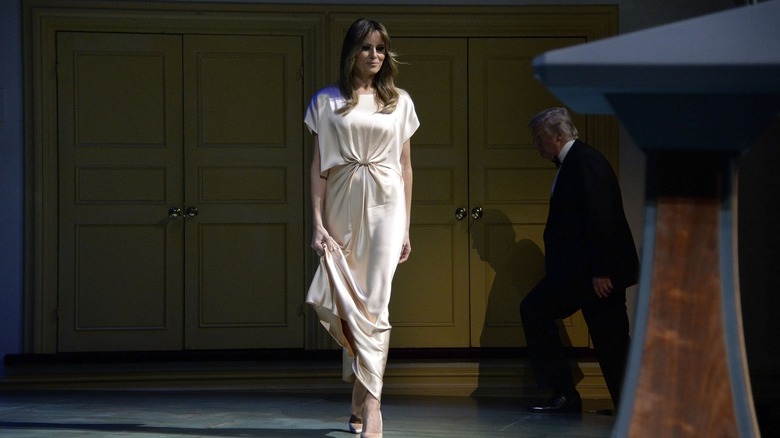 Pool/Getty Images
Unlike many ladies before her, Melania Trump did not move into the White House at the same time her husband, Donald Trump, did in January 2017. Instead, she chose to stay in New York with her young son Barron Trump while he finished the school year. When news broke that the first family wouldn't be joining the new president right away, sources told People that it was because Melania Trump loved living in Manhattan and was hesitant to move.
One source said, "I don't know if she will ever live away from New York full time, especially with her son in school there. She loves her home in Manhattan and her independent life."
However, in June 2017, after Barron had finished the school year, Melania joined her husband in Washington, D.C. According to The Observer, the first couple made their D.C. debut at the Ford Theatre's annual gala. Melania looked effortlessly stunning in a silk golden gown by Monique Lhuillier. The flowing dress had a knotted detail at the front and soft sleeves that showed off the movement and shine of the silky fabric. Lhuillier is an American designer whom Melania frequently wore as first lady. Her designs focus on bridal and evening wear, making Lhuillier's gowns a perfect choice for special occasions as the first lady.
Her sparkling state dinner look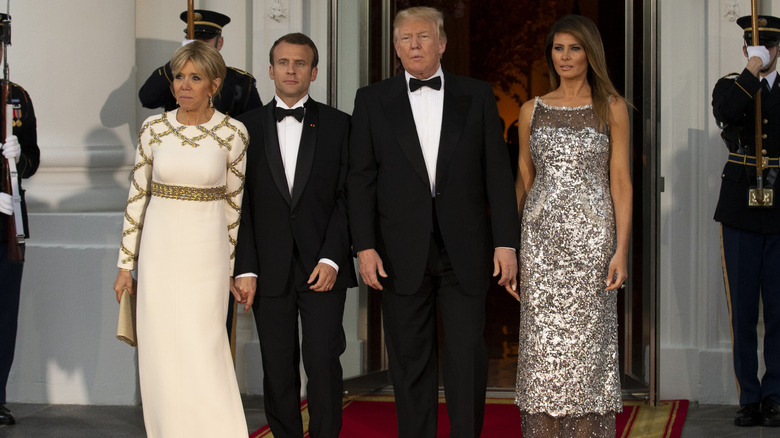 Pool/Getty Images
In April 2018, President Donald Trump and first lady Melania Trump hosted their first state dinner at the White House. The first couple welcomed President of France Emmanuel Macron and his wife Brigitte Macron for the visit. According to NPR, the two presidents were developing a solid working relationship at the time, despite opposite-leaning political views. So the state visit was an important time for the White House to put its best foot forward and keep those diplomatic relationships intact.
On Melania's part, she showed her support for the country's continued partnership in her choice of fashion. During the state dinner, the first lady opted to wear a Chanel dress. The beautiful silver gown definitely drew the eye with glittering beaded details across the garment and semi-sheer panels at the top and bottom of the dress.
But beyond being a beautiful fashion choice, it was also a piece made by one of the most renowned French fashion labels. Opting to wear a famous French designer instead of an American one worked as a welcoming gesture to the visiting nation.
When she wore this floral dress on her visit to India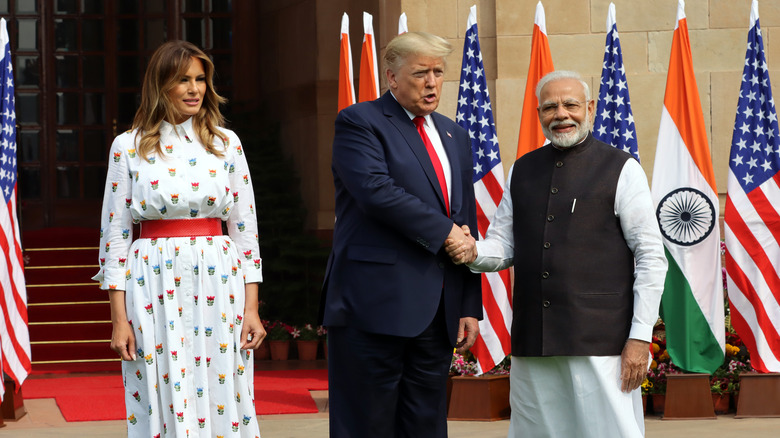 Bloomberg/Getty Images
In February 2020, President Donald Trump and first lady Melania Trump had an eventful state visit to India. According to Women's Wear Daily, the political visit coincided with large-scale protesting in India, but the president and the first lady continued their visit according to the original plan.
While there was protesting in the streets, Melania looked calm and fashionable on a visit to a local school where she took part in meditation and other activities with the students. She wore a long-sleeved white dress with a bright floral pattern by Carolina Herrera, which was cinched at the waist with a wide red belt. Melania seemed to make a special effort on this trip to wear American-made fashion. Herrera is a Venezuelan-American designer who's become globally recognized and is worn by many celebrities. The American designer seems to be a particular favorite with the former first lady, who's worn Herrera pieces on many notable occasions. 
A short time after Donald Trump was nominated as President of the United States, Herrera spoke about her desire to dress the new first lady. She said, "It is an honor to dress the first ladies of the country, and it's something to do for the United States. It's not for myself" (via USA Today). With the designer's enthusiasm in mind, she was the ideal American designer for Melania to wear overseas.
This custom-made jumpsuit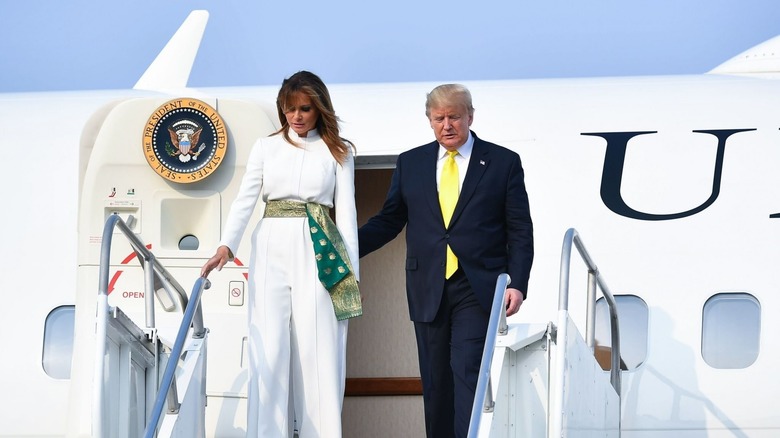 Salma Bashir Motiwala/Shutterstock
Melania Trump also made a statement when she arrived in New Delhi with her husband, President Donald Trump. Disembarking the plane, Melania wore a tailored white jumpsuit with a sash around the waist made of green silk and gold thread. The high neck and pleated trousers gave the look a classic and crisp feel. She looked remarkably unrumpled for someone who'd just been on an overseas flight.
The original jumpsuit was designed by Hervé Pierre, who shared the sketch for the ensemble on Instagram. The caption explains some of the details of the garment, including how it pays respects to the country Melania was visiting. "The sash was cut in an early [20th]-century Indian textile documents I found in Paris through very good friends who are collectors," the post explains.
Pierre worked as Melania's personal stylist, giving him a role in many memorable moments while she was first lady, including this one. Though he was an experienced designer, Pierre hadn't worked as a stylist before when he took the position. Speaking to Women's Wear Daily, he recalled getting offered the position, saying, "I told the first lady at the time, 'You know, I'm not a stylist.' She said, 'Well, I'm not a first lady either, so we will learn together.'" The pair appeared to have a wonderful working relationship during her four years as first lady.
The yellow gown she wore in the U.K.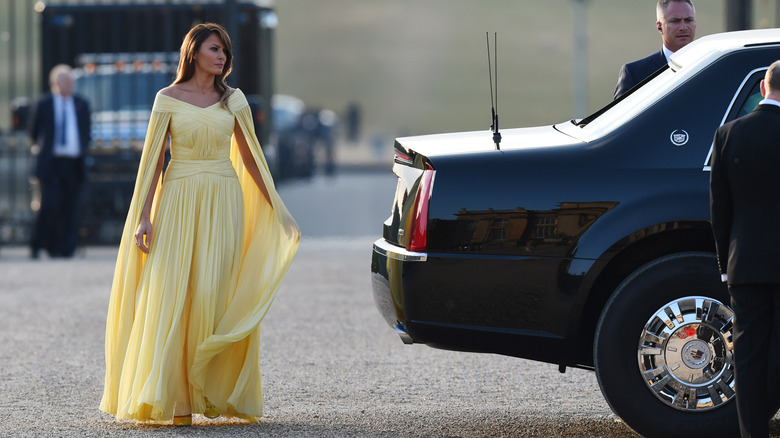 Wpa Pool/Getty Images
Melania Trump had another notable fashion moment on the Trumps' visit to Blenheim Palace in the U.K. In honor of the first couple's visit, a black-tie dinner was held at Winston Churchill's home. The then-president wore a classic tuxedo, and Melania looked lovely in a buttery yellow, flowing gown. The dress was instantly memorable due to the intricate ruching across the bodice, long pleated skirt, and cape-like, floating pieces of fabric falling from the sleeves. The gown struck the perfect balance between unique and classic for the evening.
The chiffon gown was a J. Mendel ready-to-wear design. J. Mendel is a French atelier that has grown into a luxury global fashion brand. It is one of many European fashion brands that Melania wore as the first lady. According to USA Today, this dress initially sold for $6,990 before going on sale for $2,996. The design has since sold out and is no longer available. However, many of the fashion label's gowns have similar pleated fabric like the one worn by Melania. 
When she made a statement in white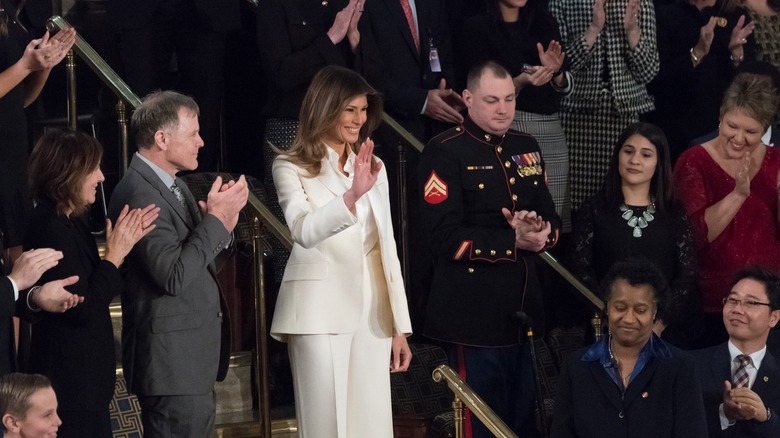 Donaldson Collection/Getty Images
The Trump presidency had its share of scandals and controversy. One that may have been particularly hard for Melania Trump was when The Wall Street Journal reported that her husband, Donald Trump, had paid an adult film star to keep quiet about an encounter with him. After the news broke, Melania made her first public appearance at the State of the Union in 2018. According to CNN, the first lady arrived in a separate car from the president. This was a break from tradition as the first couple typically arrives at this event together. Instead, Melania rode with her guests and showed up in style.
Her tailored white pantsuit was a beautiful design by Christian Dior that she paired with a Dolce & Gabbana blouse. Her choice to wear all white led to a lot of speculation. Wearing all white is often associated with the suffragette movement, so some took it as a quiet protest of her husband's actions. One Twitter user even wrote, "Welcome to the resistance, Melania."
However, as People pointed out, she may have also worn all white to stand in contrast to the women lawmakers who were wearing all black in support of the #MeToo movement.
Her traditional black ensemble to meet the pope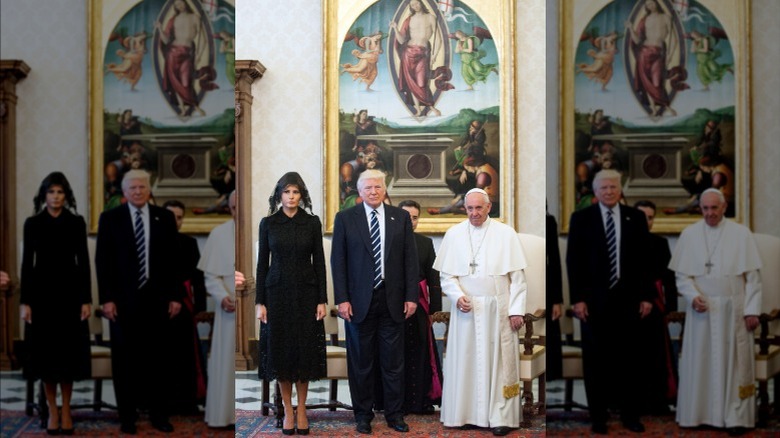 Vatican Pool/Getty Images
When meeting Pope Francis, Melania and Ivanka Trump opted for long-sleeved black dresses and veils. Communications director Stephanie Grisham told USA Today that their dresses were chosen to accommodate the Vatican rules. "Per Vatican protocol, women who have an audience with the pope are required to wear long sleeves, formal black clothing, and a veil to cover the head," Grisham said.
However, just because she had to operate within a strict dress code doesn't mean that Melania couldn't turn it into a high fashion moment. Her black dress was a Dolce & Gabbana design that she matched with her lace veil and pointed black pumps.
Dolce & Gabbana is an Italian fashion house that Melania wore frequently, and the designers seemed thrilled to have her representing their brand. One of the designers, Stefano Gabbana, was overjoyed when Melania wore their pieces and has shared posts of her doing so to his Instagram. When he received pushback for supporting the Trump presidency, the designer found it entertaining. He made one post in response to criticism where he called the first lady a #DGWoman (Dolce & Gabbana Woman) and encouraged "haters" to boycott his brand, clearly unbothered by the pushback they'd received (via Yahoo).
When she wore this military-style Alexander McQueen ensemble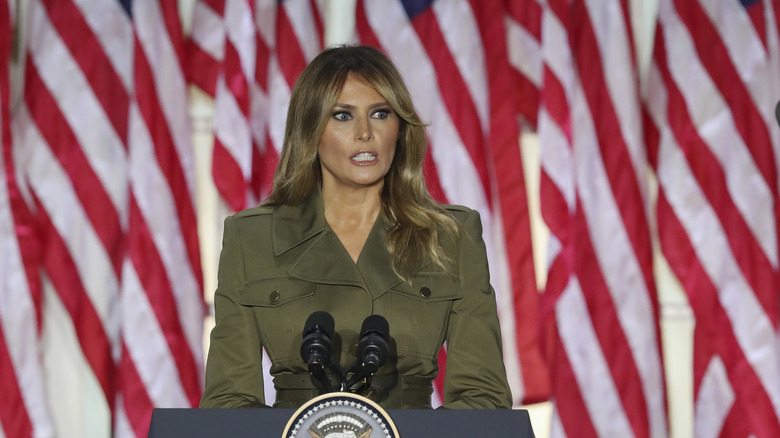 Bloomberg/Getty Images
Melania Trump made a bold fashion choice for her 2020 Republican National Convention speech. Instead of the more feminine designer dresses she often chooses, she opted for a structured army green dress and matching jacket by Alexander McQueen. The button-down jacket is cinched at the waist with a green belt and has the look of a military uniform.
The New York Post pointed out the McQueen design was being sold for around $1,500 and had also been seen on celebrities like model Kaia Gerber.
However, it was the military style of the jacket that caught most viewers' attention and made this such a memorable look. While some loved the choice, others were less comfortable with its warlike style. The Cut made a Tweet both poking fun at the jacket for looking like a "Girl Scouts uniform" and calling the military jacket a "dictator cosplay." Many questioned how tasteful the military look was, but others seemed to enjoy the fashion choice. One Twitter user jumped to the first lady's defense, writing, "She rocks anything she puts on." Many were unsettled by the wartime-inspired look, but it was definitely a memorable fashion moment for Melania.
Her brimmed hat and Dolce & Gabbana dress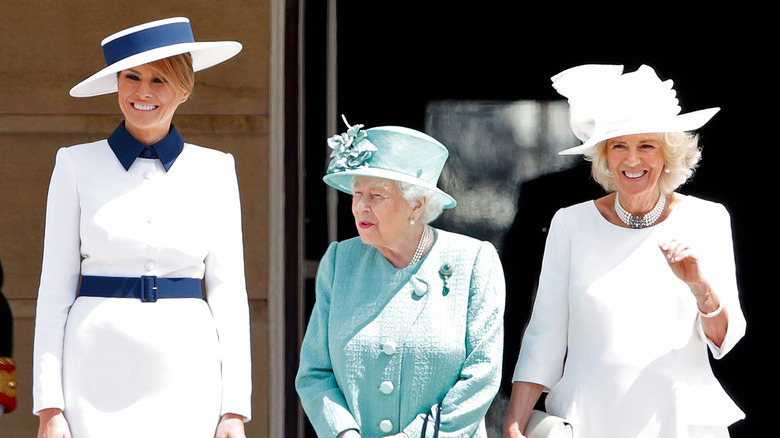 Max Mumby/indigo/Getty Images
On an official visit to the U.K., then-first lady Melania Trump wore a sharp, brimmed hat. She wore the white and navy hat at a dramatic angle on the side of her head. The stark white color and contrasting blue band, along with the purposeful tilt, certainly made it an eye-catching piece.
According to The Cut, the hat was designed by her stylist Hervé Pierre, and as women in the royal family often wear hats, it could have been worn as a friendly gesture for her visit with them. The white and navy hat perfectly matched her custom Dolce & Gabbana ensemble. The European designers made her a white button-up dress with a navy belt and high navy collar to match the hat's trim. She finished the look with navy pumps for a crisp and classic look.
This high-fashion moment in front of Buckingham Palace was definitely one of Melania's best fashion statements.