Did Maria Shriver Have An Affair Before Arnold Schwarzenegger Did? We Revisit The Gossip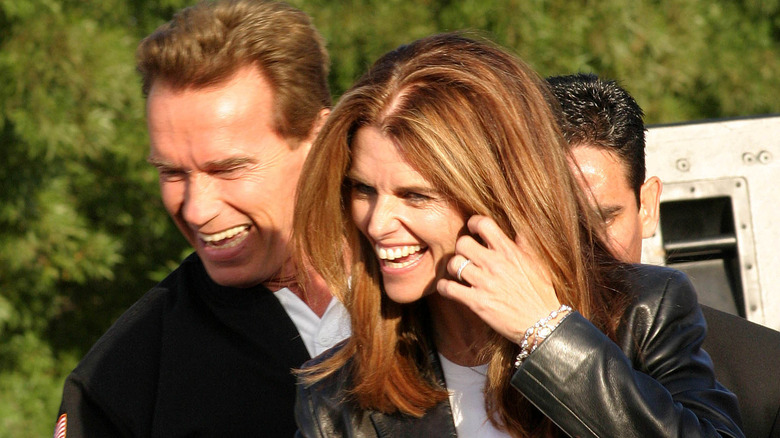 Joe Seer/Shutterstock
Actor Arnold Schwarzenegger and Kennedy heiress Maria Shriver appeared to have a picture-perfect marriage until his extensive infidelity was unveiled in 2011. That year, the Los Angeles Times broke the story that the "Terminator" star had cheated on Shriver with the family's former maid Mildred Baena. To make matters worse, his son Joseph was born out of the affair on October 2nd, 1997. The news made headlines, shattering Shriver and Schwarzenegger's picturesque relationship. While many lent their empathy to the devoted wife, several people with ties to the couple didn't believe she was a victim.
Shortly after it was revealed that Shriver stuck by her husband's side through his affair and love child, rumors began to swirl that she was having an outside relationship of her own. Even more shocking is that Shrivers' suspected boy toy was a close companion of Schwarzenegger's, though it's never been completely clear how true the chatter was.
Maria Shriver allegedly began the extramarital affair in 2006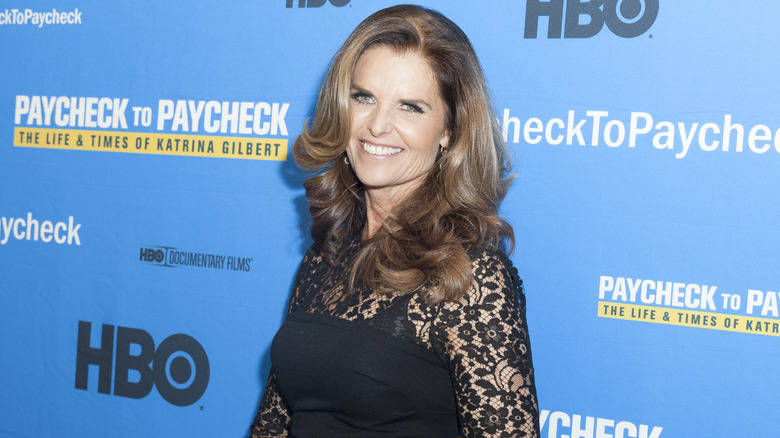 lev radin/Shutterstock
By 2006, it had been nearly ten years since Arnold Schwarzenegger welcomed his son out of wedlock with Mildred Baena. His illicit relationship was still a secret from the world as he was fully engulfed in his political career, securing his second term as governor of California. During this period, sources claim his wife, Maria Shriver, was busy creeping around with his lead campaign strategist, Matthew Dowd. According to several people in Shriver's circle, she and Dowd would put their romance on display while Schwarzenegger was away, taking private walks and spending quality time together after meetings.
"They frequently spent time alone, and Arnold was rarely, if ever, around when they were together. She had a unique banter with Dowd and lit up when he was around. He was comfortable poking fun at her, and she would slap him teasingly," the insider told The Post (via Page Six).
Shriver filed for divorce from Schwarzenegger in 2011 once his past marital discretions came to light. Ironically, in 2014, she and Dowd began seeing one another publicly, which prompted those with insight into the situation to reveal that these two were not new lovers but a longrunning couple who could finally date openly without Schwarzenegger's interference. 
Arnold Schwarzenegger reportedly discovered his wife's affair before his own was uncovered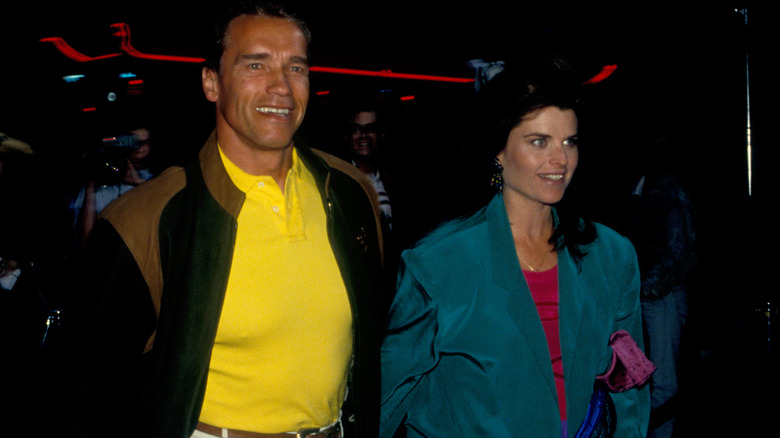 Bart Sherkow/Shutterstock
While Maria Shriver never spoke out about the timeline of her relationship with Matthew Dowd, Schwarzenegger reportedly found out about the two while he was still married to Shriver. A trusted former employee claimed that the ex-bodybuilder exiled Dowd from his circle, leading to nasty fights with Shriver. While the crumbling couple was dealing with supposed cheating on both of their behalf, in 2014, Dowd did some damage control of his own. In a statement to The Post, he denied dating Shriver altogether.
"We were good friends," he was quoted as telling The Post (via Page Six).
Shriver and Schwarzenegger finalized their divorce in 2021, a decade after announcing their separation. The two are seemingly still friendly with one another as they co-parent their four now-adult children. In September 2022, the pair posed for a photograph on their son Patrick Schwarzenegger's birthday. Despite whatever transpired in their marriage, there doesn't appear to be any bad blood, which is in the best interest of their children.