Brooke Shields And Katie Holmes Gave Birth On The Same Day At The Same Hospital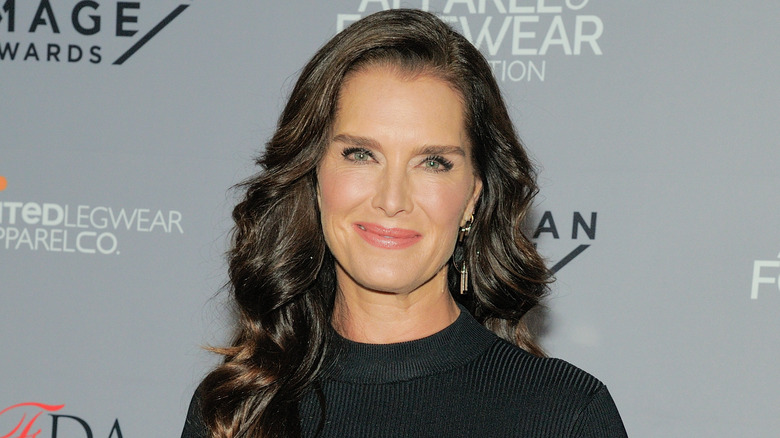 lev radin/Shutterstock
Actors Brooke Shields and Katie Holmes have been connected by a number of events over the years. They even gave birth to their children in the same hospital on the same day. The two actors' past has been a bit rocky throughout the years, especially where Holmes' former husband Tom Cruise is concerned. In 2005, Cruise called out Shields on national television for her comments about postpartum depression and taking medication to treat it. Cruise, a well-known Scientologist, called Shields' comments "irresponsible misinformation." Cruise bashed Shields during an interview with Matt Lauer, which got a bit intense. "The thing that I'm saying about Brooke is that there's misinformation," the "Top Gun" star stated (via The Mirror). "She doesn't understand the history of psychiatry."
However, Cruise and Shields later made amends when they sat down to talk about their differences. The following year, Holmes extended the olive branch even further when she invited Shields to her and Cruise's wedding. Shields admitted during an interview on Jenny McCarthy's SiriusXM show that she accepted the invitation and even volunteered to bring Holmes her "something old" for the wedding day tradition. "I had no malice in my heart. It was still a wedding," the "Blue Lagoon" star said.
Ironically, just a few months before the wedding, Holmes and Shields both welcomed children on the same day.
Brooke Shields opens up about giving birth on the same day as Katie Holmes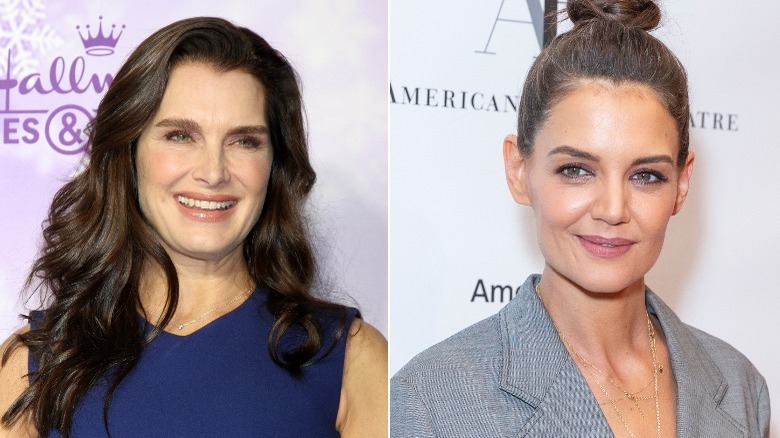 lev radin & Kathy Hutchins/Shutterstock
During Brooke Shields' interview with Jenny McCarthy, she revealed what it was like to give birth on the same day in the same hospital as Katie Holmes. In April 2006, both Shields and Holmes entered St. John's Hospital in Santa Monica, where they gave birth to their daughters (via People). Shields welcomed Grier Hammond Henchy with her husband Chris Henchy, while Holmes gave birth to her and Tom Cruise's daughter, Suri Cruise. However, the experiences were seemingly different for both women. Shields admits that it was an interesting experience to say the least.
"I get to my room, it's all top secret, I'm under an alias," the actor explained. "We had a decoy car because people had been following me to the hospital. I look out the window and there's helicopters and movie cameras downstairs and news cameras outside. And I was like, 'This is an outrage. Who alerted the media? Can't I just have a baby?'" she continued. However, after learning that she was upset, one of Shields' nurses came in to explain that the hoopla wasn't for her at all. Instead, Holmes and Cruise had created the media firestorm surrounding their labor and delivery.
Following the birth of their daughters and the wedding invitation, it seems that Shields and Holmes created a bond, and continued to hang out.
Shields and Holmes used to watch Grey's Anatomy together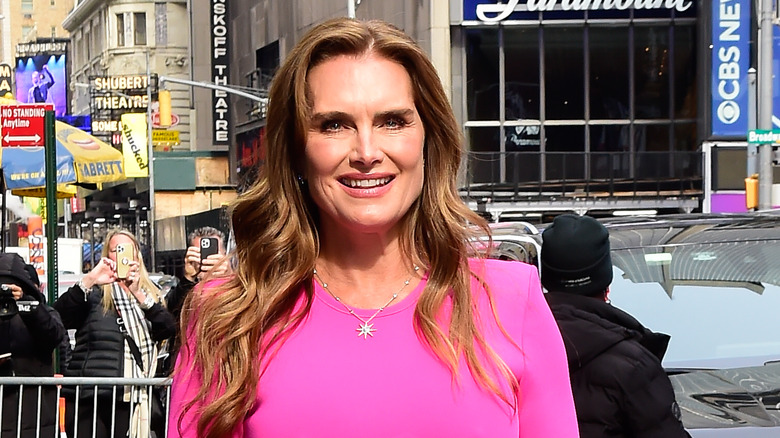 Raymond Hall/Getty Images
In 2006, Brooke Shields revealed that she and Katie Holmes had forged a friendship, despite her former beef with Tom Cruise. "Life is really short, and when you see these babies ... I think you never know how life is going to bring people together, and it can be absurd and it can be interesting," she told Access Hollywood at the time (via "Today"). Shields even went on to admit that she and Holmes got together to watch the season premiere of "Grey's Anatomy" with some other friends. "It's true. There (were) a bunch of us here and we were insane about it and we — you weren't allowed to speak or talk, everyone was in my living room and got this new TV ... I love them, the acting is so great and it's such a good soap opera — love it, it's fun," she confessed.
However, over the years, Holmes and Cruise got divorced, and Shields has even admitted that she's been ousted from the "Mission: Impossible" star's Christmas list as she stopped receiving the actor's yearly holiday bundt cake. "[At first] it was from them and Suri, so it was the three of them, and then soon it was no Suri and no Katie and just Tom," she told People in 2023. "Then it went from just Tom for a while ... and then the cake stopped," she added.
While Shields and Holmes may not be the best of friends, the pair certainly remain connected through several shared experiences.