This Is Why Tom Cruise And Katie Holmes Really Divorced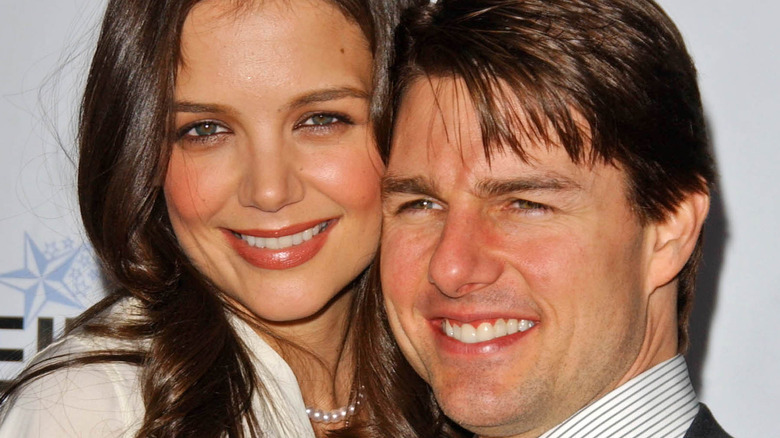 s_bukley/Shutterstock
Back in 2012, the former Hollywood power couple Tom Cruise and Katie Holmes announced to the world they were getting a divorce after six years of marriage. According to Ranker, news of the A-list split sent shockwaves throughout the world of show business and sparked waves of rumors and speculation as to why the pair decided to call it quits. So, why exactly did Cruise and Holmes get divorced?
As Extra reported, the former husband and wife first began dating in 2005. In June of that same year, the former "Dawson's Creek" star revealed that she and Cruise were engaged and that  she planned to convert to Cruise's religion of Scientology. Four months later, in October 2005, Holmes announced that she was pregnant with her first child. In April 2006, the pair welcomed their baby daughter, Suri Cruise — who has undergone a stunning transformation — and seven months later the pair tied the knot in a luxurious Italian wedding ceremony. 
As per the Mirror, the star-studded Scientologist wedding was held at Odescalchi Castle in Italy on November 18, 2006. The nuptials were attended by some of the biggest names in Hollywood, including the likes of Victoria Beckham, Jennifer Lopez, John Travolta, and the former Scientologist, Leah Remini. Holmes and Cruise looked like they were well on their way to a fairytale ending.
Katie Holmes has remained quiet about her divorce from Tom Cruise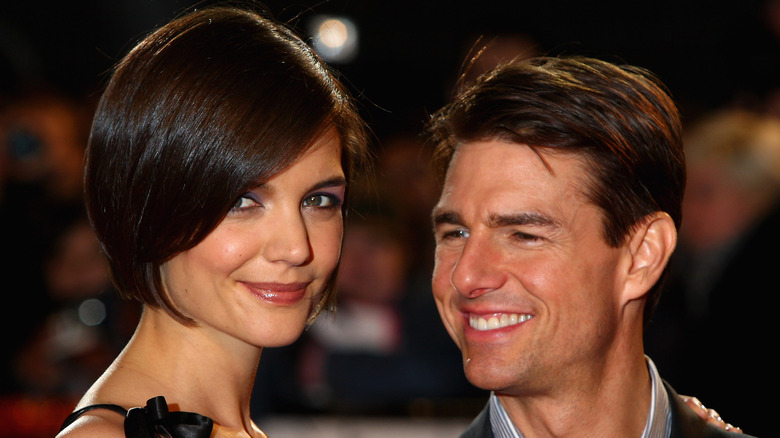 Gareth Cattermole/Getty Images
According to InStyle, both Katie Holmes and Tom Cruise have remained tight-lipped about the exact reasoning behind their divorce. However, the "Mission Impossible" actor previously revealed that he "didn't expect" his wife to file for divorce. Although neither party has confirmed why the highly publicized breakup actually took place, there are plenty of rumors surrounding Holmes' decision to get out of the marriage. One of the primary rumors was reported by HuffPost in 2013, when Cruise discussed Holmes' aversion to raising their daughter, Suri, in the Scientology religion.
While the "Top Gun" actor was being questioned during a deposition for a defamation case involving Bauer Media, a lawyer asked whether the "Dawson's Creek" alum had requested a divorce "in part to protect Suri from Scientology," (per HuffPost). The outlet went on to say that Cruise initially reacted with frustration, indicating, "there is no need to protect my daughter from my religion." However, as the attorney continued to press Cruise on the matter, the movie star admitted that Holmes' desire to keep Suri from Scientology, " ... was one of the assertions, yes."
Despite her newfound freedom as a single woman, Radar Online reported in 2016 that Holmes had made a "secret divorce deal" with Cruise that allegedly forbid her from publicly commenting on their separation or dating someone else for five years after their breakup. Though almost a decade has passed since their divorce, the "Batman Begins" actress has still remained quiet about the situation.
Tom Cruise backed up a long-standing rumor about his divorce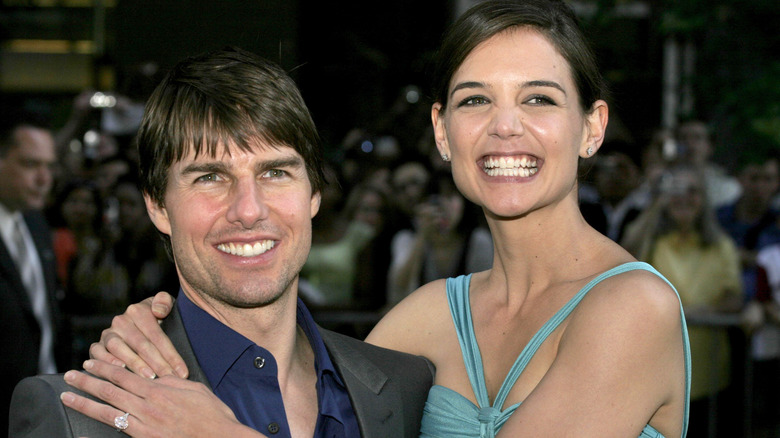 Everett Collection/Shutterstock
The most commonly accepted cause surrounding the demise of the couple's relationship is that Katie Holmes wanted to remove herself and their daughter Suri from any involvement with the Church of Scientology. Per InStyle, Tom Cruise appeared to back up this theory by admitting that one of the reasons his ex-wife filed for divorce came down to the controversial religion itself during his defamation case against Bauer media.
During the 2013 deposition, Cruise also revealed that his daughter Suri, who was just seven years old at the time, was no longer a practicing member of the Church of Scientology (via HuffPost). This particular revelation came as a surprise to many, primarily because those who leave the Church are deemed a "Suppressive Person" and are eventually cut off from other practicing members — which includes immediate members of their own family. According to the Mirror, Cruise and Holmes' divorce settlement afforded Holmes "sole custody" of Suri, and reportedly included "'ironclad' rulings that Suri would not be exposed to anything Scientology related."