Heather Locklear Is BFFs With Ex Tommy Lee's New Wife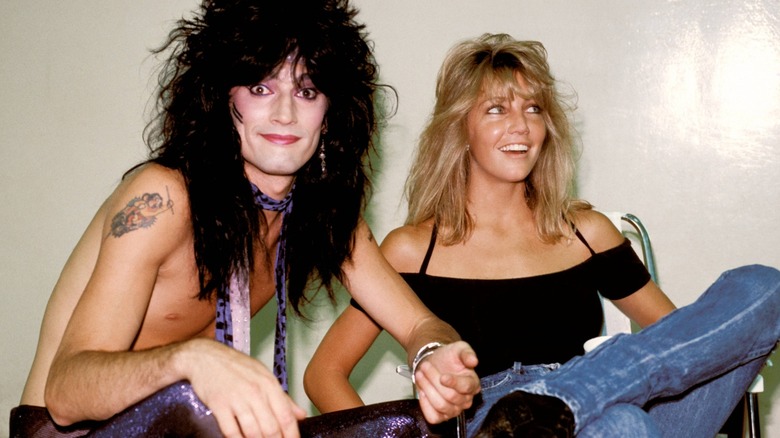 Richard E. Aaron/Getty Images
Former "Dynasty" star Heather Locklear has an unexpected best friend, and it's her ex-husband's new wife. Musician Tommy Lee and Locklear were married for seven years, which wasn't an obstacle for the "Melrose Place" actor to form a close friendship with comedian Brittany Furlan, Lee's new spouse.
Furlan, who married Lee in 2019, has publicly stated how much she loves her husband's ex, and she has also admitted to knowing Locklear was the love of his life. The ex-spouses apparently still have a close friendship and are in touch, which Lee's new wife doesn't mind. On the contrary, as Furlan shared, she's grown very fond of Locklear herself and considers her a friend.
However, the comedian is not particularly close with all of Lee's ex-wives, and she's making sure they know how she feels. Pamela Anderson, Lee's third wife, has been a target of Furlan's mockery on social media despite having publicly stated she has nothing but respect for her.
Brittany Furlan 'loves' Heather Locklear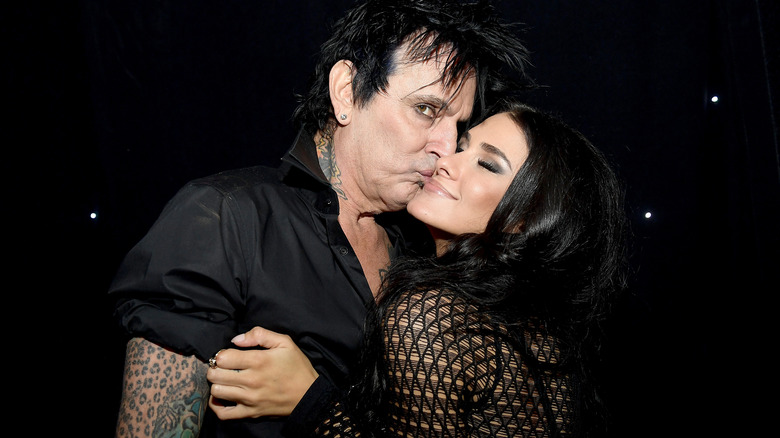 Matt Winkelmeyer/Getty Images
Having a good relationship with your partner's ex is something Brittany Furlan is on board with. The Vine star-turned-actor is married to Mötley Crüe's Tommy Lee, who has had his share of publicized marriages before. Lee was previously married to actor Heather Locklear from 1986 to 1993, but that didn't stop Furlan from forming a friendship with her.
"I think she's the most kind, down-to-earth person. We met through Tommy, obviously, and became close. She's just very cool, very nice, supportive, and just a cool chick all around," Furlan shared her feelings on Locklear in a conversation with People, adding that they have a close relationship.
The BFFs share a bond so strong that Furlan actually scolded her husband for cheating on Locklear when they were married. "She was the love of his life," Furlan told People, adding that she knows it to be true because Locklear is "a fun, sweet, caring, [and] awesome person." She additionally stated that Lee is also aware of how he did Locklear wrong by cheating on her, which is why the ex-spouses still have a good friendship. So good that Locklear shared a throwback photo of her and Lee kissing for what was meant to be their 30-year anniversary. Despite the romantic TBT, Furlan doesn't mind hanging out with Locklear. However, Furlan can't say that about all of Lee's famous ex-wives.
Tommy Lee's new wife isn't so friendly with Pamela Anderson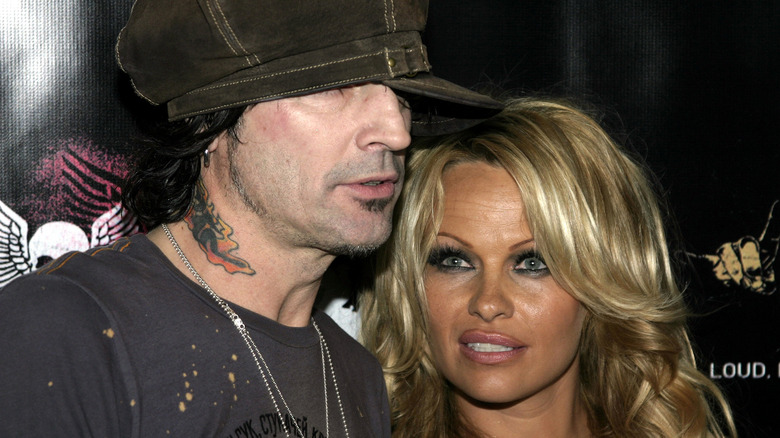 Tinseltown/Shutterstock
Two years after divorcing Heather Locklear, Tommy Lee notoriously eloped with actor Pamela Anderson four days after getting together. While this wasn't the marriage Anderson immediately regretted, it surely had its ups and downs. Anderson and Lee share two sons, Brandon Thomas and Dylan Jagger, who were born during their three-year marriage. In her Netflix documentary, "Pamela, A Love Story", Anderson touches on her whirlwind marriage to Lee, and critics took that opportunity to bring Lee's current wife into the mix.
In a since-deleted TikTok Video, Brittany Furlan stated that she was doing well despite all the mean comments that have been directed at her and her relationship with Lee, as per E! News. "I'm lucky to have a really loving husband who honestly laughs all the stuff off and couldn't care less," she added, sparking controversy and stirring rumors of bad blood with Anderson.
Anderson later went on The Howard Stern Show and stated she has nothing but respect for Lee and his new wife. Despite that, Furlan took to TikTok to seemingly make fun of Anderson. In a video she once again deleted, according to Page Six, Furlan implied Anderson wouldn't care if she died and would go back to Lee, captioning it, "Pls guys I gotta make jokes, it's how I cope." While one can never know for sure whether there's any true animosity between celebrities, Furlan sure seems to have a favorite ex-wife of her husband's, and it's not Anderson.