Mark Consuelos' Daughter Lola Hated His CW Riverdale Fame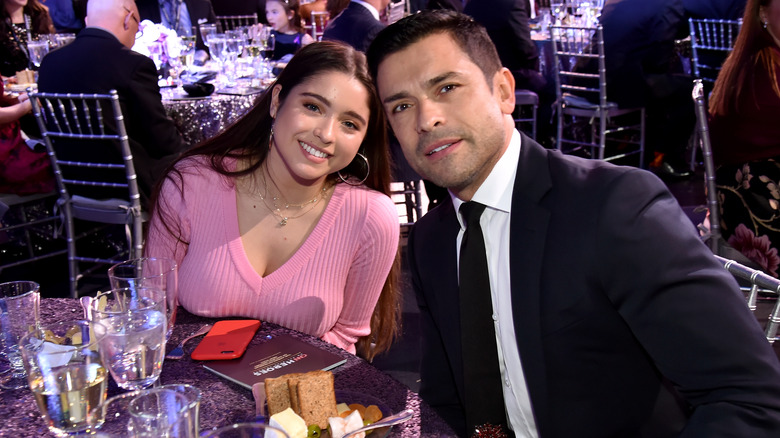 Kevin Mazur/Getty Images
We're used to seeing Mark Consuelos' handsome face on TV every morning co-hosting "LIVE with Kelly and Mark" alongside his wife, Kelly Ripa. The actor signed on in April 2023 and now, we get to watch the ultra-cute couple serving up news, opinions, and more as part of their talk show — something their kids, Michael, Lola, and Joaquin, have probably witnessed at home for years.
For the Consuelos children, seeing their mom and dad on a morning talk show is one thing; watching their father gain the reputation of "Hottest Dad" while appearing in CW's hit show "Riverdale" is decidedly different. According to Lola, Mark took the embarrassing dad role to a whole new level when he starred as Hiram Lodge from 2017 to 2023, spanning the period during which she was in high school. When any of her friends asked about her father's role, "She would deny," as Mark revealed in an interview with "The Jess Cagle Show with Julia Cunningham."
He elaborated, "She did not like the attention. We live near an all-girls school ... and if I was home from shooting, it was like, oh my God." The tall, dark, and handsome Mark played a bad-boy character with a dark past, and even though he was somewhat of an antagonist, Hiram amassed a huge following. Especially after the "certified Instagram Daddy" took to posting thirst traps with his fellow cast members. We can totally envision Lola covering her eyes and looking the other way!
Thirsty fans are nothing new for the actor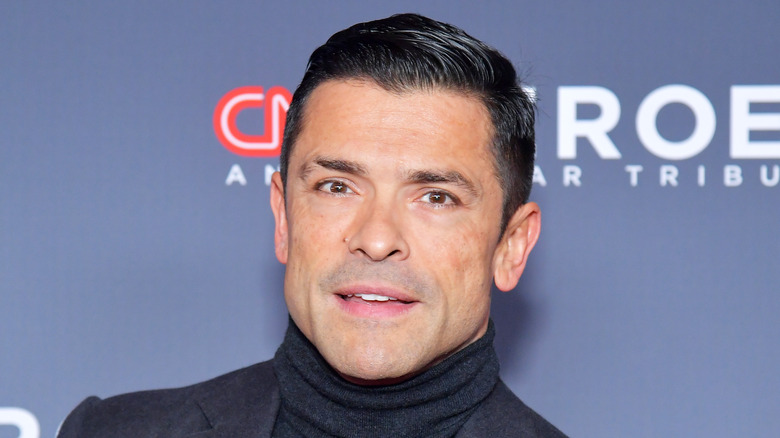 Michael Loccisano/Getty Images
Having a host of fans ogling him isn't anything new for Mark Consuelos, of course. When he appeared as Mateo Santos on the soap opera "All My Children," Consuelos earned himself quite a reputation. Even his wife, Kelly Ripa, was smitten with him. Ripa played the sassy Hayley Vaughan on the show for 12 years. 
During an interview with "Radio Andy," she recalled how, right before Consuelos' audition, "When I saw him, the photograph of him, I saw my entire future with him flash before [my eyes]."  Ripa also admitted to Elle, "I was drawn to Mark because he was positively an alpha male." This trait undoubtedly attracted Hiram Lodge's more lustful admirers, but Consuelos' OG fans haven't died out either. 
Many took to Facebook after he signed on to "LIVE with Kelly and Mark," cheering for the couple and proclaiming "Hayley and Mateo Forever!" If we had to guess, we reckon Lola probably doesn't mind her father's more middle-aged enthusiasts; it's only her peers she doesn't want liking shirtless snaps of her dad on Insta.
Mark loves to have a laugh with Lola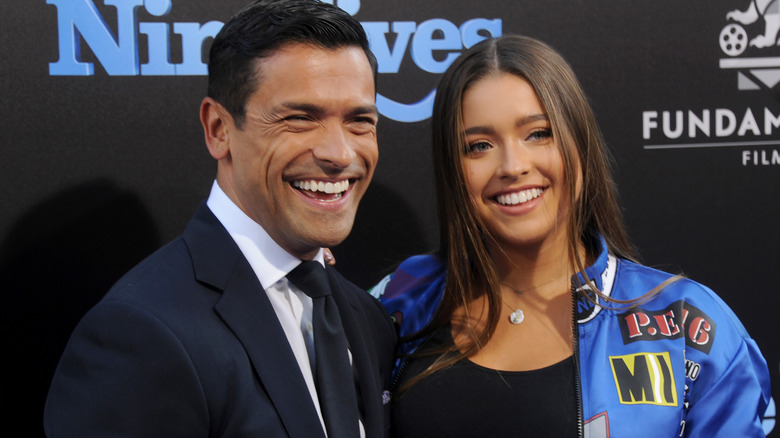 Gregg Deguire/Getty Images
Lola and Mark Consuelos' cute father-daughter relationship frequently makes its way into the headlines. Especially because playing Hiram Lodge wasn't the first time Lola's been embarrassed by her dad. On "LIVE with Kelly and Mark," the actor told a story about how his pal, Nick Jonas, texted him on his way to the Met Gala, asking if he could stop and use his bathroom due to insane NYC traffic. Mark agreed, and sent his daughter, a longtime Jonas fan, up for a meet and greet. 
The only problem was that Lola was fresh out of last-period gym class and sporting a pair of sweats, "kind of in a disarray," and Mark didn't tell her who would be at the door, just that he was expecting a delivery and could she please grab it. When she swung open the door to find Jonas in his red-carpet finest, Mark laughed, "She turns around and looks at me and says, 'I'm going to kill you.'" 
He then asked if she would be so kind as to lead Jonas to the restroom and "guard the door." Mark confessed that Lola definitely didn't oblige on his second request and instead bolted upstairs in complete shock. We're siding with Lola on this one — we can feel the blush creeping in from here!