Donald Trump's Presidency Reportedly Hurt His Relationship With Daughter Tiffany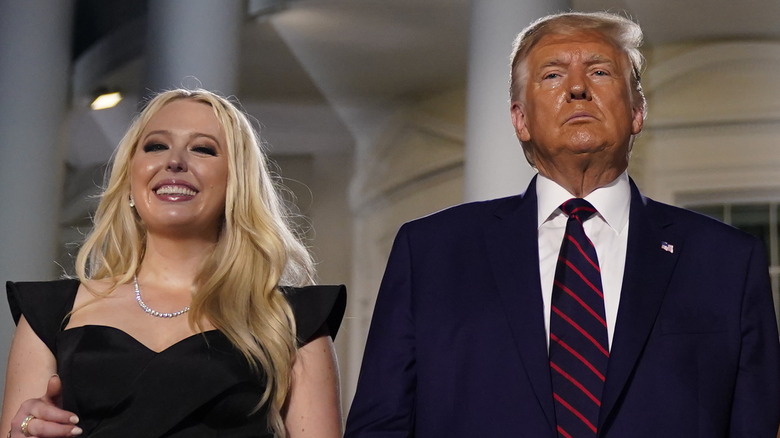 Bloomberg/Getty Images
When you think about Donald Trump's daughter, Ivanka Trump usually comes to mind. Many might not know he has another one. However, Tiffany Trump is a heiress, much like her older sister. Donald became a girl-dad again in 1993 with his second wife, Marla Maples. Tiffany is their only child from that relationship. It was a tumultuous matrimony that ended in 1999, leaving Tiffany on the West Coast with her mom while her dad continued as one of New York's elite.
Despite residing on different sides of the country, the father-daughter duo still kept in touch. Tiffany's spring breaks were reserved for their bonding. However, once the business mogul became the 45th president, things changed with his youngest daughter. The high-rank position strained Tiffany's relationship with her father. Her presence on the campaign trail and in the White House was limited, especially in comparison to Donald's other children — Don Jr., Eric, Ivanka, and Barron.
Tiffany was practically estranged from her father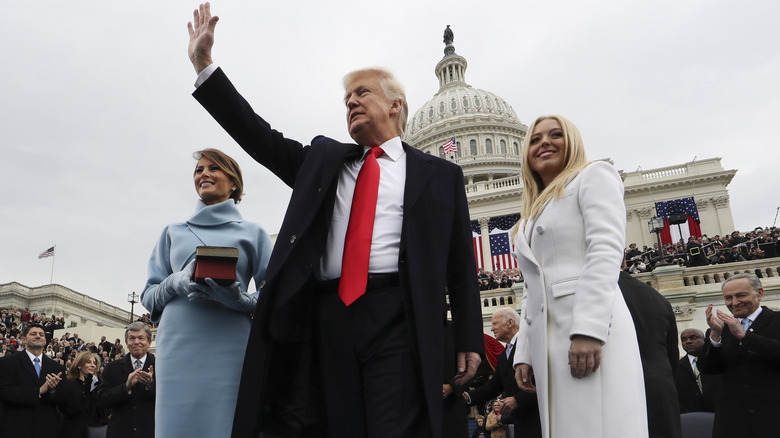 Bloomberg/Getty Images
While Donald Trump was running for presidency, Tiffany Trump made an appearance speaking at the 2016 Republican National Convention. She had hardly any personal anecdotes about her dad but commanded the stage as his supporter anyway. However, after the GOP candidate landed the job as Head-of-State, their hangouts became few and far between.
"Since the inauguration, Tiffany and her father have sometimes gone for months without speaking and she went a very long time without seeing him," a source told People. "They always had a strained relationship her whole life, and it got exacerbated by the presidency. It's gotten much worse now."
The former president admitted that being POTUS was hard on his wife and children. That is why they won't be a part of his third run for the position. In an interview with Bret Baier for Fox News' "Special Report," Donald shared, "I said, 'That's enough for the family.' You know why? It's too painful for the family. My family's been through hell." On the bright side, Trump's presidential duties ended in 2021, giving him a chance to reunite with Tiffany.
The former first daughter's wedding reunited the whole family
During the election day weekend of 2022, the Trumps were celebrating, and not for anything political. Instead, it was a romantic affair. At Tiffany Trump's stunning wedding, she said "I do" to billionaire heir, Michael Boulos. The festivities were held at Mar-a-Lago, Donald's Florida estate, bringing the entire Trump bloodline together.
"The wedding was a bonding moment and [Tiffany] has been more accepted by the family. It brought them closer," an insider explained to Page Six. The newlyweds even spent time with Donald after his indictment. Tiffany was among the partygoers as the former Commander-in-Chief DJ'ed.
The Trumps might not be a traditional family, but the love is there. "I love Tiffany," Donald told reporters after rumors spread he didn't want to be photographed with her. "Tiffany is a great person," (via Insider). His youngest daughter also had nice words to say about him. Tiffany previously shared with DuJour, "I don't know what it's like to have a typical father figure. He's not the dad who's going to take me to the beach and go swimming, but he's such a motivational person." Hopefully, their relationship can sustain through all of Donald's political and criminal activities.