Oprah Winfrey Never Expected Her Famed Harry And Meghan Interview To Be A 'Bombshell'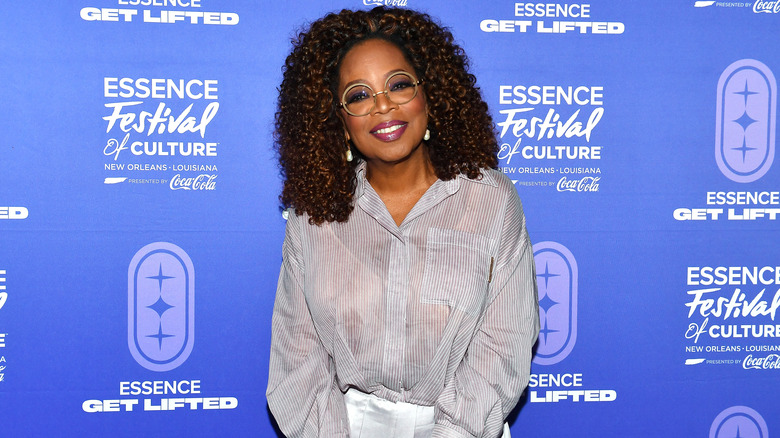 Paras Griffin/Getty Images
After Meghan Markle and Prince Harry decided to step down as senior members of the royal family and move out of the U.K., royal watchers all over the globe seemed to become obsessed with new information about what really caused the Duke and Duchess of Sussex to make such a huge change. Moreover, many people wanted to know more about what Meghan and Harry's plans were for the future. It didn't take long for iconic talk show host Oprah Winfrey to land an interview with the couple. According to the Los Angeles Times, more than 17 million people tuned in to watch Harry and Meghan's first interview post-Megxit. And while Winfrey may have known that the interview was going to be a big deal, she didn't really expect it to be a "bombshell."
"I was as surprised by the 'bombshell' as everybody else. I was doing an interview to offer them a platform to tell their story about why they left. And that was my number one intention was just clarity on: 'Why did you leave?'" Winfrey told her longtime friend Gayle King on CBS Mornings in September 2022. "Some of the things that were revealed in that interview came as a surprise to me. And those surprises are now referred to as 'bombshell.' But I did not set out to do a bombshell interview," Winfrey said. Indeed, Winfrey was taken aback a number of times during the interview with the Duke and Duchess of Sussex.
Oprah Winfrey was 'surprised' by what Harry and Meghan said during the interview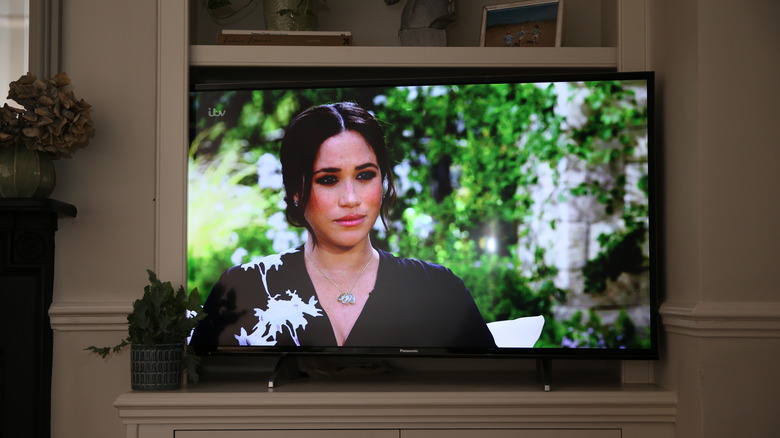 Chris Jackson/Getty Images
Oprah Winfrey undoubtedly saw a big opportunity when it came to interviewing Prince Harry and Meghan Markle, but she never expected them to be as open as they were. In fact, after the interview aired, Winfrey admitted that she was surprised by some of the things the couple said. "I had no idea that it would have the reverberating impact that it has had and continues to have. Our shared intention was the truth. They wanted to be able to tell their story and tell it in such a way that allowed them to be as truthful as possible," she told Nancy O'Dell on TalkShopLive, according to Deadline. "The reason why it was such a powerful interview ... was when you have somebody else who is willing to be as open, as vulnerable, as truthful as they were," Winfrey added.
One of the most surprising parts of the interview for Winfrey was when the Duchess of Sussex explained that there were questions about her unborn baby's skin color. "Who is having THAT conversation... with you? What? Hold up, hold up," Winfrey said during the interview (via The Independent). Meghan and Harry chose not to reveal the name of the person behind those conversations, with Meghan telling Winfrey, "I think it would be very damaging to them."
Oprah Winfrey doesn't talk about the Sussexes too much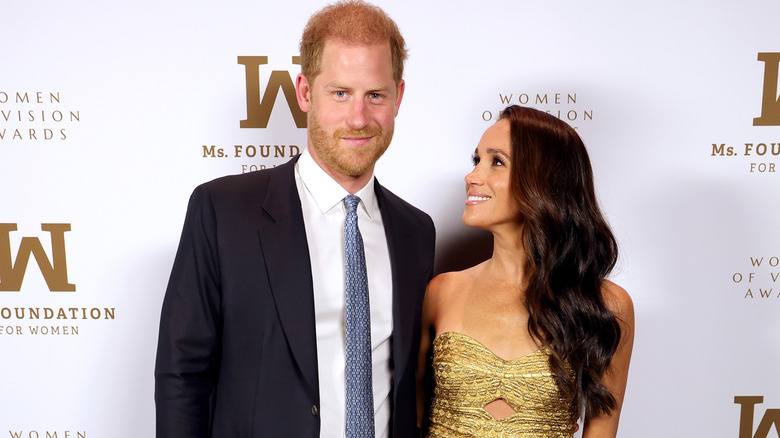 Kevin Mazur/Getty Images
Prince Harry and Meghan Markle opened up about their interview with Oprah Winfrey on their Netflix documentary. "That interview, it was less about setting the record straight than at least filling in the blanks that other people were filling in for us. The more distance that came between us having a smaller role with the institution, coming over here, the more of a vacuum was being built. People just genuinely didn't understand why we left," Meghan explained (per Harper's Bazaar). She also noted that she thought that people would focus on her struggle with depression and was a little surprised that the issue about race was the bigger takeaway.
As for where Winfrey stands with the Duke and Duchess of Sussex nowadays, well, she has been very careful when asked questions about them and tries not to say too much. When it came to King Charles' coronation, for example, Winfrey appeared neutral on the matter when asked if she thought the couple should attend. "I think they should do what they feel is best for them and for their family. That's what I think. That's what the bottom line comes down to. What do you feel like is the right thing for you?" Winfrey told Gayle King on CBS Mornings.