This Taylor Swift Song Helped Stevie Nicks Grieve The Loss Of Her Fleetwood Mac Bandmate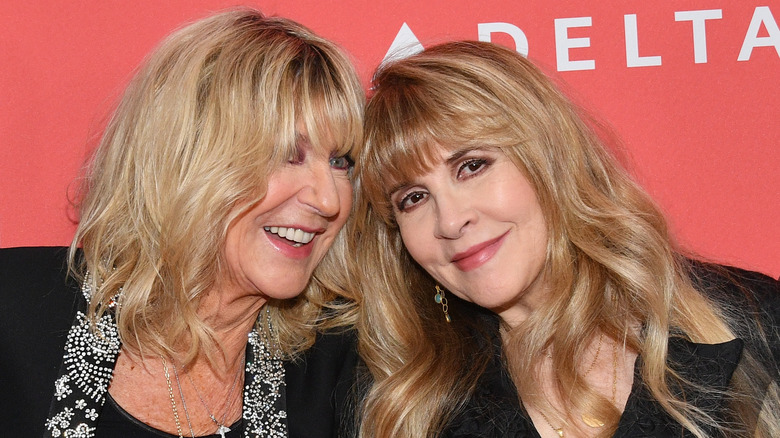 Dia Dipasupil/Getty Images
On November 30, 2022, the world lost Christine McVie, the keyboardist and one of the vocalists in the Grammy Award-winning band, Fleetwood Mac. She died of a stroke and metastasized cancer, per Rolling Stone. Of course, fans everywhere are still reeling from the loss, but few people are in more pain than McVie's best friend and Fleetwood Mac singer, Stevie Nicks. Over the months since McVie's death, Nicks has opened up about how she's handling it. 
An artist from a different generation brought her some comfort after the brutal loss: Taylor Swift. Nicks shared during one of her concerts that Swift's 2022 track, "You're On Your Own Kid," captures how she feels about McVie's passing. In the song from her "Midnights" album, Swift tells a story about craving love and fame, but ultimately only having herself in the end. She sings in the hook: "You're on your own kid/You always have been." The Fleetwood Mac star explained the touching reason why she associates the song with her late friend. Unsurprisingly, music has been a crucial part of Nicks' healing journey. 
Stevie Nicks took a moment during her concert to thank Taylor Swift
Michael Caulfield/Getty Images
During her May 22, 2023 Atlanta show, Stevie Nicks took a minute to talk about how Taylor Swift has helped her grieve Christine McVie. "Thank you to Taylor Swift for doing a favor for me, and that is, writing a song called 'You're on Your Own, Kid,'" the Fleetwood Mac singer said on stage, per a Twitter video from the concert. "That is the sadness of how I feel." Nicks recalled that she and McVie didn't need to stay in touch over the phone to maintain a close relationship. Rather, they'd go without speaking for a long time, and then whenever they saw each other again, it would always feel exactly the same.
"When it was the two of us, the two of us were on our own, kids," Nicks continued, alluding to Swift's song. "We always were, and now, I'm having learn to be on my own, kid, by myself. You helped me do that. Thank you." In the clip, the singer seems emotional, but also at peace as she concludes her speech. 
Music has been a central part of Stevie's grieving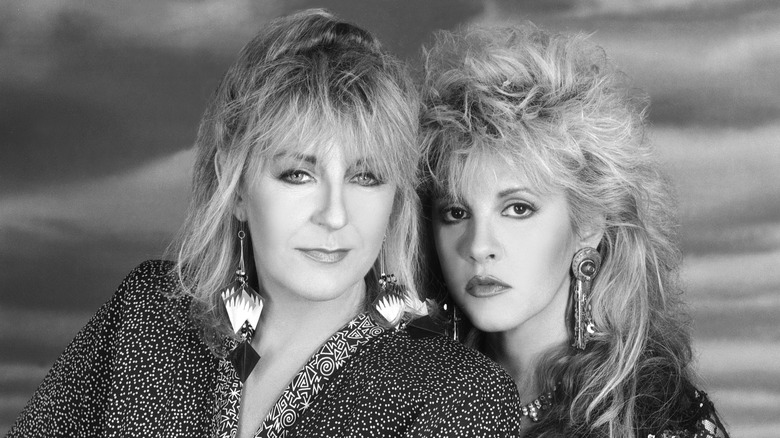 Aaron Rapoport/Getty Images
Right at the beginning of Stevie Nicks' grieving process, there was another song that was very important to her. Nicks shared her handwritten thoughts about her friend and the song, Haim's "Hallelujah," on social media a couple hours after McVie tragically passed away. She called her bandmate her "best friend in the whole world" and wrote, "I wanted to be in London; I wanted to get to London — but we were told to wait." The singer added that one tune had been stuck in her head for a few days. "I thought I might possibly get to sing it to her, and so, I'm singing it to her now," Nicks continued. 
She quoted Haim's 2020 track about losing a friend, "Hallelujah": "I had a best friend/But she has come to pass/One I wish I could see now." Nicks signed her note to McVie, "See you on the other side, my love. Don't forget me. Always, Stevie." 
In March 2023, Nicks broke down in tears after performing her own hit, "Landslide," at her first concert since McVie's death. "There's really not much to say," she said to the audience. "We just pretend that she's still here, that's how I'm trying to deal with it." She and her bandmates embraced each other and gave a heavy bow.