How Lady Louise Is Carrying On Prince Philip's Legacy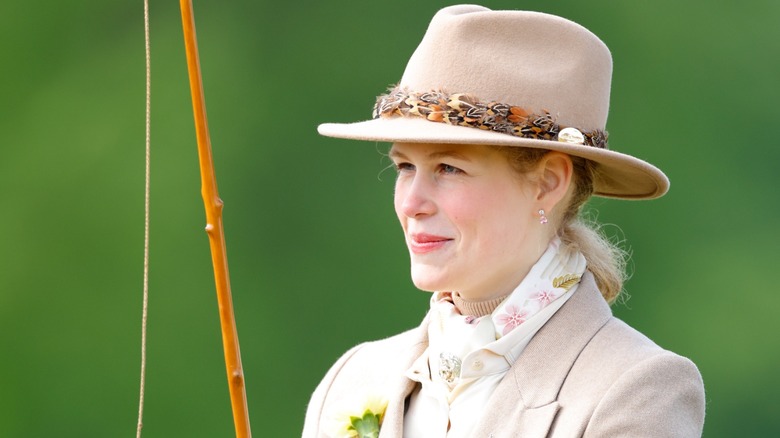 Max Mumby/Indigo/Getty Images
Lady Louise Mountbatten-Windsor is best described as an "emerging" luminary within the British royal family. She's on the brink of discarding her teen years to enter the independent decade of her 20s, when she will naturally draw attention at state events. Louise is the daughter of Prince Edward — King Charles' youngest brother — and his wife, Sophie, the new Duke and Duchess of Edinburgh, as recorded by Royal Family News. Granddaughter to the late Queen Elizabeth, Louise just happens to stand 16th in line for the throne.
Despite this, Tatler and other royal watchers often employ the words "discreet," "dutiful" and "tasteful" when describing her. Such sources also frequently note that Louise has decided against using the title "Her Royal Highness" that is hers by birth, preferring instead to be known more simply as "Lady Louise." While many qualities mark her as special, one in particular stands out: She's the royal who connected most profoundly with her grandfather, Prince Philip, the former Duke of Edinburgh.  
In fact, their unique bond is what inspired her grandfather to pass down to her an exceptional and very special inheritance.
An heirloom that can change Louise's life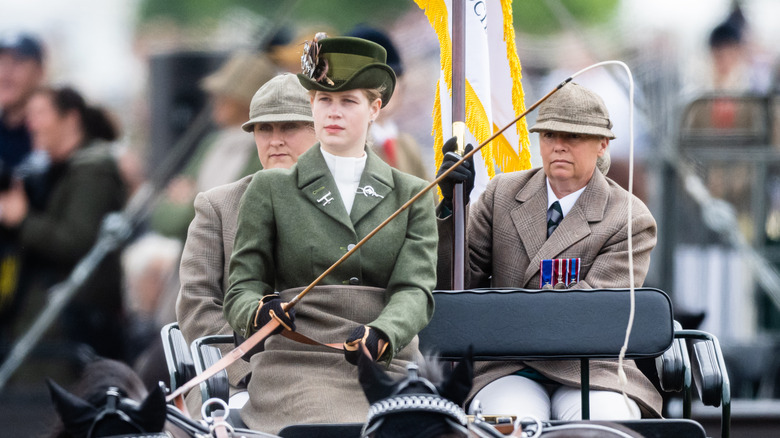 Samir Hussein/Getty Images
Philip, Duke of Edinburgh, who died in 2021 at the age of 99, was a passionate equestrian, and took up the sport of polo during his early years in the Royal Navy, according to Horse Talk. Soon, he ranked among Britain's top 10 players. He later served more than two decades, beginning in 1964, as president of the International Federation of Equestrian Sports (FEI).
His granddaughter, Louise, inherited his love of equestrian sports. Given their mutual interest, the special heirloom Philip passed onto her was a horse carriage and two Fell ponies named "Balmoral Nevis" and "Notlaw Storm," Hello! Magazine reported. The four-wheeled carriage, a work of art in aluminum and steel, was the last one he used beginning at age 91. Built to his exacting specifications, Philip enjoyed driving the green carriage around Windsor and other royal estates.
Poignantly, in May 2022, Lady Louise honored Queen Elizabeth by making good use of Philip's carriage while participating in the Royal Windsor Horse Show. Under the watchful and proud eye of her grandmother and parents, Louise led the Fell Pony Society centenary parade into the main arena. (The queen, herself, had been a patron of this charity that registers and tracks this particular breed of pony.) For this event, Louise wore a jacket in the exact shade of green favored by Philip. She accessorized with a matching top hat, plus a blanket to modestly warm her knees, as seen above.
Competing at a champion level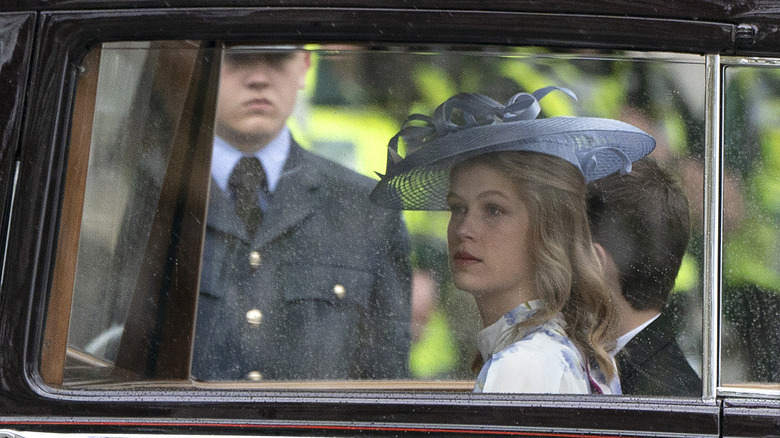 WPA Pool/Getty Images
Philip helped establish and popularize carriage driving in Britain while president of the FEI, yet he also personally taught the sport to Louise, who rumor has it was Queen Elizabeth's favorite grandchild. In Windsor Great Park, grandfather and granddaughter were often spied in their horse-drawn carriages, training together. In 2021, at age 17, Louise began competing and made her first appearance on the carriage driving circuit, Hello! Magazine reported.
Louise's early, teenaged start to carriage driving is in stark contrast to that of her grandfather, who only became interested in the sport at age 50, when he no longer dared to play more dangerous equestrian sports like polo. The Daily Mail reported his decision-process: "I was looking round to see what next ... and I suddenly thought, 'Well, we've got horses and carriages so why don't I have a go." 
In 2022, the Duke of Edinburgh's granddaughter competed in the British Indoor Carriage Driving Championships, finishing sixth in the junior novice class. No worries, Louise has many years to improve both her skills and her standing in the sport. After all, her "trainer," who represented his nation in three European championships and six world championships, competed well into his 80s.