King Charles' Scotland Coronation Met With Loud Critics Of Today's Monarchy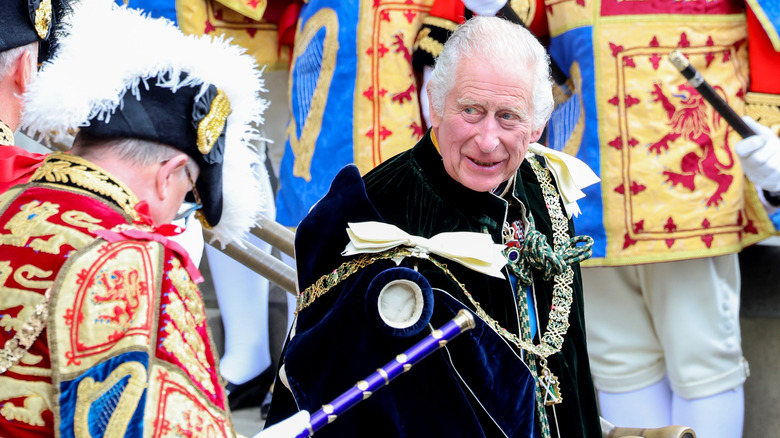 Chris Jackson/Getty Images
While the coronation of King Charles III and Queen Camilla took place in London, England on May 6 of this year, a second coronation celebration took place this week in Scotland, which is a part of the United Kingdom. 
The ceremony took place at St. Giles' Cathedral in Edinburgh, where King Charles was presented with the crowne jewels of Scotland (via Sky News). The celebration included a royal procession, during which The King and Queen wore black velvet royal robes. William and Catherine, Prince and Princess of Wales, were also in attendance and are known as the Duke and Duchess of Rothesay while in Scotland. 
Thousands of well-wishers lined the streets to witness the coronation proceedings and also the people's procession, a 21-gun salute, and a flyby of the Red Arrows. While many seemed overjoyed to celebrate Charles' ascension to the throne, the crowd was not without protesters. 
Protests resulted in arrests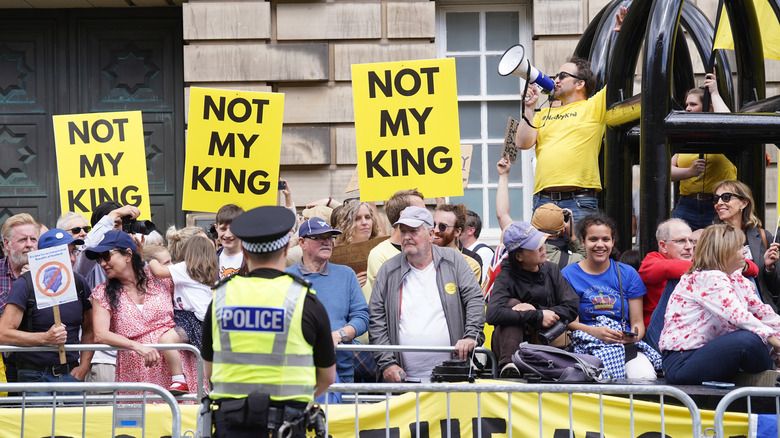 Pool/Getty Images
It's not news that not all Scottish citizens are thrilled to be part of the United Kingdom; when the country voted on whether or not Scotland would become an independent nation fully separate from England in 2014, the country remained a part of the UK only by a close margin (via BBC). While 55% of voters cast their ballots in favor of remaining part of the UK, 45% voted to break ties with England. Therefore, it is unsurprising that anti-monarchy protesters were in attendance at the Edinburgh coronation. 
Amongst the crowd outside the cathedral, some people were chanting, "Not my king" (via Sky News). The protests resulted in four arrests. Two women were arrested and charged with breach of peace after they allegedly tried to climb over security barriers, and two men were arrested on unrelated charges, one for theft and one for an outstanding warrant. 
Four other people were detained and then released for what was described by law enforcement as threatening behavior. These people were given a written warning by police.