Royal Yachts That Are Beyond Lavish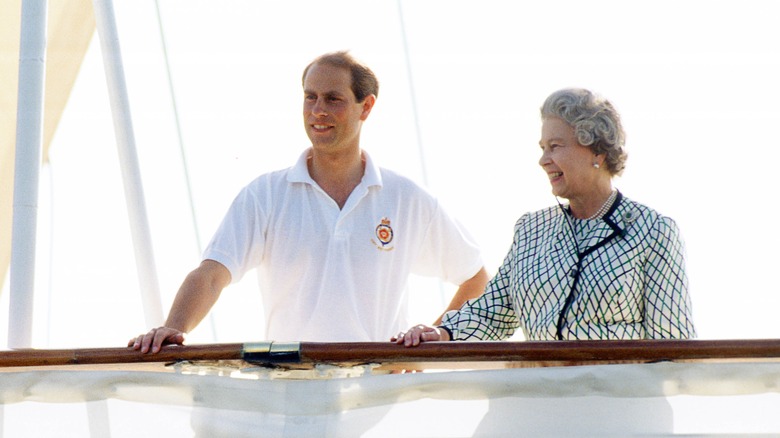 Tim Graham/Getty Images
Royals seem to have it all — multiple palaces and vacation homes, fabulous wardrobes, and lavish vacations in exotic locations. Royal families in some countries even have their own yachts.
As of this writing, Denmark, Holland, Norway, Morocco, and Monaco have working royal yachts. However, the royals of numerous other countries, including Great Britain, have enjoyed excursions on royal yachts of their own, some with interesting and extensive histories. A 1976 New York Times article revealed that the British royal family's former 412-foot impeccably maintained yacht, which was constructed for the late Queen Elizabeth II, was "to an ordinary yacht what Buckingham Palace is to the house next door."
From the high-end finishes and opulence galore to the wealth of amenities to experience on board, it's clear that an excursion on a royal yacht is like none other. From working royal yachts to those which have since been sold or decommissioned and placed on display for all to enjoy, these past and present yachts are beyond luxe.
Her Majesty's Yacht Britannia of Great Britain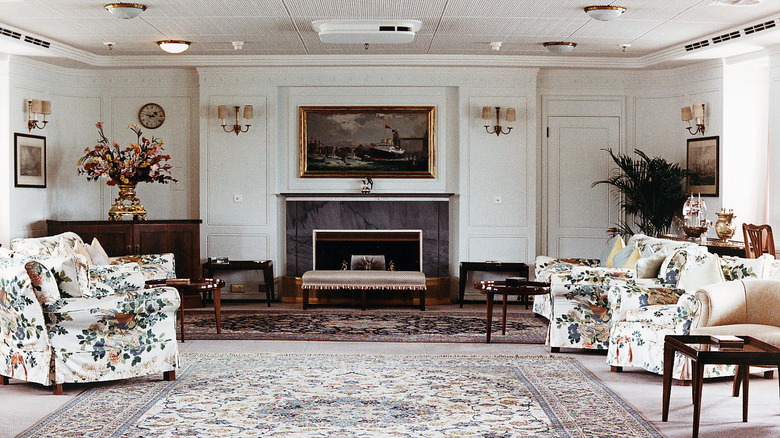 Pool/tim Graham Picture Library/Getty Images
The 400-foot-long, John Brown-designed "former floating palace" of the late Queen Elizabeth II was commissioned by King George VI in 1952. Following her father's death and her coronation, Elizabeth set sail on Her Majesty's Yacht Britannia in 1954. The queen was fond of the ship, which she once described as "the one place where I can truly relax." During Britannia's 40-plus year operation, it hosted several royal honeymoons, including that of King Charles III (then Prince Charles) and Princess Diana, and provided transportation for official royal visits. 
The luxurious yacht featured a drawing room, dining room, two sitting rooms, spacious crew accommodations, elevator, wine cellar, official reception room with fireplace and baby grand piano, and ornate staterooms with private bathrooms and dressing rooms. The New York Times described the royal apartments as "[giving] way to the homey, patched elbow chic of an English country house, with flowered chintz slipcovers, family photographs, and rattan settees, interspersed with the occasional relic of Empire." And then there was the sun lounge, which was the queen's favorite space.
The Britannia's operating and maintenance costs eventually led to its decommissioning in 1997. These days, the yacht is stationed in Edinburgh for all to see — TripAdvisor gave the excursion the Travelers' Choice Best of the Best award in 2023. Tickets include a self-guided audio tour and access to all five decks, which include the state apartments and sun lounge, while the Royal Deck Tearoom offers the opportunity to enjoy food and beverages aboard.
Azzam of Abu Dhabi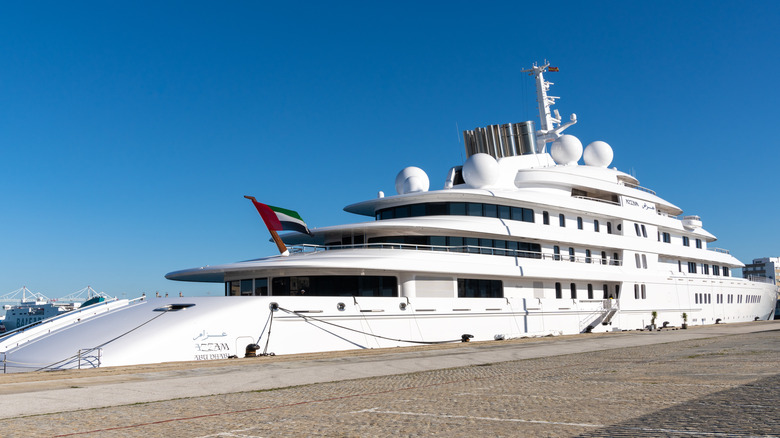 makasana photo/Shutterstock
Following its April 2013 launch, the Azzam was the world's largest private yacht at 180 meters (about 591 feet) — only trumped in 2019 by the REV Ocean. Built by Lürssen Yachts for Sheikh Khalifa bin Zayed Al Nahyan of the Abu Dhabi royal family, the Azzam's exterior was designed by Nauta, which aimed to make the vessel elegant, sleek, and fast — with a top speed of 33 knots. Nauta founder Mario Pedol described the four-year design process, said to have taken more than 4,000 workers at a cost of over $500 million, to Boat International as "challenging."
French designer Christophe Leoni was enlisted to bring classic French regal style to the ship's interior, including the finest crafted wood furniture veneered with mother-of-pearl inlays. The yacht's other unique features include 18 guest suites, a pool, a gym, and a practice space for golf.
The Azzam was built to accommodate 80 crew members and 36 guests and features a large main saloon, serving as the vessel's focal point. To ensure unobstructed views, it was designed without pillars and with windows extending the full height of the yacht. "It was quite a challenge to make this space with no pillars," Pedol admitted to the outlet, adding that the ceiling beams needed to be exactly 1 meter (about 3.3 feet) wide. And, to ensure the windows were completely stormproof, the thick glass was custom-engineered in Italy. Another cool feature? The saloon's chandelier was constructed to be quiet and avoid rattling, not an easy feat for a yacht.
Prince Abdulaziz of Saudi Arabia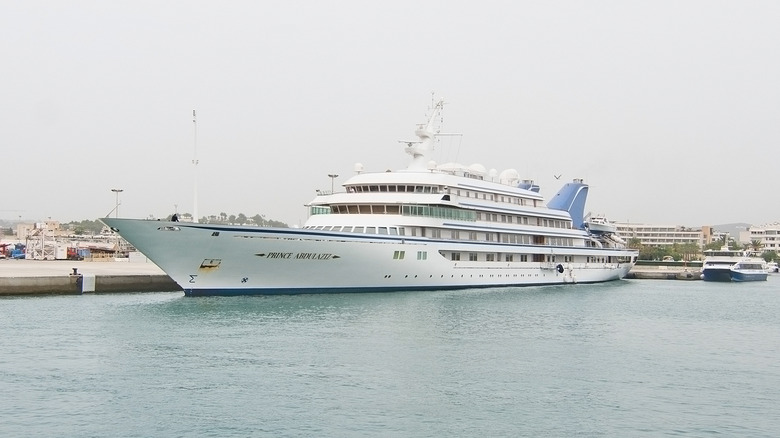 Artesia Wells/Shutterstock
The Saudi royal family owns the Prince Abdulaziz, a 147-meter (about 482-foot) superyacht — once the biggest yacht in the world. It was built in Denmark in 1984 and its exterior was designed by Maierform Maritime Technology GmbH. The Prince Abdulaziz was named after the son of the late Saudi Arabian King Fahd, who originally commissioned the yacht. The royal family uses the yacht both for official and recreational outings. 
Renowned British interior designer David Hicks, known for his use of contrasting contemporary and classic design and bold use of color and lighting, led the interior design and decor of this luxurious yacht, which took over a year to finish. The ship's truly opulent decor features grand chandeliers, intricate mosaic flooring, and the use of blues and golds throughout. It's no wonder the extravagant yacht is valued at $100 million. Interestingly, the yacht is just one owned by the royal family.
Foners of Spain
Foners, once known as Fortuna, is a motor yacht belonging to King Juan Carlos of Spain and accommodating up to eight guests and six crew members. The 45.5-meter (about 149-foot) yacht was built by Izar in 2000. At the time, it was known as the fastest superyacht in the world, reaching a speed of 65 knots. Donald L. Blount & Associates was responsible for the yacht's naval architecture. Studio Arch was enlisted for the exterior design, while the acclaimed Celeste Dell'Anna is credited with the interior design and decor.
Foners' interior highlights its large main saloon for dining and lounging, with its 46-inch TV and entertainment center. The interior's luxurious finishes include sycamore wood with stitched tan leather detailing. The four staterooms on board feature a luxurious primary suite, a VIP stateroom, and two twin-size staterooms, each equipped with an en-suite bath. A unique feature of the ship's design is that it's bulletproof, lined with Aramid fiber.
Back in 2013, the Spanish royal family decided to sell the yacht due to its high costs to maintain. However, the listing price has dropped multiple times over the years and, at least as of 2021, a buyer has not been found.
Her Majesty's Yacht Victoria and Albert II of Great Britain
Her Majesty's Yacht Victoria and Albert II is a historic yacht that belonged to the British royals during the 19th century. It was built and launched in 1855 at the HM Dockyard in Pembroke, England. In 1868, this well-used and enjoyed yacht underwent an extensive renovation and continued its regular operations until 1901. It was eventually dismantled in 1904.
Per the Royal Collection Trust, Queen Victoria wanted the yacht to feel like a "home from home." Instead of going for the more ornate look, she wanted the Victoria and Albert II to be simple yet grand. Prince Albert was also said to have been involved with the design. Some rooms boasted maple walls while the dining saloon featured luxe red carpeting and sat 18 people. The queen herself once wrote, "It is indeed a most magnificent and enormous vessel. One feels quite lost in here!"
Stalca of Monaco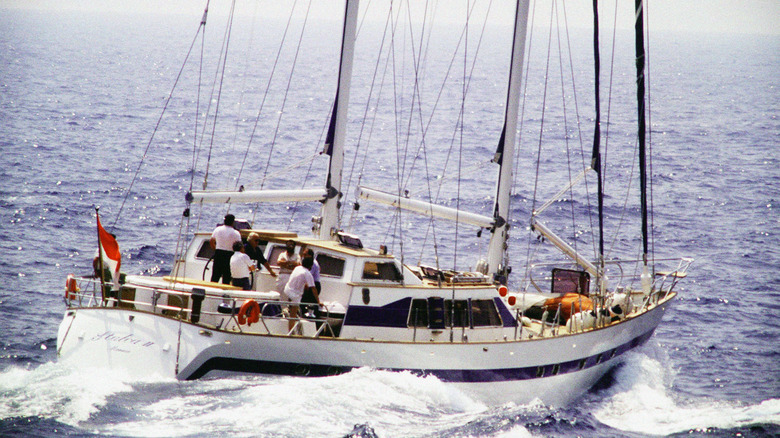 Michel Dufour/Getty Images
If you're a fan of Grace Kelly, you'll love this one. In 1971, the Stalca was commissioned and given to the Grimaldi royal family of Monaco for Prince Rainier and Princess Grace to enjoy. They used the yacht for vacationing and entertaining both their high society and Hollywood friends. The Stalca was named after the couple's three children: Prince Albert and Princesses Caroline and Stephanie.
The 24.6-meter (about 81-foot) classic motor yacht was built by Visch Holland. Stalca's four cabins, which can sleep eight people, include a lavish primary suite with an en-suite bathroom, a VIP suite also with a private bath, and two twin cabins with a shared bathroom. The main saloon is a large open space with a formal dining room and a relaxing lounge.
Though lovingly maintained over the years, the Stalca underwent a renovation in 2011, followed by another extensive renovation in 2016, which included new wiring, plumbing, and paint as well as other updates, while ensuring the vessel's historic and elegant interior was preserved. In 2019, the Stalca was sold to an unnamed buyer after being listed for €1.1 million.
Pacha III of Monaco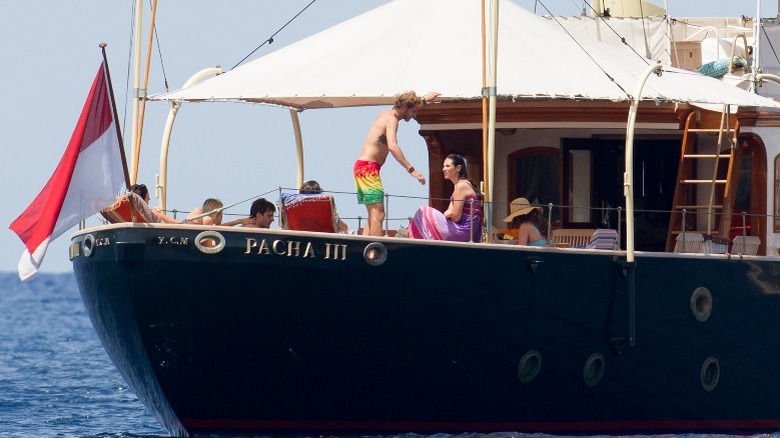 Iconic/Getty Images
The Pacha III, completed in 1936, is a luxurious motor yacht constructed of aluminum. It was built by Camper & Nicholsons and designed by Charles E. Nicholson. Jacques Grange, however, was responsible for the interior design, which consists of a deck made of teak and a hull of steel. The Pacha III can accommodate seven crew members and nine guests.
In 1990, the yacht was purchased by Princess Caroline of Monaco and her late husband Stefano Casiraghi, who tragically died in a boating accident not long after. Perhaps as a distraction from her grief, the princess decided to carry out the renovations she and Stefano had planned. The deck was rebuilt in aluminum, and 2-meter-long (about 7-foot) stabilizers were added to the hull. Inside, Caroline removed the living room fireplace and transformed the radio room into a bathroom.
The interior of the hull was brought back to its former glory with exquisite materials including oak and mahogany. Cured handrails were added as well as paneled ceilings and marine lamps for a Victorian feel, though bright and colorful fabrics were included for pops of color. The ship features multiple spaces including a large saloon with double doors, summer lounge, luxurious primary suite, galley, wardroom, and crew cabins. As of this writing, the Pacha III continues to be enjoyed by the Monaco royal family and is often seen sailing throughout the Mediterranean.