Inside Kelly Clarkson And Brandon Blackstock's Messy Divorce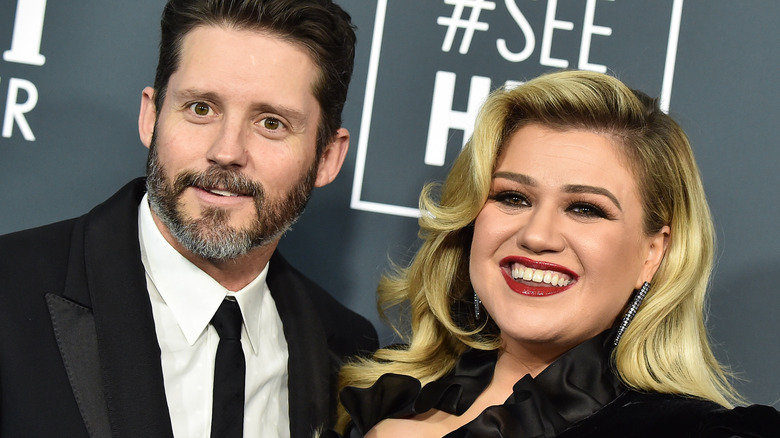 DFree/Shutterstock
Pop superstar and talk show host Kelly Clarkson wed music manager Brandon Blackstock in 2013 with a small ceremony in Tennessee. The couple, who met years earlier when Blackstock was married to his first wife, Melissa Ashworth, could not deny their chemistry and were eager to start their new life together.
Clarkson became the stepmother of Blackstock's children, Savannah and Seth, and the couple also welcomed two children of their own, daughter River Rose and son Remington Alexander. The blended family seemed perfect, but things took a turn and the couple split in 2020. What followed was an ugly divorce, complete with disputes over money, property, and even a lawsuit.
So, what happened between the couple? In June 2023, Clarkson released the album "Chemistry," and fans got to work decoding what Clarkson had to say about her ex Brandon Blackstock in her newest songs. But let's take a closer look at what actually went down during the couple's messy divorce. Here's what went wrong in their relationship, who won what in the divorce proceedings, and if Clarkson was right when she famously sang, "What doesn't kill you makes you stronger."
Why the two split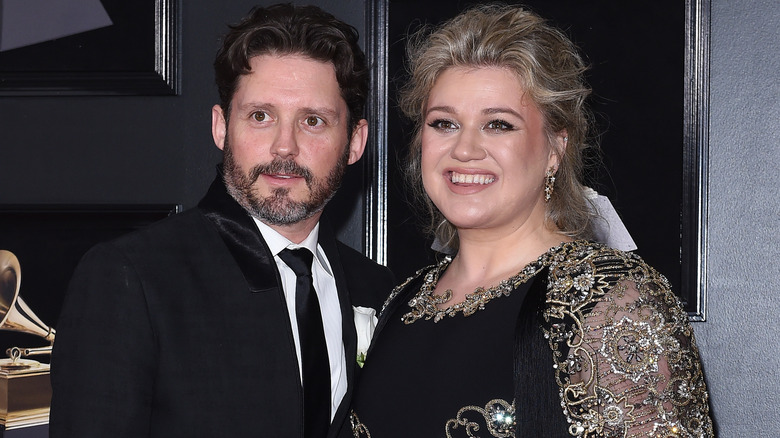 Axelle/bauer-griffin/Getty Images
In June 2020, after nearly seven years of marriage, Kelly Clarkson filed for divorce from Brandon Blackstock citing irreconcilable differences. "They clashed on so many levels and being in quarantine together heightened their problems to the point of no return," a source told Us Weekly. Although Clarkson and Blackstock once seemed like the perfect couple, the marriage simply wasn't built to last.
Clarkson has said she tried to make things work, if partially for the sake of her own ego. "My ego is like, 'I can control my actions, I can control my reactions ... I can do this and I can reach this person and I can get through,'" she said on the "We Can Do Hard Things with Glennon Doyle" podcast. Clarkson also spoke about how both she and Blackstock were children of divorce and neither wanted to put their own children through the same thing.
It seems as though Clarkson's multiple projects and demanding work schedule may have played a part in the couple's split as well. In June 2020, a source shared with Us Weekly, "When she went to Hollywood, it changed things," referencing Clarkson starting her talk show on top of her gig as a coach on "The Voice." Although Clarkson has always made a point to prioritize family and loved ones, perhaps Blackstock just wasn't on board with the singer's fast-paced showbiz life.
The custody battle and settlement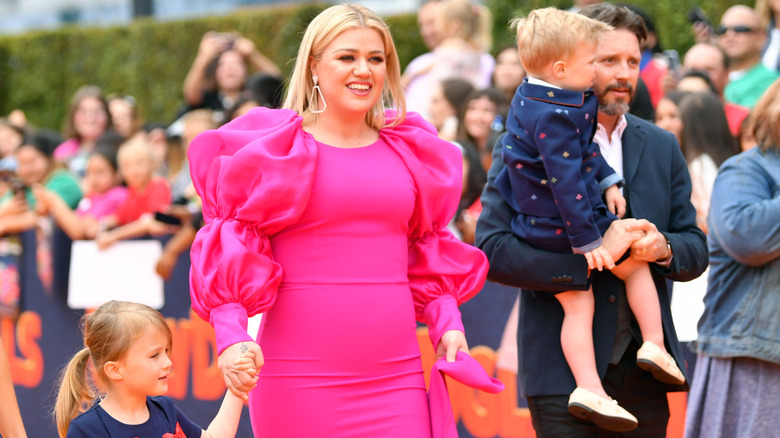 Emma Mcintyre/Getty Images
While Kelly Clarkson and Brandon Blackstock's divorce was not finalized until March 2022, the court ruled years earlier regarding custody of the couple's two children together. In November 2020, Clarkson was awarded primary physical custody of daughter River and son Remington, while the couple was awarded joint legal custody. However, the estranged pair had previously been at odds because Blackstock wanted the kids to split their time between his home in Montana and Los Angeles, where they lived with Clarkson and attended school.
Documents obtained by E! News read in part, "The Court finds that as this case has proceeded, the level of conflict between the parents has increased. The parties have a difficult time co-parenting due to issues of trust between them." Ultimately, Clarkson was ordered to pay Blackstock $45,601 per month in child support and a one-time payment of $50,000 to reimburse Blackstock for the cost of flying the children to Montana for visitation.
In December 2022, Clarkson spoke on "The Kelly Clarkson Show" about how she and Blackstock split the holidays so the kids could spend Thanksgiving with their father and Christmas with their mother. "It was so weird because you've always had a kid there and then all of a sudden you're alone," she told her guest Jewel. Clarkson also shared that the agreement had its perks. "You do get a little me time," she admitted.
Drama over the ranch in Montana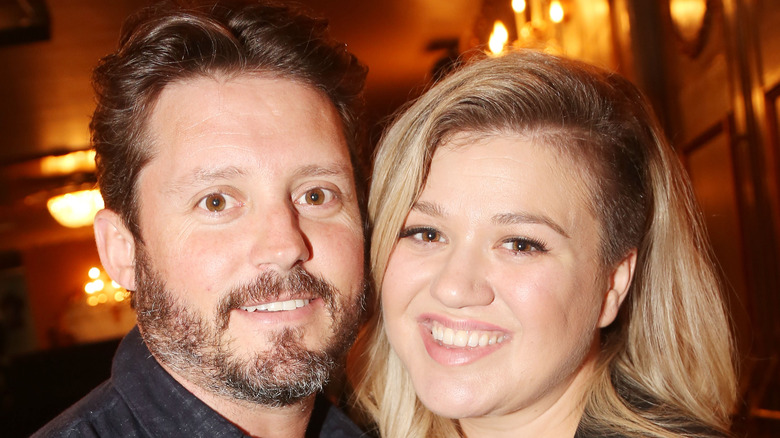 Bruce Glikas/Getty Images
One of the issues in Kelly Clarkson and Brandon Blackstock's messy divorce was a property in Montana the couple fought over. The sprawling ranch, valued at $17,750,000, became a point of contention during the divorce, since Clarkson wanted to sell the property, and Blackstock wanted to keep it, testifying that he needed it for his new business as a full-time rancher.
According to documents obtained by Us Weekly, Clarkson deemed the Montana ranch a financial burden, but Blackstock argued that his career change from music manager to rancher made it necessary for him to keep the property. Blackstock was apparently only managing one client at the time, country superstar and "The Voice" coach Blake Shelton, but he was eager to put all his time and effort into working as a rodeo manager while living at the ranch. Shelton, Clarkson's friend and "The Voice" co-star, ultimately ended up firing Blackstock in 2021.
Claims that the Montana property was a shared marital asset were dismissed, and Clarkson was ultimately awarded full ownership of the ranch, while Blackstock was given a 5.12% share of the property. The "Miss Independent" singer had tried to have Blackstock evicted from the residence prior to the ruling, but she was unsuccessful. Blackstock was ordered to pay Clarkson rent, but the amount was only a fraction of what Clarkson was already paying Blackstock in spousal support. In June 2022, Blackstock finally moved out, having purchased a $1.8 million home in Butte, Montana. 
Legal battles over business with the Blackstocks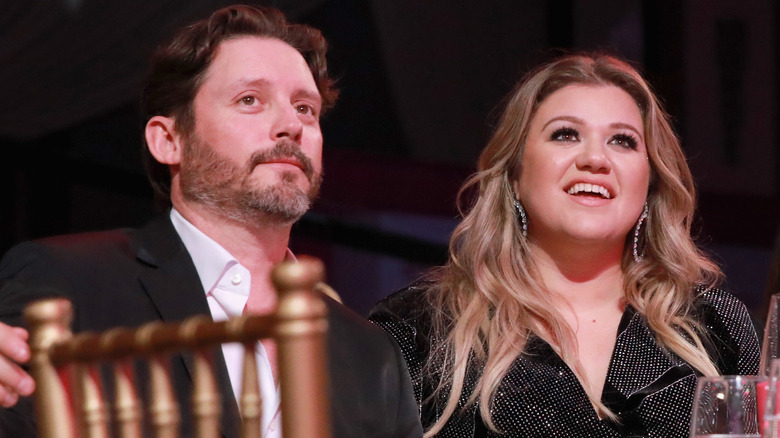 Rachel Murray/Getty Images
Kelly Clarkson's legal battles amid her split from Brandon Blackstock were not relegated to domestic issues alone. Several months after the "Since U Been Gone" singer filed for divorce, her ex's father, Narvel Blackstock, sued Clarkson over a business deal. Narvel Blackstock runs Starstruck Management Group, which managed Clarkson's career beginning in 2007. Narvel and the management group alleged that the "Breakaway" singer breached her verbal contract with the firm and was responsible for unpaid commission, subsequently owing them $5.4 million.
Clarkson filed a countersuit against the company, which included the allegation that neither Brandon nor Narvel Blackstock were licensed talent agents, which violated the California Labor Code. A petition revealed that Clarkson argued that these violations should nullify her verbal agreement with the management company altogether.
As of July 2023, the legal drama continues, but there's an end in sight. The California Labor Commissioner's Office shared with Us Weekly, "A decision will be issued in the fall." Fall 2023 will mark three years of legal turmoil between Clarkson and the Blackstocks.
Did the couple have a prenup?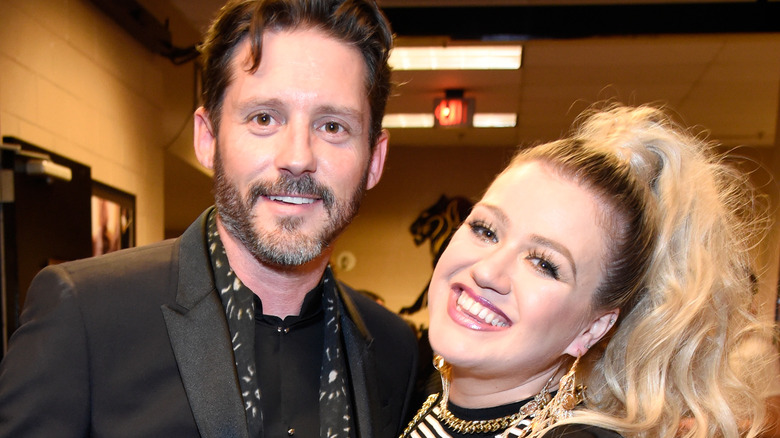 Kevin Mazur/bbma18/Getty Images
Many celebrity couples sign a prenuptial agreement before taking their vows to avoid messy legal battles over their assets if they end up divorcing. Kelly Clarkson and Brandon Blackstock did, in fact, have a prenup, but it took a while for it to be upheld in court. Blackstock originally contested the prenup, arguing that he should be entitled to a portion of the income Clarkson earned during their marriage, as well as a shared stake in properties they purchased together (like his beloved Montana ranch).
But, as it turned out, the judge involved in the case fully upheld the original prenuptial agreement. The ruling meant that all purchases paid for by Clarkson during the time she and Blackstock were married belonged solely to Clarkson. These assets included physical property like a Ford Bronco, a Ford F-250, and a Porsche Cayenne. It was reported that the singer learned the good news while on set at "The Voice" and celebrated the win with co-stars Ariana Grande and Blake Shelton.
While the judge honoring the prenuptial agreement was clearly a victory for Clarkson, she was ultimately still responsible for paying Blackstock a hefty amount in spousal support. In addition to a one-time payment of a whopping $1.3 million, the talk show host will be paying Blackstock $115,000 per month until January 2024.
The singer's relationship with ex mother-in-law Reba McEntire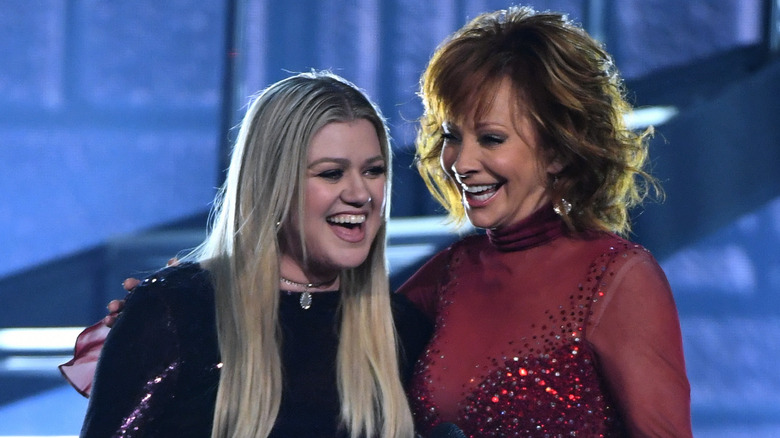 Ethan Miller/Getty Images
One silver lining of Kelly Clarkson and Brandon Blackstock's divorce is that it didn't hurt her friendship with Blackstock's stepmother, Reba McEntire, who was married to Narvel Blackstock from 1989 to 2015. Clarkson and McEntire had been friends ever since performing together for the Season 1 finale of "American Idol," so it was extra special when Clarkson ended up marrying into the family. In a speech honoring McEntire at the Kennedy Center, Clarkson shared, "Sometimes when we meet our heroes, it doesn't always pan out how you hope. But meeting Reba, being friends with her, and eventually becoming family has been one of the highlights of my life, truly."
When Clarkson and Blackstock were at odds, McEntire didn't take sides. The country star told Extra in 2021, "I love them both. Brandon's my stepson, Kelly's my good friend." She went on to express her support for the estranged pair, saying, "I pray everyone gives them the encouragement that they can because they need it right now, both of them do." McEntire knows what she's talking about — as she's sung, she's a survivor.
Over the years, Clarkson and McEntire have performed together numerous times, and in 2023 the pals found themselves working together once again. On "The Voice," Clarkson continued her run as a coach on the show, while McEntire joined as a Mega Mentor.
Why Kelly Clarkson changed her name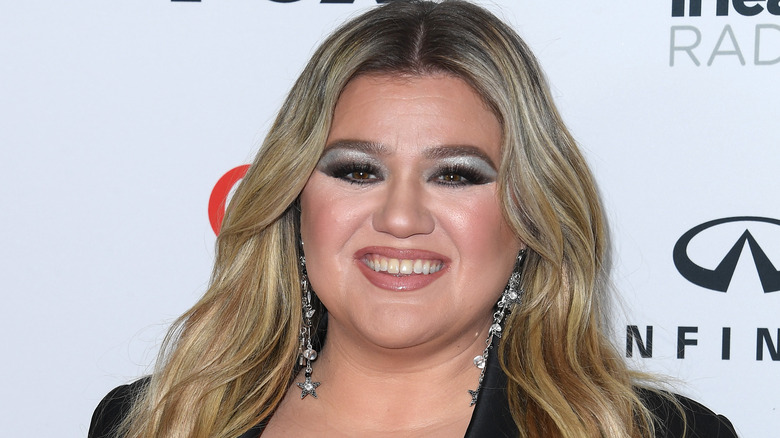 Steve Granitz/Getty Images
The mom of two has been open with fans about everything from the challenges of co-parenting to taking antidepressant medication following her split from Brandon Blackstock. And in February 2022, Kelly Clarkson filed public documents to have her name legally changed to Kelly Brianne. The singer stated, "My new name more fully reflects who I am," (via Us Weekly). The star has clearly been through a lot and felt like a change was in order. 
But fans need not worry about calling the "Stronger" singer by her new name, as she has kept Clarkson as a professional moniker. She explained to People, "I just got divorced, so I had to drop my married last name ... I just kept my middle name for my personal life. I'm still Kelly Clarkson." In March 2022, a judge okayed the new name, legally changing it from Kelly Brianne Clarkson to Kelly Brianne.
How the divorce inspired the singer's new album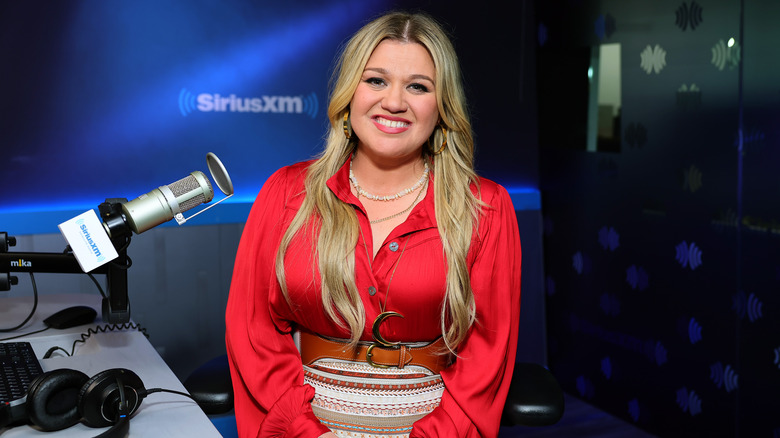 Theo Wargo/Getty Images
In June 2023, Kelly Clarkson released her latest album, "Chemistry." The album — as well as everything Clarkson has said about it — shows just how much she's evolved throughout the course of her relationship with Brandon Blackstock. The singer told NPR that "Chemistry" was meant to showcase not just the sadness that comes along with ending a relationship, but the beauty of the relationship as a whole. She went on to discuss the title of the album, saying, "There's that kind of chemistry of holding onto something that you shouldn't be that's maybe unhealthy for you. That's what the album is — it's all these different types of chemistry that you can feel in a positive or negative way."
Clarkson even reached out to Blackstock ahead of the album's release to let him know it wasn't gonna be all bad. "I was like, 'Hey, I didn't just diminish us down to one [thing],'" she revealed in an interview with Today. "It's all in there, the ride. The beauty is in there, as well. Now, there's a lot of pain, but that's what happens for all of us." The next question is, will Blackstock give the album a listen? "I don't know if he'd care either way," Clarkson responded with a laugh. Nevertheless, her fans certainly care, and we're here for her new music!