Clues Taylor Swift's When Emma Falls In Love Is About Emma Stone's Romance With A Culkin Brother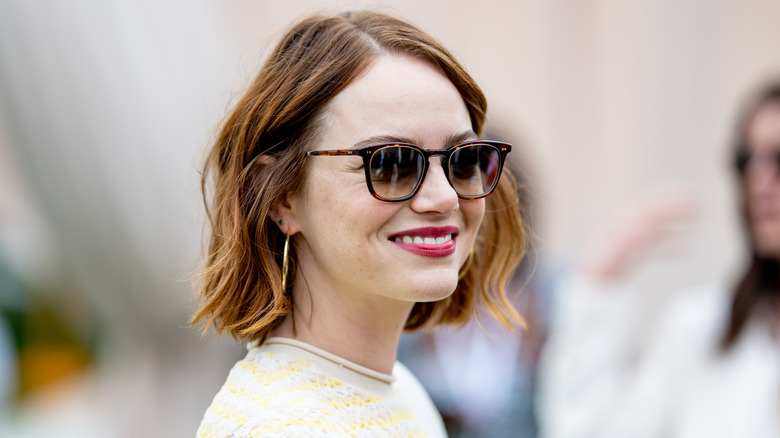 Roy Rochlin/Getty Images
Hear that? Yup, that's the sound of millions of Swifties collectively streaming the newly-released "Speak Now (Taylor's Version)" album. Release days for Taylor Swift's re-imagined albums are always a fun affair, not because we get to hear newer iterations of her classic hits, but also because Swift has made it a tradition to release songs from her coveted vault, a treasure trove of unreleased tracks that we can only assume she guards with her life.
"Speak Now TV" is no different, of course. The Grammy Award-winning singer has decided to bless us all with six tracks straight from her famous vault. "I love this album because it tells a tale of growing up, flailing, flying and crashing ... and living to speak about it," she wrote in her release announcement. 
As expected from Swifties, they wasted no time sleuthing information about the vault-harvested tracks weeks before the album launch. A song titled "When Emma Falls in Love," was a particular standout, with many coming to the conclusion that it's all about Emma Stone and Kieran Culkin. Remember when they were a thing? And now that the album is out, fans are even more convinced that the song is indeed about their short-lived romance. Emma and Kieran truthers, stand up!
Emma Stone and Kieran Culkin, per Taylor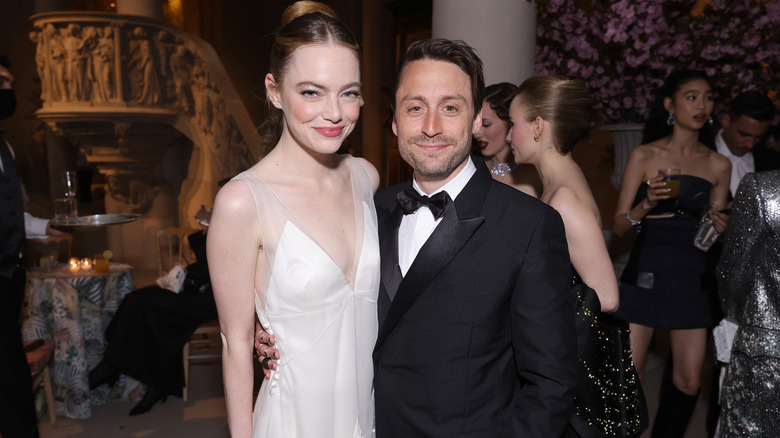 Matt Winkelmeyer/mg22/Getty Images
Here's the thing about Taylor Swift: she has a penchant for writing songs about her friend's love lives. For instance, it's a truth the Swiftie universe acknowledged that "Speak Now" is written about Paramore's Hayley Williams and her ex-boyfriend Josh Farro, who married someone else in 2010. Meanwhile, the "1989" bonus track "You Are In Love" is rumored to be written about actor Lena Dunham and her relationship with Swift's longtime collaborator Jack Antonoff. 
It would come as no surprise if "When Emma Falls in Love" is indeed dedicated to Emma Stone, since the "Easy A" star is near and dear to Swift's heart. "I've known her since we were 17 and 18," Stone told Vanity Fair. "She's a wonderful friend." Yeah, we agree, wonderful enough to write you a whole song! As for the plausibility that the track may be about Stone's romance with Kieran Culkin? The "Speak Now TV" album jacket, as fans noted, indicates that the song was written in 2010, the same year that Stone and Culkin started dating (note: she didn't date Andrew Garfield until 2011). The lyrics also read: "When Emma falls in love, she disappears /And we all just laugh after seein' it all these years," which may pertain to the low-profile nature of Stone and Culkin's relationship. There's also an apparent reference to "Easy A," which the exes co-starred in — "little miss sunshine," Swift croons, possibly referencing the scene when Stone is dancing to Natasha Bedingfield's "Pocket Full of Sunshine."
If it just so happens that it isn't about Stone and Kieran, it's surely Swift's love letter to Stone, since the song seems to be about a deep admiration for a friend. "When Emma falls in love... I'm learning," Swift sings. "Sometimes I wish I was her." We wish we were Emma Stone, too!