Taylor Swift's I Can See You Has Twitter Clutching Its Pearls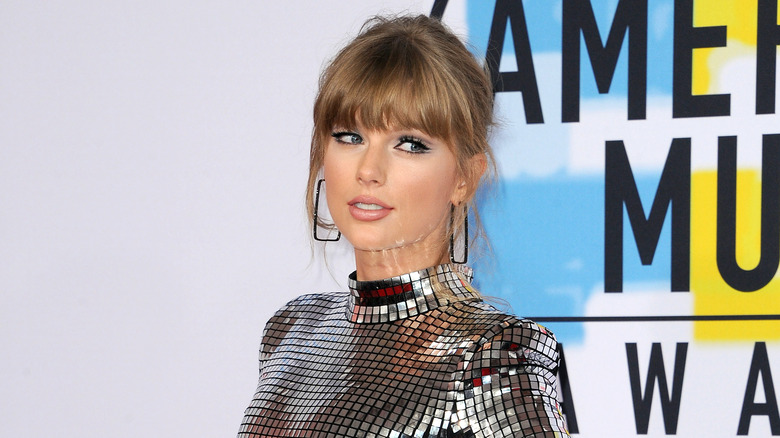 Tinseltown/Shutterstock
Ever since Taylor Swift announced her decision to re-record her first six albums, loyal fans have been on the edge of our seats, pining and waiting for the announcement that "Speak Now (Taylor's Version)" would be coming out. After all, who wouldn't want to relive the nostalgic soundtrack of their prime high school years? So when the "Back to December" singer finally announced the impending release of one of her most-loved albums during an Eras Tour show on May 5, we couldn't be more excited. Now, 63 days and several leak threats later, the newly recorded "Speak Now" is here and we're all still trying to pick our jaws up from the floor.
Although Swift's new album versions were borne out of a bad situation and a deep-seated need to own her own art, she managed to set the new recordings apart with a more mature sound and, most importantly, the addition of some never-before-heard tracks from the vault. The "Speak Now" re-release contains six vault tracks, and one of them, "I Can See You," has Twitter clutching its pearls due to its risqué undertones. Pretty much everyone expected the updated album to stick to its innocent roots, but Swift is known for switching things up, and that's exactly what she did here. If this album was a girls' night out, "I Can See You" is the ready-to-party friend that came dressed in fishnet stockings, thigh-high boots, and a smokey eye.
The spicy vault track is not rated PG
When Taylor Swift released "Speak Now" in 2010, she was a young adult writing about the pangs of true love, heartbreak, and lessons learned — the recipe of life for a typical teen just about to turn 20. Depending on how old you were at your first listen, we all remember this album a little differently. Some experienced the music as a coming of age and a loss of innocence story, while younger fans saw it as a guide to look forward to when their own time came along. However, all innocence was truly shattered in "I Can See You," that's for sure.
The track starts off with an enticing electric guitar and Swift's crooning voice singing lyrics about inviting an unsuspecting school crush for a romp in a secluded hallway, much to every fan's delight. The addition of this track gives the album a sexy little nudge we weren't necessarily expecting but that we'll happily accept with wide eyes and open palms. With lyrics including "But what would you do / If I went to touch you now / ... If they never found us out / ... If we never made a sound" and "I could see you / Up against the wall with me ... They keep watchful eyes on us / So it's best that we move fast and keep quiet," it's no wonder Twitter is abuzz and the Swifties are in racy-fantasy heaven.
Fans speculate Taylor's mom held the song back from the OG album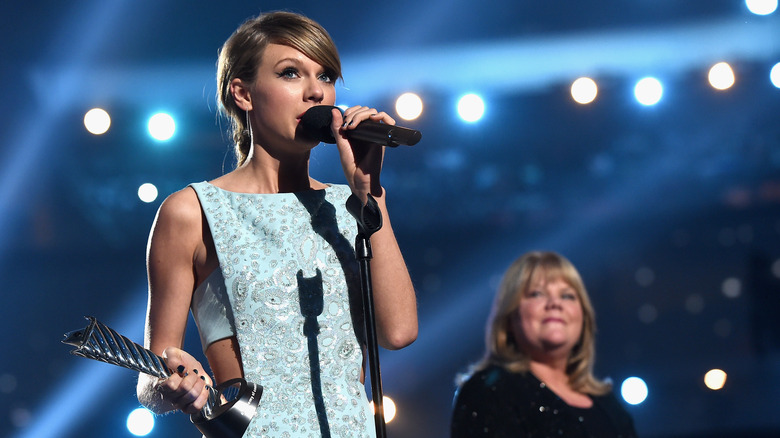 Kevin Winter/acm2015/Getty Images
Taylor Swift's unapologetically sexy "I Can See You" has held all but a handful of our brain cells hostage, and the remaining few are wondering just who kept this song from appearing on the original album, now referred to by Swifties as "Speak Now (Stolen Version)."
Knowing how Swift's mom, Andrea Swift, famously booted out some raunchy dance moves from her daughter's Fearless tour, some Twitter users speculate that she might have been the culprit, with @holygroundsound tweeting: "taylor did andrea make you take i can see you off speak now be honest." The theory has even crossed over to TikTok, where fans agree that Andrea must have nixed the song from the 2010 album. Jokes aside, while we know Mama Swift was rightfully protective of her young daughter's image at the time, there's no proof that this was indeed her doing.
Most fans are simply basking in the naughty glory of the lyrics and the titillating beat of the music. Twitter user @dazzlnghze tweeted: "I CAN SEE YOU HAD NO REASON TO BE THAT HOT," perfectly encapsulating everyone's thoughts. We don't know who actually kept Swift from releasing "I Can See You" on the original album or if the singer even decided herself that it gave off too much of a sexy vibe, but either way, we are glad it's here now.