Taylor Swift's Speak Now Re-Release Incorporates 2023's Dreamiest Color Trend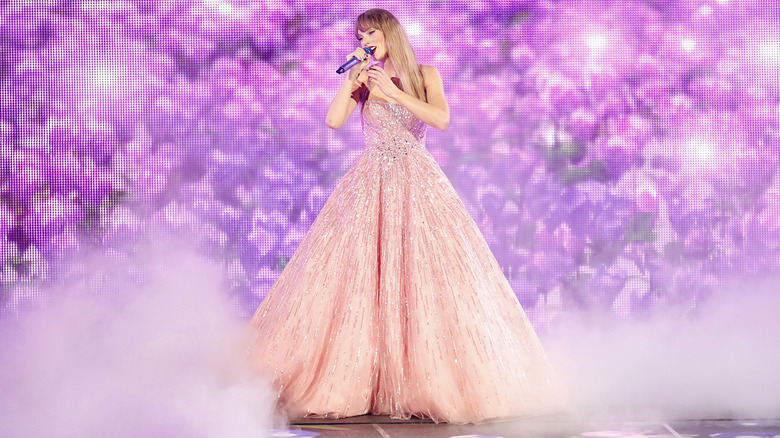 Octavio Jones/tas23/Getty Images
Swifties were ready to drop everything when Taylor Swift surprised fans at the Eras Tour by announcing the release date for her next re-recording, "Speak Now (Taylor's Version)." Swift caught fans utterly off guard at her May 5 Nashville show by turning fans' attentions to a giant screen as the "Speak Now (Taylor's Version)" album cover appeared, resulting in an iconic moment created by a pop icon herself. Of all Taylor Swift's eras, "Speak Now" has been a fan favorite for over a decade. Swift explained her teenage mindset when she wrote all the songs in "Speak Now," an album with lyrics that millions have related to and loved. But it is not just the songs that we love when it comes to "Speak Now." As fans gear up for the re-recording's release date of July 7, we have noticed that this album's aesthetic and design align with one of our favorite 2023 fashion trends.
'Speak Now (Taylor's Version)' will be released on a gorgeous lilac vinyl
If each of Taylor Swift's eras had a color, "Speak Now" would get purple. Both the original and new album covers feature Swift in radiant, flowy purple gowns. While a deep purple may be a polarizing color, lilac — which has found its way into the re-recording's design scheme — is one of the 2023 colors of the year, as noted by WSGN and Coloro. Though the technical shade is called "Digital Lavender," this pale purple is seeing a resurgence in fashion and design trends. Swift has seemingly hopped on board to the lilac caravan, releasing "Speak Now (Taylor's Version)" on marbled lilac vinyl.
The decision to lighten the shade of purple associated with the original "Speak Now" album may have included color psychology in addition to its trendiness. According to Color Psychology, shades of lavender represent youth, vitality, and femininity — themes that are ever-present throughout Swift's album with songs like "Never Grow Up," "Long Live," and "Enchanted." The lilac vinyl not only represents Swift's ability to stay relevant and pick up on trends; it also symbolizes the tracklist, itself. Yet, Swift has featured lilac in other ways, too.
How Taylor Swift used lilac leading up to 'Speak Now (Taylor's Version)'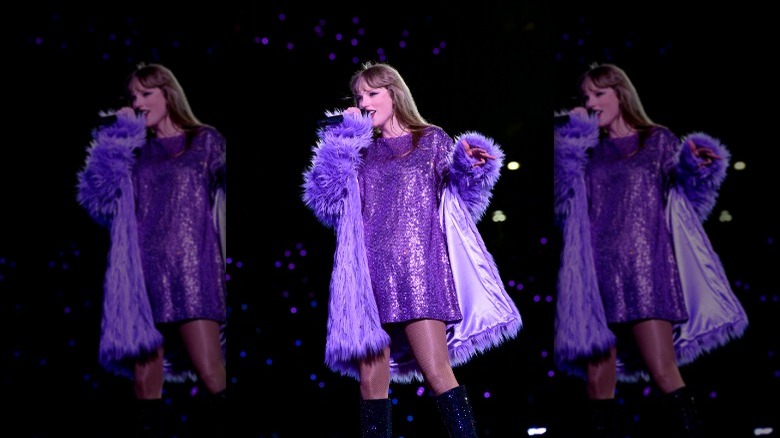 Lisa Lake/tas23
Swifties are used to scavenging to Taylor Swift's ever-growing list of Easter eggs in music videos, live performances, and social media posts. Some speculated way back in November 2022 a "Speak Now" reference with Swift's AMA's hairstyle, noting that it looked quite similar to the cover of the 2010 album. But focusing on the color lilac, we have found a couple of hints that a new "Speak Now" era would soon be underway.
The most blatant clue was one of Swift's costumes during the Eras tour. Performing songs from "Midnights," Swift sported a light purple, sparkly dress. Often paired with a fluffy lilac jacket, Swift may have been trying to offer a hint as to which re-recorded album would be next. That theory seems pretty clear in hindsight, as Swift posted a photo on Instagram in that purple outfit and captioned, "Hey Nashville you're next" with a purple heart, only to then announce the re-recording at a Nashville show. Lilac was already set to be the color of 2023, but Taylor Swift simply confirmed that it would be inescapable.