Why Hallie Eisenberg Stopped Acting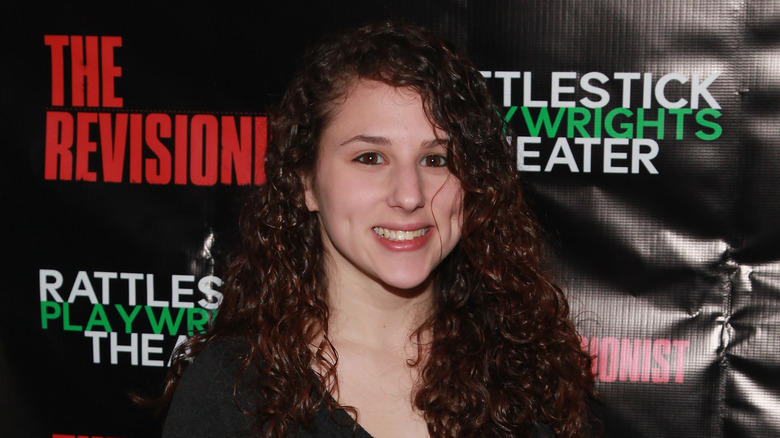 Taylor Hill/Getty Images
Hallie Eisenberg's late '90s Pepsi commercials were iconic. Remember this scene? She'd walk up to the soda counter and order a Pepsi. When they inevitably brought her Coke instead, she'd give the soda man a piece of her mind, launching into a gruff "Godfather"-Esque monologue (famous names like Joe Pesci lent their voices to these ads). At the height of her reign as the "Pepsi Girl," Eisenberg went on to star in films like "Paulie" and, once her Pepsi days were over, "How to Eat Fried Worms." Her last onscreen project was in 2010 when she was featured in "Holy Rollers," an R-rated departure from her previous acting jobs. However, rather than cementing her status as a movie star and taking on more mature roles, she left the industry behind to focus on her education instead.
Hallie Eisenberg attended American University in Washington D.C., graduating with a degree in International Studies. She's managed to remain out of the spotlight ever since, opting out of public social media accounts. Considering the scrutiny that goes hand-in-hand with child stardom, it was probably for the best.
Hallie Eisenberg navigated awkward interviews as a child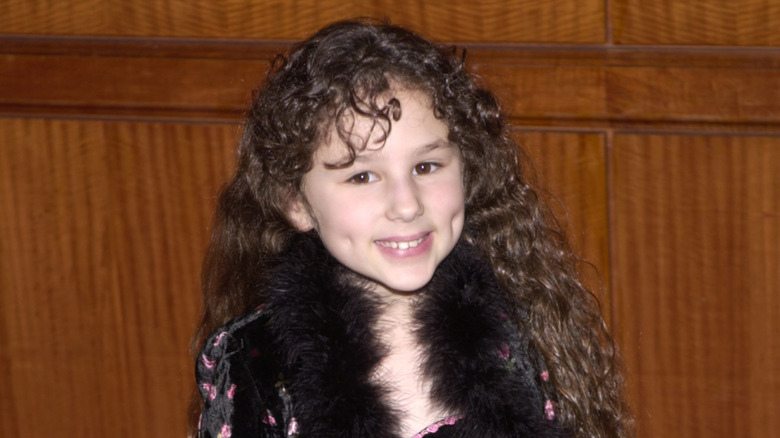 Rj Capak/Getty Images
As proven time and time again by the likes of Lindsay Lohan, Macaulay Culkin, and Drew Barrymore, childhood stardom may come with sizable paychecks and powerful industry connections, but the lifestyle is far from easy. It can lead to strained familial relationships and long-term mental health issues. Diagnoses like anxiety, addiction, and even PTSD are not uncommon, and some parents even spend — rather than save — all their children's movie money (via Medium).
During promotional tours for her film "The Miracle Worker" (Hallie Eisenberg played an elementary school-aged Hellen Keller), Jay Leno asked whether she thought Robin Williams, Matt Damon, or Edward Norton was "cuter" before wondering, "Suppose I asked you [on a date] too." Long before she celebrated her 10th birthday, Regis and Kathie Lee were also asking about her dating life. College, it seems, was preferable to the intense scrutiny (and inappropriate questions) that come with being a young girl in Hollywood.
Hallie Eisenberg isn't the only young star to ditch the business. Mara Wilson, the star of '90s family favorites like "Matilda" and "Mrs. Doubtfire," quit after less-than-ideal conditions on the set of the 2000 film "Thomas and the Magic Railroad." These days, she works as an author and journalist. Kay Panabaker, once a promising Disney star, now enjoys life as a zookeeper. Even Shirley Temple traded a career in acting for one in politics. Although it's unclear what Hallie Eisenberg has done with her degree in International Studies, she's successfully escaped the more dangerous trappings of Hollywood. 
Hallie Eisenberg lived with her famous brother in NYC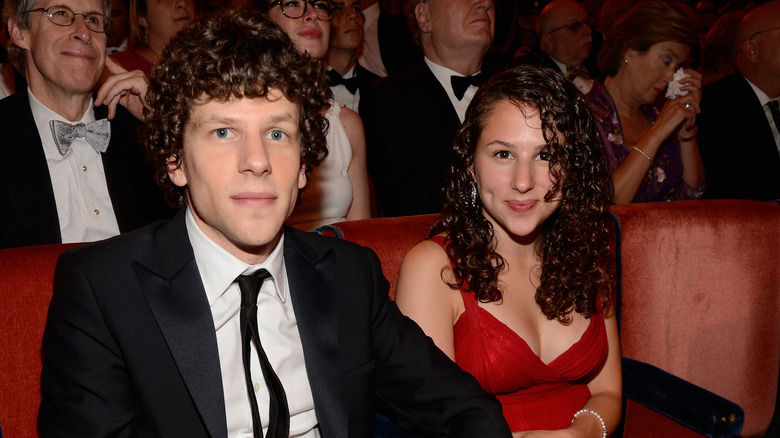 Kevin Mazur/Getty Images
Although Hallie Eisenberg may have said goodbye to acting, her older brother certainly hasn't. He's Oscar-nominated actor Jesse Eisenberg, the star of blockbuster movies like "The Social Network," "Now You See Me," and "Zombieland." Although Hallie is nearly a decade younger than her successful sibling, she broke into the business long before he landed his first gig. If anything, she paved the way for him, not the other way around. These days, the only public part of her Instagram is a link promoting Jesse's directorial debut, "When You Finish Saving the World." 
When asked about collaborating with Hallie in the future, Jesse explained, "I don't need to work with her because I see her as my family at, you know, kind of events and gatherings and birthdays..." (via YouTube). In other words, the two are able to enjoy a close relationship even when they're not getting paid to bond on screen — in fact, Hallie and her then-boyfriend, "The Voice" contestant Owen Danoff, even shared an apartment with Jesse in New York City. In 2010, the Eisenbergs played onscreen siblings in "Holy Rollers." Although this proved to be a successful first collaboration, it was also their last. She said goodbye to the industry shortly after. 
Hallie and Jesse also have an older sister, Kerri Eisenberg (now Kerry Vera Lea), who, according to her website, works as an artist in New York.