Here's What Happened To Honeyfund After Shark Tank
Getting married is a joyous, yet stressful occasion. Amidst the thrill of gathering your loved ones together, planning bridal and groom party events, and double-checking that your guests have gone over the itinerary, winding down once you say "I do" is the only thing many couples care about. Receiving yet another air fryer or a duplicate dining set is cool, but some couples would rather head straight to the honeymoon of their dreams than pore over home items they don't need.
If you don't want to straight up ask your loved ones for funds as a smart hack to plan a wedding on a budget, Honeyfund allows you to set up an online registry for your guests to contribute to your honeymoon rather than buying gifts. Created by Josh and Sara Margulis in 2006, the pair took their genius idea to "Shark Tank" to help grow their business. They already had a user base, but were looking to the sharks to help bring the site to other couples.
The Sharks fought for a stake in the company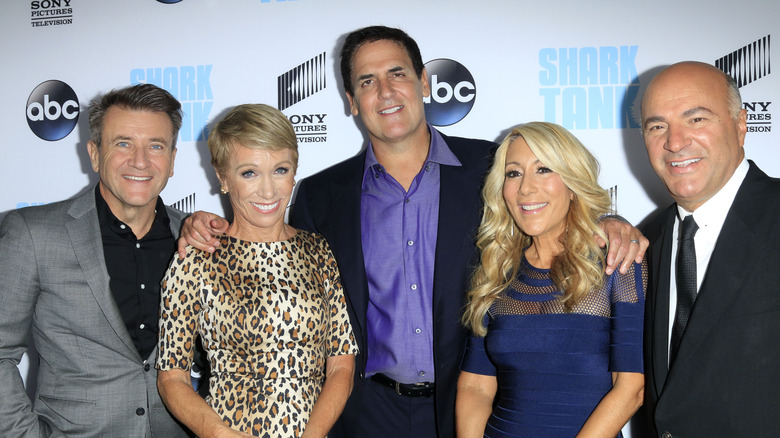 Kathy Hutchins/Shutterstock
In Season 6 Episode 6, the Margulises donned Hawaiian shirts and leis to descend into the tank, seeking $400,000 for a 10% stake in their company. With an average of two million weddings occurring in the U.S. every year, the wedding industry is a seemingly good business to enter. However, Lori Greiner didn't think that the crowdfunding business was worth entering, causing her to bow out.
Upon going onto "Shark Tank," Josh and Sara had raised upwards of $200 million for their users. They gained a profit by splitting transaction fees with PayPal, earning them a $217,000 profit off of the $987,000 revenue from the previous year. However, this, along with the $0.88 from customer acquisition when each customer is worth $9, caused Mark Cuban to bow out as well.
This left Kevin O'Leary, Barbara Corcoran, and Robert Herjavec. The latter suggested a different way for the Margulises to monetize Honeyfund, offering up a grand $500,000 for half of their business. Corcoran countered with $400,000 for 30% of the business, an offer that Herjavec then matched. O'Leary came in with his own deal of his own: $400,000 for a three times return from the transaction revenue. Although Herjavec called it a bad deal, the Margulises ended up doing business with Mr. Wonderful.
What happened to Honeyfund after Shark Tank?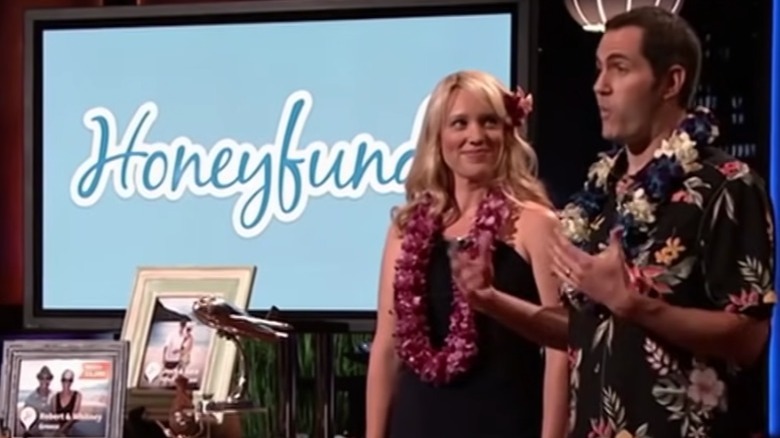 CNBC/YouTube
In an update during Season 7, the Honeyfund founders said that since partnering with O'Leary, they had done $630,000 in sales. During the episode, the business mogul announced at a wedding that he'd be packaging Honeyfund and some of his other "Shark Tank" businesses into a single wedding and industry sales marketing entity.
Honeyfund also saw an increase in users, with its membership rising by 245%  and pageviews doubling after its "Shark Tank" debut. They've also gotten their sister business, Plumfund, off the ground, allowing users to crowdfund for things outside of weddings. In 2020, the couple ended up divorcing, leaving Sara to run the business. Although her honeymoon period ended, she expanded the business to allow users to crowdfund for babies, home purchases, anniversaries, and every post-honeymoon event.
By 2021, Sara had raised over $1 million by selling shares of the company via Start Engine. While she didn't reach her goal during the second round of fundraising, Honeyfund has raised over $700 million in donations for newlyweds. As of now, Honeyfund's net worth is sitting around $20 million, with an annual revenue of $3 million a year.