Does Shark Tank Pay The People Who Appear On The Show?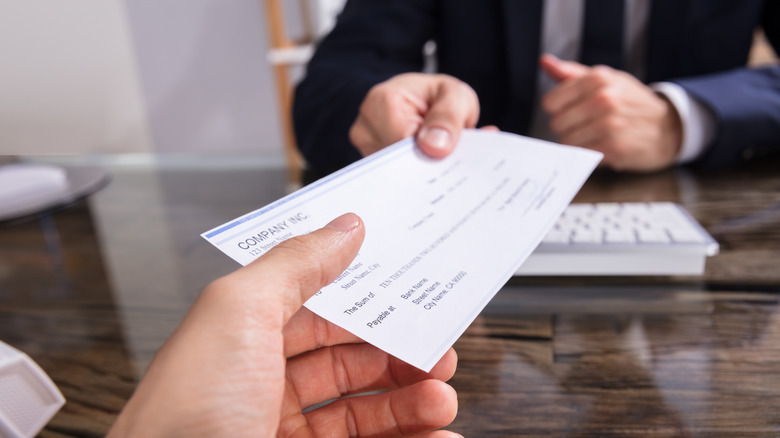 Andreypopov/Getty Images
There's nothing better than getting free money, and for some people, that means signing up for game shows where you can win money for doing the weirdest things for entertainment. "Fear Factor" was a big hit for a reason, and so was "Total Wipeout." People competed in physical challenges, eating bugs and swimming in roaches, often for a five-figure check. However, on "Shark Tank," things operate a little differently — it's a mental game rather than a physical one.
The brilliance of "Shark Tank" is that everyone has an equal opportunity to make money, and the show's concept makes a difference in the lives of entrepreneurs. If you have an existing business with enough foreseeable and tangible potential to grow into something even more lucrative, then you can go on the show and stand a chance to pitch it to some very wealthy investors. If any of them take a big enough interest in your venture, then you take home a sizable amount of seed money. With all of the game shows we grew up with, we endlessly wondered if the losers actually walk away with absolutely nothing after their dedication and participation. For "Shark Tank," you've probably been wondering the same thing.
Shark Tank doesn't pay contestants to appear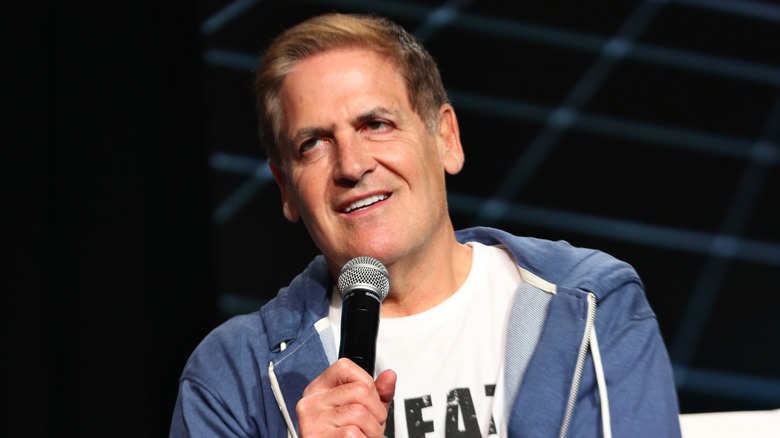 Robin L Marshall/Getty Images
"Shark Tank" is literally a life-changing show. All it takes is one solid investment into someone's food truck or fashion business to boost their numbers and transform their livelihoods and bank accounts. Altogether since the show's inception, more than $200 million dollars have been given to entrepreneurs as pledges by the sharks. 
That's a pretty heavy number, and it begs the question: Does everyone walk away with some cash at the end of the day? Well, it seems like "Shark Tank" does not actually pay contestants who appear on the show. 
Before, according to the New York Times, all of the contestants used to have to give up five percent in equity or two percent in royalties from their business just for a chance to pitch to the sharks, regardless if they manage to secure any investment. That's a pretty hefty price to pay just to pitch a business, but money talks, and getting funding may have been worth it. However, thanks to shark Mark Cuban, contestants no longer have to give up company stakes or their profit in perpetuity. Cuban wrote on Facebook: "Fyi, There is no additional equity or percentage of anything taken any longer. That was removed retroactively. I told them I wouldn't come back this season if it wasn't."
The show benefits businesses that don't get funding
Many businesses on "Shark Tank" have gone on to produce substantial profits for the owners and investors as well. Some of the companies that received seed money are now worth millions. One of the most profitable ventures, the sock and underwear-making company Bombas, has managed to turn a passion project into a multimillion-dollar company, racking up $100 million a year as of 2019. And the company is making a difference — donating socks to the homeless, one for every pair sold. According to CNBC, the idea for the company came about when one of the founders learned that homeless people were constantly asking for socks at shelters. Heath told CNBC Make It, "I thought, 'How sad is it that — something I've never spent more than a couple of seconds thinking about [how to pay for] could be seen as a true luxury for somebody else."
While the show provides amazing investing opportunities for companies that actually receive pledges, it also does wonders for businesses that don't. The publicity they get from pitching their business is oftentimes more than enough compensation. A lot of the businesses that get rejected go on to become multimillion-dollar ventures just from word of mouth. A dating app called Coffee Meets Bagel was founded by three sisters and rejected by the sharks on the show, only to later grow into an annual income of about $150 million. Sounds like a pretty fair trade to us!